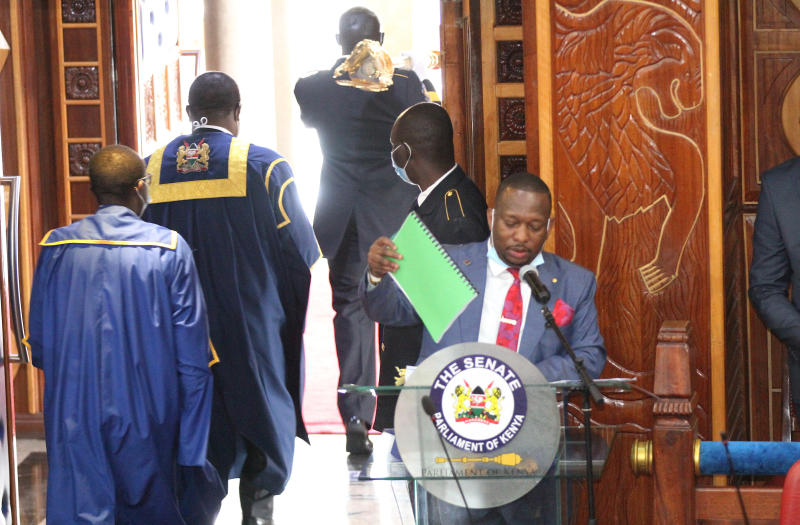 Mike Mbuvi Sonko, hitherto Governor of Nairobi is gone! And not a moment too soon. Kenya's premier city can now heave a sigh of relief, having been subjected to the antics of a man better placed in a tragicomedy.
That a man of his (in)abilities could ascend to the highest office in the county that domiciles the nation's capital is a stinging indictment on the Jubilee administration's choice of leadership. Entrusting Kenya's gateway to a man who caused discomfiture and embarrassment at every turn and opportunity has lowered the bar to levels hitherto unimaginable.
Sonko's meteoric rise, like most of those in the Jubilee government, was on the backbone of populist promises. He appealed to the rank and file through unsophisticated but unattainable manifestos. For instance, declaring that Nairobi's Uhuru Park would be turned into a gigantic bus terminus.
Or that youth in the city would be guaranteed gainful employment at the county government's expense. Sound's familiar? Didn't the Jubilee government promise half a million jobs annually to the youth? Did it not guarantee a sports stadium in every county or other pie in the sky commitments that have proved to be just that?
Read More
To be fair to Jubilee, Sonko was never intended to be a wielder of real power but a ceremonial figurehead whose usefulness extended only up to his abilities to mobilise crowds. In fact, it was presumed that his erstwhile deputy, Polycarp Igathe, would bring his technocratic abilities to bear, taking complete charge of the administration of the county. Instead, as Igathe reached for the levers of power, he found Sonko unwilling to relinquish them.
It was clear from the get-go that Sonko did not possess the requisite statecraft demanded by his office. Rather than consulting with county executives and members of his County Assembly, he ruled by decree. He became a law unto himself, issuing edicts that made a spectacle of county administration. But it was his capacity for self-delusion that never ceased to amaze.
Sonko believed he had outgrown those who put him in power. Even when the writing was on the wall and his benefactors had wrested the reigns from him, he still fought back to the last minute. This column predicted more than a year ago, that in a staring contest with his patrons, Sonko would blink first.
Yet Sonko is an archetype of several elements in the Jubilee administration. The Education Cabinet Secretary (CS) remains in office despite being caught on national television hurling abuses at ministry officials. Attempts by the Public Service Commission to whittle down some of his substantive functions have come a cropper.
The Health CS, confronted by striking doctors and other public health workers, has threatened to sack them, never mind that this industrial action is literally over matters of life and death. The Lands ministry continues to be a source of ceaseless frustration for many. Transactions that previously concluded in weeks now take several months, causing many lawyers to close their conveyancing departments. The CS appears impervious to complaints.
Carefully worded
Sonko's fall is a cautionary tale on the perils of forgetting that leaders serve at the behest of citizens. Any power they wield is donated to them and can be withdrawn when abused. Kenya's leadership deficits are not because the social contract is not spelt out in clear, set terms. Rather, it is a consequence of leaders who ignore the rule of law, who disregard court orders as though they were mere suggestions and not binding edicts. As amendments to the country's Constitution are mulled, it must be borne in mind that the content of the most carefully worded text is useful only to the extent of those willing to adhere to it.
As Nairobi anticipates a by-election for Sonko's replacement, candidates must be carefully curated, not only on the viability of what they propose for the city but also on their ability to respect the law. Already, talk is rife that this election will be accurate gauge of the popularity of the Building Bridges Initiative's proposed constitutional changes. But as battle lines are drawn, the electorate must rise above partisan politics and choose a visionary leader. Never again should this city be held to ransom for political expediency or by the absurdity of a governor consumed by an inflated sense of self.
-Mr Khafafa is a public policy analyst