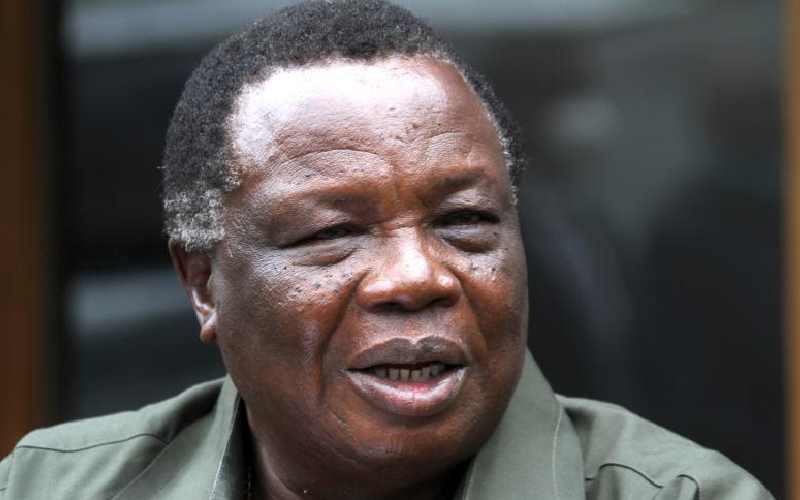 Yesternight while I was asleep, I was taken to a meeting happening before 2022 in the political heavens. I saw Francis Atwoli and David Murathe approach the political throne with some petitions regarding BBI, Uhuru Kenyatta, William Ruto, Raila Odinga and 2022. When they finished, the king stood, and there was silence. He said to them, "we know Uhuru Kenyatta. We know William Ruto, and we know Raila Odinga. So, who are you?"
This question caught me by surprise. It was then I saw that Atwoli and Murathe are part of a tapestry in the political heaven's abode. Then an angel said to me, "come, let me explain to you the meaning of all this". To my surprise, the angel said that Atwoli and Murathe must trend carefully in politics.
For this reason, I call upon Murathe and Atwoli to have a tête-à-tête with their grandson here. Let me use a familiar anecdote. In Chinua Achebe's Things Fall Apart, something happened after Okonkwo became the most respected clan elder. That day, the council of elders convened to discuss the next ancestral feat.
Okonkwo gave his opinion, but a man named Osugo—an elder without titles in the land—contradicted him. Irritated, Okonkwo shouted him down, "this meeting is for men only". Similarly, the political heavens are soon telling Atwoli and Murathe that what they have been doing is for politicians proper.
Murathe and Atwoli are powerful personas posing as referees for political soccer they own no shares—but I could be wrong. Both are elders, and they deserve respect. They've wielded power that has blasted politicians and trembled political mountains.
However, this power is rented. That is why their geese could be scheduled for dinner in 2022. I could be wrong, but the rules of politics are not rules of men; they are immutable just as nature is exceptionally consistent in its principles.
Why do I say so? One always reproduces their kind—that from a mango tree, you will not pick sheaves of wheat. Murathe is a politician-he was once the MP for Gatanga Constituency. He is grafted to be Jubilee deputy party leader.
Despite that his genetic progeny is dominantly a businessperson and repressively an activist. He cannot be a kingmaker in politics.
Murathe was a low ranger until 2018 handshake. The faint history that exists is that when he was a student at the University of Nairobi, he was part of strike organisers alongside some prominent human right activists of today.
Therefore, he has more activism in his bloodstream than a politician. In 2022, should Jubilee Party endorse Ruto for the presidency, which is not unlikely and a story for another day, Murathe will be staggered; unless he has some votes to bring on the table.
On the other hand, Atwoli is a trade unionist; he can only produce trade unionists. Every person's legacy is purposed to come from his loins (kind). He too cannot be a kingmaker going by the principle of 'reproducing your kind'. Atwoli brags publicly that he is a life member of Kanu, but he doesn't subscribe to it—he's not seen endorsing Kanu.
The other question is, does Atwoli have a political constituency? No! Any influence? Yes, influence but to whom? Workers? Do workers vote for him? No! Any evidence that a considerable constituency of workers can vote as a block?
No! Conclusion: Atwoli has two options, he withdraws from politics and builds a legacy in the trade union, or he joins politics full time to sire proper. Without this, he could be frustrated should Raila and Ruto come decide to 'shake hands' before or after 2022.
Lying tongue
By joining politics, Murathe and Atwoli could be baptised with a changing heart and a lying tongue—the characteristics of an ordained politician.
In the meantime, both must learn from human rights activists who have tried to help Raila, Ruto, Uhuru or any other politician. When politicians start entanglement after or before elections, non-politicians in the game are most wretched.
What do I say then, the politicians we call Uhuru, Raila, and Ruto have always worked together—they are hewn from the same boulder. Unless one is a politician, it's hard to understand the rules of the game. Politics are not played from the heart; they are played from the lips. Nevertheless, this rule does not apply to those moonlighting as politicians like Murathe and Atwoli.
A politician who can be forgiven for what they did and said are those who can bring votes on the table. Period. That's what I meant when I asked if Murathe or Atwoli have any political capital—constituency. If they have no physical constituency, afterwards, they are more dispensable than surgical face masks.
Dr Ndonye is a political economist of media and communication