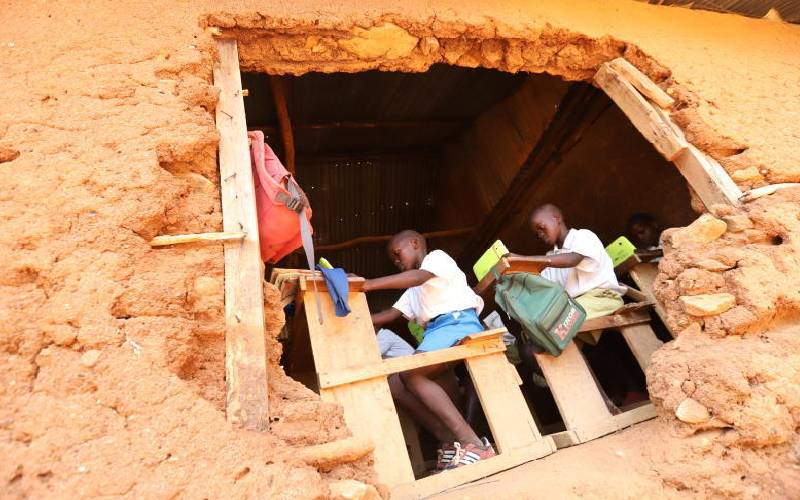 Memory lapse. That is what Kenyan voters are suffering from because every single thing politicians do, or cause to happen, seems new to them.
Many a time, they react to actions and utterances of politicians or generally to disasters — and many of them are in elective positions — as if they are new, then they suddenly forget.
Earlier in the week, when schools were partially re-opened after several months of closure due to coronavirus, Kenyan voters were shocked by the conditions some public schools are in and that many lacked even furniture.
That some — and they are many — public schools are decrepit with gaping holes in walls and decaying floors, should not surprise Kenyans because they have been like that for years despite funds being allocated towards improving the infrastructure of educational institutions every financial year.
Read More
But for their poor memory, Kenyans cannot remember that, and that is why they cannot confront their elected representatives to ask them about the delivery of services and why they cannot ensure schools have a conducive atmosphere for learning and development of skills.
When they saw photos of these schools in poor conditions, some with flooded classrooms, and others submerged and children seated on bare floors, Kenyan voters were asking why the government and its attendant Education ministry did not improve the infrastructure during the partial lockdown before the phased re-opening.
The dilapidated buildings were a novelty to Kenyans. The submerged schools, the gaping holes, children without desks were new to them, yet they did not suddenly rot during the months schools were closed.
That is the product of years of neglect. Years of unbridled looting of public resources as Kenyan voters cheer the biggest thieves and eventually elect them.
The decline has been going on even as Members of Parliament call themselves national leaders but when it comes to the state of educational institutions in their areas, they say that is the mandate of the national government. Are they not representatives at the national level?
Sadly, Kenyans cannot remember that. They know the politicians at the local level when they are campaigning, then see them at the national level when they are dancing themselves lame and insulting one another and increasing their salaries and allowances — and defending their fellow thieves in public offices. Oh, Kenyans also asked about the Sh1.9 billion that it was said, just a few weeks back, will be spent on desks and lockers for selected schools. If it were not for poor memory — or deliberate memory lapse — Kenyans could have remembered that slightly over seven years ago, schoolchildren were supposed to be given laptops.
Beats logic how Kenyans expected wooden furniture that was yet to be made to be delivered within weeks yet laptops which were to be bought readymade have not been delivered, seven years later and counting.
National budget
It is safe to guess Kenyans cannot remember that funds for acquiring these laptops were being included in the national budget every financial year for many years.
The history of treating public schools as undeserving is long, but that is a conversation Kenyan voters would conveniently want to forget because the influential among them — the elected leaders themselves and many of their cronies who have looted public coffers — have a private solution to a public problem in the form of private schools.
Many years ago, private (secondary) schools were considered sub-standard but things changed when looting of public finances and corruption were legalised, and the latter became a legal tender, the only way of transacting business.
Public school teachers in cahoots with politically correct investors started opening private institutions and luring learners and parents by running down public institutions they were teaching in.
They made learning and living conditions in them deplorable by diverting public funds to their ventures.
Now, here is a country whose leaders blah blah blah blather about it becoming a middle-income economy by next week, but lacks proper infrastructure in public schools.
It is shameful those who have been elected to safeguard the interests of Kenyans are not keen on doing so, and not even keener on holding them to account are the voters because they have been numbed by political noise which is music to their ears, food for their souls and an anaesthesia to their brains.
Political noise excites Kenyans and at the same time puts their brains to sleep.
They hear it and go numb until they are jolted back to reality by the poor state of public schools and other ills. Then they get surprised but immediately they hear political noise in the form of wheelbarrows being pushed or politicians calling each other names or wailing about who should greet whoever first, they forget all about the poor state of public schools.
And it has come to pass that public schools have been in a state of disrepair for ages, and as long as Kenyan voters dance to the beat of political noise and deliberately lose their collective memory, the state of schools and standards of education will not improve — and neither will Kenyans' standards of living.
-The writer is an editor at the Standard. @mqhlay