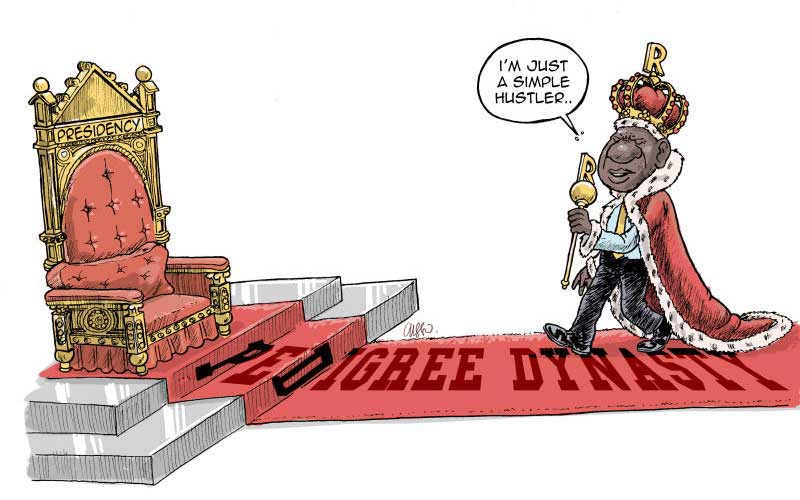 I did not expect anything less than a significant opening of the economy during President Kenyatta's Monday address. Having engaged in assignments that made me to visit various businesses and communities in slums of Nairobi and satellite towns and in rural areas since March 2020 when Covid-19 forced us to close the economy significantly, I could tell that trouble was mounting.
Massive layoffs, business closures and reduced economic activities have left many jobless or without any source of income. Even with the best efforts by the government to contain the economic pain, there is a lot of suffering out there.
Covid-19 has changed the dynamics on jobs and employment generally. Its blow on the economy has come at a bad time for Kenya as high rates of unemployment and the corruption scourge had already made our lives miserable. The pandemic has only exacerbated the crisis.
So, re-opening the economy was inevitable. Many people, young and old, are really struggling to eke out a living in a difficult economy. Any promise to improve their lot, real or false, is quite welcome. This explains why sports betting for some time was treated as work by many, especially the youth. It promised to get them out of the economic misery they were in. Covid-19 has made the situation for many worse.
Read More
Covid-19 has only fueled the misery of the 'hustler.' Deputy President William Ruto and his allies have been capitalising on this misery to sell their political agenda. Ruto (who is part and parcel of the government) has been popularising the 'hustler philosophy' and his allies have been blaming others that they call dynasties for our misery and economic problems. It is pointless to blame the 'hustler class' (those struggling economically and trying to make ends meet) for believing the 'Hustler Nation' spin.
I have over time warned that the increasing rate of unemployment and collapse of enterprises (micro, small and medium and even some of the big ones) is very risky for the country.
Latent anger within the population is palpable. To make things worse, when public funds are stolen or wasted, the economy suffers and many livelihoods are destroyed. Needless to say, it is the ordinary person who suffers the most. When you have a situation where many youth leave schools and colleges but don't secure employment, that is a big problem.
Recently, I was at a firm in Nairobi where a job advertised for an accountant (CPA-K) with a university degree, paying a salary of Sh30,000 per month attracted over 5,000 applicants in a very short time.
I have met many ICT graduates doing any jobs they can get. Seeing graduates selling all manner of cheap wares on the streets is heart-rending. But such graduates are considered lucky by their peers who can't get such opportunities, and thousands upon thousands of other job seekers who have never been to university or college.
Entrepreneurship which has for long been touted as the solution is not working as the economy can only sustain certain numbers of micro, small, medium and even large/big businesses. The solution is to fix the economic paradigm in totality.
Where did we go wrong as a country? There is no question that we have been progressively going downhill. Corruption, tribalism, bad politics and the discriminatory character of international trade have made our independence dreams a mirage.
If you want to understand why people are falling for the populist 'hustler' philosophy, you need to read the history of Germany; the tribulations that the now wealthy country went through in the past. You can't have people perpetually in poverty, pain and unpromising economic situation for long and think think things will remain normal. An empty stomach and a stressed mind is dangerous combination.
In a nutshell, it is either we fix the economy or we all fall – 'hustler' or no 'hustler.' You can't blame Ruto and Co. for popularising the 'hustler' philosophy. They have seen an opportunity; a perfect political opportunity! We are in a situation where people need urgent solutions to improve the economy and their lives. Whether the 'hustler' philosophers have a solution is a different ball game. But we need a solution.
-Mr Ikunda is the head of a leading renewable energy organisation