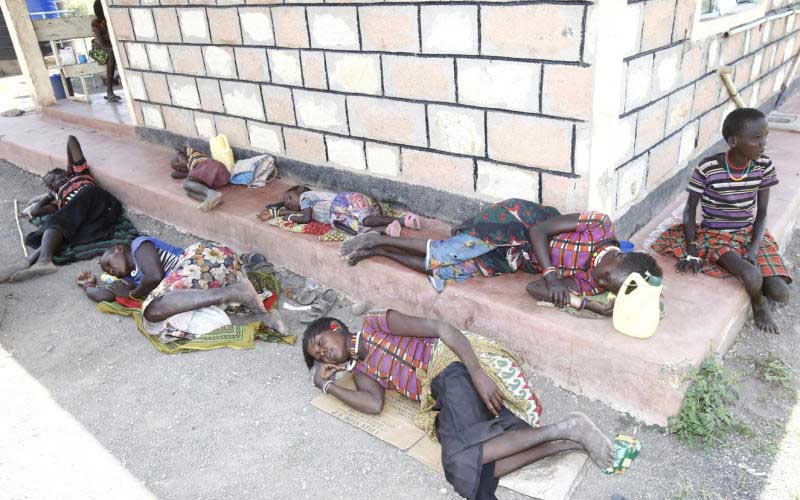 At a time when the economy is on a downtrend and millions of Kenyans hardly getting by due to closure of businesses and attendant loss of jobs as result of Covid-19, another catastrophe is about to hit.
Medical personnel have embarked on an industrial strike barely days after the country teetered on the edge of a shutdown of services following a revenue-sharing impasse.
It is imperative to note that medics, most of whom work under county governments, would have been some of the most affected workers had President Uhuru Kenyatta's administration not intervened to have the revenue sharing stalemate resolved.
The medics have or are about to withdraw their essential services at a time they know they are needed most.
Services in Nyamira hospitals have been crippled for a week following a doctors' strike. Patients booked for surgery and other specialised attention are at home. Intensive care unit and maternity services have been badly hit by the strike, with doctors urging locals to transfer their sick relatives to private hospitals or neighbouring counties.
In Narok, a 14-day strike notice by four health workers' unions is soon expiring.
The Kenya Medical Practitioners and Dentist Union (Kmpdu) South Rift Valley Branch, Kenya Union of Clinical Officers (Kuco), Kenya National Union of Nurses (Knun) and Kenya Health Professionals Society (Khps) representatives are threatening boycott work over delays in promoting their members.
Their other grievances include understaffing, lack of health insurance cover, National Hospital Insurance Fund comprehensive cover, car loans and quality Personal Preventive Equipment (PPEs) amidst the coronavirus pandemic.
About 5,000 workers at the Kenyatta National Hospital (KNH) have issued a seven-day strike notice over delayed disbursement of improved salaries and allowances.
Kenya Union of Domestic, Hotels, Educational Institutions and Hospital Workers (Kudheiha), Knun and the Kenya Medical Practitioners, Kmpdu made the announcement on Monday. By next Monday, they won't be at work if their grievances are not addressed.
In a poor economy like Kenya, where a massive majority is made up of workers, strikes are popular with a vast segment of the population. In this country, and most of Africa, heroes are made from mobilisers of labour strikes. In fact, many renowned political leaders cut their teeth as picketers during such strikes.
Withdrawal of labour is actually an ideal way of pushing for commensurate compensation especially where profit margins can be deciphered as a direct function of the said labour. But while heroism abounds in championing for fellow workers' rights and participating in the self-emancipation from exploitative profiteers, the same cannot accrue if in the process some innocent participants loose. It is more absurd if life is lost as one seeks a better life, pun intended.
And that could be the reasoning behind guarding against strikes for those working in what is classified as the essential services sector.
In most jurisdictions, essential services include sectors such as water supply, telephone, firefighting, prison, the police, air traffic control and probably child care services.
For those working in these sectors, their freedom to participate in labour withdrawal form of industrial action is expected to be a bit restrained due to the obviously dire consequences such a move can have on the communities in which they work.
Alternative forms of revolt are always advised in case of disputes involving the workers and their employers. In fact, some countries actually make strikes illegal for workers in such sectors.
That the Kenyan Constitution gives every worker, regardless of the sector, the right to participate in industrial action is a noble fact. It is one of the reasons the document is considered one of the most progressive constitutions in the world. The progressiveness is however premised on the assumption that our national populace is mature enough to know when to hold on and when to run, what is wrong and what is right.
This brings me to the sector I consider more essential than all the other essential ones: the health sector. It rightly occupies that apex position above others for obvious reasons, largely to the fact that it deals directly with life, from conception to death.
That is why nurses, clinical officers, hospital cleaners and doctors should reconsider their right to withdraw labour during disputes.
-Mr Cherambos is a social commentator. [email protected]