As corruption goes on, so does the crackdown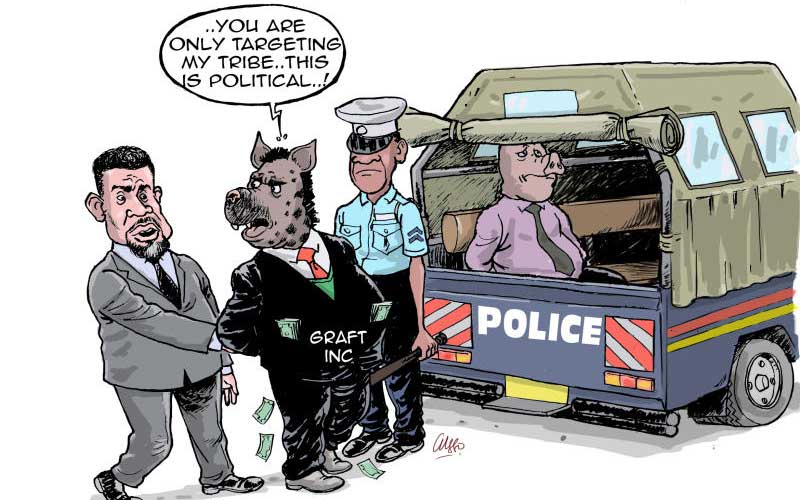 The war on corruption is once again on the front page. A governor was arrested and other politicians are being prosecuted on accusation of obtaining money through corrupt means. If President Uhuru Kenyatta succeeds to create the impression that he is serious before the end of his term, then we are good to go on giving him a good score card on his legacy. The events at the DCI shows that while corruption still occurs across various bureaucratic offices, so does the crackdown campaign.
Three officers from the DCI are currently in police custody, waiting to be arraigned following events that occurred on July 31. They are alleged to have carried out a violent robbery at the Baraka Gas Company in Matuu-Machakos County. The officers who serve in the Special Service Unit reportedly intercepted the company's surveillance car and forced the manager to allow them entry into the facility.
The officers are accused of confiscating mobile phones of employees on site before forcing the company to transfer Sh37,000 to an M-Pesa number that was linked to the suspects. And there is another twist: The officers allegedly targeted the company after being tipped off that it was illegally refilling cylinders from various gas companies behind closed doors.
The investigation is still ongoing and the suspects are in custody. It is incredible that anyone can believe they can get away with such a crime, especially in light of the fact that M-Pesa accounts are linked to people's personal ID numbers.
Nonetheless, some people still seek to make money through illicit means.
This kind of theft - or any theft, for that matter - is something that should be relegated to the annals of Kenyan history.
Corruption is something associated with our country, there is no doubt about it, but the government is doing more than ever to change the culture of corruption and ensure that anybody who is guilty of it will be prosecuted to the full extent of the law.
While corruption is very much a part of our nation's past, it does not mean that it must be a characteristic of our future. This begins and ends with Uhuru's anti-corruption campaign, one of the hallmarks of his administration thus far.
With past presidents, people were too afraid even to acknowledge that it is happening, let alone speak out against it. In particular, under a past regime, the older citizens amongst us watched time and again while State coffers were drained by a handful of malevolent bureaucrats who took advantage of their privilege.
But due to the presidential focus on ending corruption once and for all, Kenya has finally begun to see a fundamental shift away from something that even characterised our daily lives in the past. The three officers were immediately arrested and will face the justice that they deserve. Not even those with power can get away from robbing others.
Admittedly, it is a difficult time to be dealing with anything not directly Covid-19 related at the moment. It seems like this virus has completely taken over our lives and has undoubtedly been the chief topic of conversation and news throughout the first half of 2020.
But behind the scenes, there are still benevolent officers of justice and elected politicians who do have good intentions, and are working to deliver the development agendas that were right at the top of our national goals before anyone had even heard of the Coronavirus.
Alas, unexpected challenges will always emerge when you least expect them. That is why they are called unexpected. But distractions such as Covid-19 do not detract from the fact that we elected a president to carry out certain duties, and do them he shall.
While vetting is done for every DCI and police officer before they begin a career of service, there will always be those rotten apples that will try to steal. The difference between how this would have been handled in the past, and how it is handled now, is that rogue officers are no longer walking away as free men.
We, the Kenyan people, deserve justice. And justice is what we shall get. Even if it seems like we are going to be set back years due to the health pandemic, those who we elected to serve us are still working hard, and working together, under Uhuru's leadership.
Mr Guleid, a former deputy governor of Isiolo County, is CEO of FCDC Secretariat