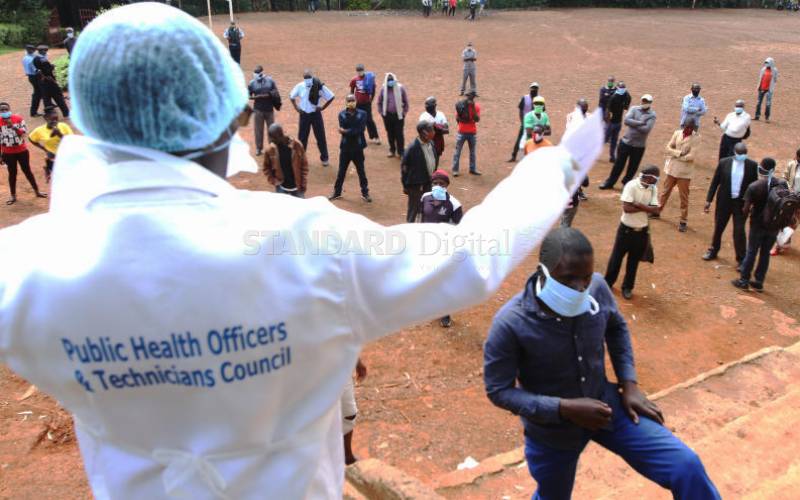 Two weeks ago, I drove past Hill School- Eldoret. Well, those of my generation and above look back with nostalgia at how the public institution has become a pale shadow of the academic giant in times of yore. Formerly a school for British and Boer settlers, Hill School- Eldoret reverted to the public at independence and was a shining light in the 1970s-1990s, posting good grades in national exams. Earlier, I had driven along Nandi Road - the road with the highest concentration of hospitals I have seen anywhere, most of them private. Moi Teaching and Referral Hospital down the road is busy, but there is no question that for better, reliable and faster services, many patients would rather visit the private facilities up the road. No doubt, the Covid-19 has exposed the Achilles' heel in the total takeover of two of our society's essential services and the folly of investing in big infrastructure projects but which, without "market-creating innovations", don't translate into real and actual savings for mwananchi and the economy.
SEE ALSO: Men, what's going on? Kagwe asks as more men test positive
Quite frankly, the hard knocks to the economy and the growing sense of despair are largely because government has lost control of what matters. In many countries that are opening up, Government's involvement in the provision of education, health, housing, transport and even water is evident. And so in our case, even a very well coordinated response to Covid-19 – like social-distancing, washing hands, wearing masks – will be undermined because government is just a by-stander. There is just so much it can do to enforce wearing masks and social-distancing in say PSVs, as I saw in Eldoret. All these services have been taken over by buccaneers out to make a profit. In reality, public transport has minimal ROIs. That is why in most of the world, public transport is a public/private partnership through subsidies or wholly state-owned. What many find repugnant is that in spite of paying taxes, healthcare and to a large extent, education, are in a poor state. Yet there is proof that investing in essential service institutions offers a multiplier effect by "equalising" society. For example, good schools are a chance-giver, a door-opener to the poor and marginalised. Make no mistake, private enterprise is a noble undertaking, especially where government is unable – in most cases, unwilling – to provide such a service. The truth is that the 'not-for-profit' mission schools and church-run hospitals and dispensaries have made great contribution in far-flung areas. But when those who wield political power own the best schools, run the best hospitals and have invested heavily in the transport industry, there is a problem. State capture comes in many ways. This is just one of them.
SEE ALSO: Kumari Taki outshines Kipruto in Diamond League trials
The year-long closure of schools is an indictment on government. And even then, nobody knows for sure what happens in January because unless more classrooms are built (in hundreds of thousands) and more teachers hired, school is out of question. The truth here is; government doesn't invest as much on education (and healthcare) as it does on the political class who are far fewer and have proven time and again to be good-for-nothing. It is the same with the healthcare sector where years of plunder and neglect have left it paralysed. Isn't it ironical that so much has been put into infrastructure – roads, airport, railway, a new seaport, ICT – and so little into what can actually lift thousands, perhaps millions, out of poverty? Those roads will mean much only when a sick Kenyan is speedily whizzed to a cheap, clean and well-equipped public hospital or to a good public school.
Extreme poverty
The 5G network makes little sense to the person laid off work because besides the ravages of Covid-19, doing business is costly. Everyone desires good roads and a good transport network, but those efforts are subtracted by the unaffordability of essential services. It is atrocious that transport costs alone eat up to one-third of all incomes in urban areas where transport costs at least Sh200 one way.
SEE ALSO: Zimbabweans seek traditional medicine amid pandemic
After taking out food, school fees, electricity, water, medicine, entertainment, remittances to villagers upcountry, it begins to dawn on us why many live hand-to-mouth. When he came into office in 2003, President Luiz Lula da Silva made it his mission to save the poorest of the poorest Brazilians daily inconveniences that caused them so much misery. By minimising incidental costs in healthcare and education and even transport, he staved off hunger and reduced the levels of extreme poverty in Brazil. Remarkably, by the time he left in 2010, 25 million Brazilians had been lifted off the pits of poverty. Mr Kipkemboi is The Standard's Associate Editor for Partnerships and Projects.