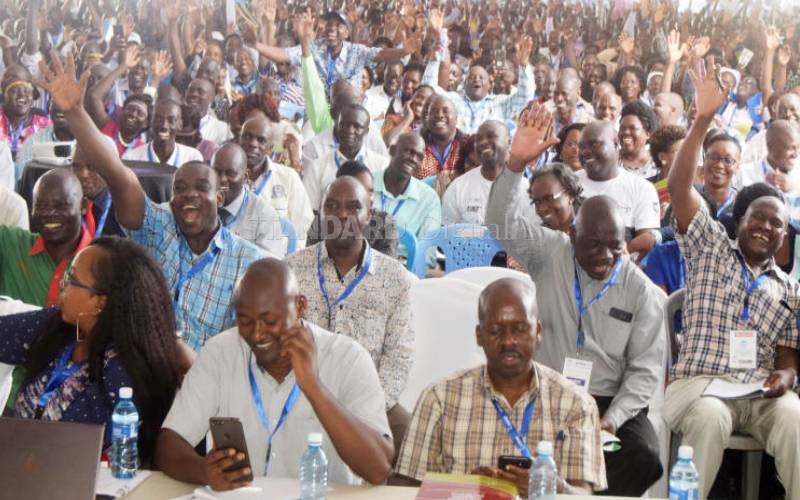 The Salaries and Remuneration Commission (SRC) job evaluation for teachers was conducted by PriceWaterhouseCoopers, and out of the 300,000 teaching force, only 32 jobs were identified. However, since there was need to provide a career path for the administrative positions, an additional 61 jobs were identified in the evaluation, and agreed on by all stakeholders. This raised the number of jobs in the teaching service to 93. The evaluation established that the largest group of teachers were in job group 'G' (Grade B5), comprising about 30 per cent of the tutors. The highest role was in Job Groups 'P', 'Q' and 'R' that was mapped Grade D1 in the Paterson Banding.
SEE ALSO: Teachers get more hospitals in medical scheme
The job evaluation introduced a new level of career path for teachers. Those in administration were absorbed in Band 'D' - from Grade D2 to D5. SRC was to conduct job evaluation to determine the relative worth of jobs and offer advice on remuneration on the basis of job content, responsibilities, minimum qualifications, decision-making level, required accountability and working conditions. As part of its mandate, the SRC is to advice the national and county governments on the remuneration and benefits of public officers. And in performing its functions, SRC is required to take the following principles into account: Transparency and fairness, the need to recognise productivity and performance and the need to ensure that public services, in this case, the teaching service, is empowered to attract and retain the skills required to execute their functions. The policy underpins the constitutional principles of fair competition and merit, integrity, transparency and accountability, equity, fairness and impartiality, inclusiveness and non-discrimination, gender equity and regional balance in the appointment and deployment of institutional administrators.
SEE ALSO: Seize Covid-19 induced learning hiatus to improve education system
Though the policy resonates with the TSC's reform agenda, particularly the enhancement of learning outcome through strengthening the management of learning institutions, it doesn't empower in any way SRC to set in place new salaries and allowances. Determining teachers' pay squarely lies with TSC and Knut through harmonious, structured and constructive negotiations. It's time we started negotiating a Collective Bargaining Agreement (CBA) which will transform teaching in basic education institutions and align it with today's world. Teaching in basic education institutions has remained comparatively the same for decades. And if basic education has not changed with the times, then it is reasonable to assume the role of educators, too, has not changed. Therefore, one would conclude that the role of the teacher could only be effective, respected and fully recognised if a transformative CBA was in place. The union, therefore, advocates for respect and strict adherence to the Code of Regulations for Teachers while developing a new CBA. The code outlines the criteria and procedure for promotion of teachers. Though the promotions are based on the schemes of service, the exercise is subject to availability of vacancies and budgetary provisions.
SEE ALSO: Pay CBA deal or brace for war, Knut tells TSC
Schemes of service
TSC should consider the existing schemes of service while promoting and upgrading teachers, in particular merit and ability, as reflected in the teacher's work, performance and results, seniority and experience, existence of vacancy and professional qualification. Again, TSC should continue promoting teachers in the new CBA in accordance with the schemes of service, which provide for common cadre establishment promotion and competitive promotion. As a matter of priority, TSC should schedule an engagement with Knut to negotiate harmoniously the next CBA for the purpose of improving teaching standards. The union and the teachers' employer should equally ensure continuous professional development of teachers as outlined in SDG4. In the CBA, the employer should develop programmes that enhance productivity in the teaching profession besides expanding the scope for clear promotion of teachers. The union's proposals in the next CBA have since been forwarded to TSC to allow for a structured dialogue. It is now for TSC to reaffirm their commitment to maintaining a collaborative relation with the union. The commission and the union should be prepared to resolve their grievances in an amicable manner. Kenya's teaching service should be a world-class model in teacher management. - The writer is Knut Secretary General and Nominated MP