Why Uhuru is cracking whip amid coronavirus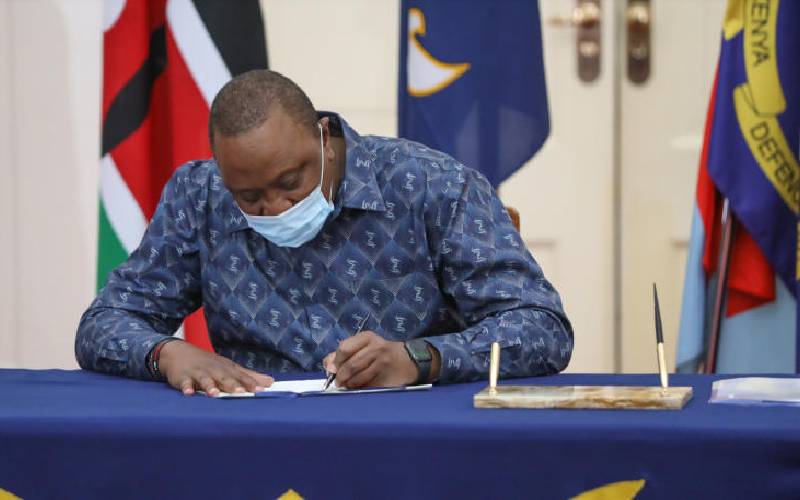 Some Kenyans are, understandably, up in arms over the heightened politicking even as the coronavirus wreaks havoc. The virus appears to have towed along another bug that has targeted the politicians, which perhaps, is to blame for the flurry of political activity that has left some smiling and others almost in tears.
But don't hasten to curse or blame the politicians, President Uhuru Kenyatta (pictured) and ODM leader Raila Odinga included, for tightening the political bolts and nuts, through the so-called 'house cleaning', at this time when some would expect them to direct their energies to battle Covid-19.
In fact, this is the right time for the leaders to do what they are doing. So, even as they spearhead the war against the virus, they must not waste the political opportunity presented by this pandemic. You may disagree, but that's how politics works!
UK prime minister Winston Churchill once remarked, "never let a good crisis go to waste''. In the US, President John F Kennedy explained: "The Chinese use two brush strokes to write the word 'crisis.' One brush stroke stands for danger; the other for opportunity. In any crisis, be aware of the danger-but recognise the opportunity.'' So, why would our leaders let the Covid-19 crisis go to waste?
If the history of late President Moi's rule is anything to go by, crises can be an opportune time to carry out desired changes. After the 1982 attempted coup, Moi got a good opportunity to entrench himself and get rid of some 'disturbing' elements. The crisis brought by the coup, destruction notwithstanding, came in handy for him.
The defeat during the 2005 constitutional plebiscite gave President Mwai Kibaki an opportunity to get rid of 'elements' in the LDP party wing, which was part of then ruling party NARC, which was his biggest threat to his grip on power.
It also became an opportunity for Raila to build his career further after defeating the NARC government under Kibaki in the plebiscite, a defeat which was quite unusual in Kenya. It helped Raila, using the Orange movement then, to establish a formidable party and take his career a notch higher. From then on Raila became a stronger figure in Kenya's politics. The same would likely be the case for Uhuru Kenyatta after the coronavirus mess and crisis, if he makes well calculated political moves. It is a bad crisis, but it presents a perfect cover to make significant and deft political moves.
Politics like in the business world is unforgiving if you waste time or let opportunities just pass by. The Covid-19 crisis presents an opportunity to change Kenya politically, and perhaps even economically. Uhuru's best moment to carry out strategic political moves is now, not later.
Before this crisis, the President looked tethered and wrung up politically as his deputy William Ruto had managed to rock the boat from within with key political positions held by his allies. His energetic campaigns across the country, especially over the weekends in churches gave him a lot of visibility and mileage. One has to give credit to Ruto for his shrewd political nature and energy.
Perfect window
But Uhuru now seems determined to reverse those gains. Covid-19 seems to have provided the perfect window for the President to exert his authority to take the direction he desires politically. The recent purge in the Senate, which was swift and ruthless and which saw Majority Leader Kipchumba Murkomen and chief whip Susan Kihika ousted, is a perfect example of where he wants to go.
This was quickly followed by removal of Senate Deputy Speaker Kithure Kindiki and several committee heads. One can possibly see the spirit of his political father and mentor Daniel arap Moi in the 'new Uhuru'. Moi meant political business and so was Moi's own political mentor, Uhuru's father Jomo Kenyatta.
Uhuru, from all indications, has good political advice or has been looking for crucial space. He has found it in Covid-19. That's why we should expect more purges in several levers of power, including National Assembly and very likely in the Cabinet. It is clear the President has some pending political business to do. And so as he fights Covid-19, the pandemic presents him with a perfect opportunity to finish this business. Just wait and see.
Mr Ikunda is the chairman, Consumer Downtown Association