Only Raila can save Ruto from being flung into political dustbin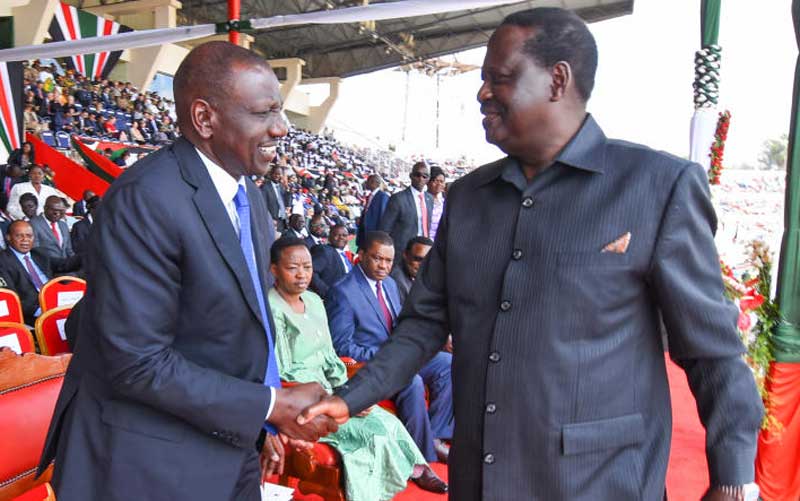 There is no absolute enmity in politics except permanent interests based on individual ambitions. This is why many political leaders could loathe each other, but end up mending fences.
Despite the turbulence Deputy President William Ruto is going through in the Jubilee government, there is room for him to navigate new frontiers to remain relevant politically.
The DP should not waste time agonising about the imbroglio in Jubilee. He should instead start courting new and old political partners given the unpredictable nature of the political terrain.
Ruto should learn from the unprecedented unity by opposition leaders to defeat Uhuru Kenyatta, who was being backed by the late President Daniel Moi under Kanu, in 2002. This will neutralise the humiliation he is going through in a government he serves as second in command.
Desperate times often require radical moves. For Ruto to resuscitate his dwindling political fortunes, he must make a strong and calculated move that will surprise both friend and foe.
The DP must try and dismantle the political covenant between the president and ODM leader Raila Odinga since it's perceived to be the genesis of his political problems.
Ruto should be more forgiving to political detractors like Raila. Many of Raila's supporters at home and abroad know that the ODM leader is extremely forgiving. Irrespective of the gravity of differences, he is always ready to build bridges with his political enemies.
Nothing deterred Raila from working with President Mwai Kibaki despite going through a tumultuous political experience before and after the 2007 presidential election. What Ruto is going through in Jubilee isn't different from what Raila has been through in his political journey.
Despite not sharing similar political ideologies, Ruto and Raila have shared similar political experiences that can be harnessed for their political good. The two are tenacious and highly ambitious. They also have a huge following.
If Raila forgave the late President Moi, who detained him without trial for almost a decade, no differences could prevent him from working with Ruto!
The ODM leader also had a handshake with his former political nemesis — the president, despite fighting it out in two elections which Mr Kenyatta controversially won.
As the adage goes, adversity loves company. Nothing will deter Ruto from working with Raila, his former ally. Both are victims of political betrayal emanating from the leaders they once trusted.
The politically betrayed should build a new 'Pentagon' similar to the one of 2007. It will be more viable for Ruto and Raila than trying to gain politically from Kenyatta's succession maneuvres. Luckily, all former Pentagon members except Najib Balala who is a CS, are in active politics.
Having Raila as a presidential candidate and Ruto as a running mate will be a real deal. It's what they call in Kiswahili "moto wa kuotea mbali". The only move Raila will have to make is to stay lukewarm on the handshake (BBI). This will ensure that they go to the ballot in 2022 under the current constitution.
However, if Ruto decides to support a referendum through the BBI, which proposes an expanded Executive just like Raila, it will be a good opportunity to bring on board the 2007 Pentagon members — Joeseph Nyagah, Musalia Mudavadi, Kalonzo Musyoka, and Balala — for purposes of diversity and political accommodation.
Political betrayal in whichever form should serve as a strengthener to the betrayed. Many leaders in Kenya have gone through some form of betrayal. In fact, the majority of Raila's 2007 Pentagon team except for Balala and Nyagah have been betrayed.
Kenyans can recall that Mudavadi was referred to as a demon while Kalonzo was side-stepped in the Kibaki succession plans in 2013, which favoured Kenyatta.
If Raila picks Ruto as running mate, they would make a formidable force that would shake the other candidates.
This is perhaps the reason some power barons are working hard to ensure that the DP and ODM leader are at loggerheads in perpetuity.
Political feuds in the Jubilee may look tragic to Ruto's political destiny but if he swallows his pride and reconciles with Raila, it will completely roll back Uhuru's succession plans.
Ruto needs to court Raila to build an alliance before 2022 in order to survive the current Jubilee imbroglio and stay afloat politically. Otherwise, power brokers in the Uhuru succession will send him to the political dustbin.
Mr Nyaringo is the President of Kenya Patriotic Movement, a diaspora lobby group based in the US