Down but not out: Ruto is a lion feigning a cat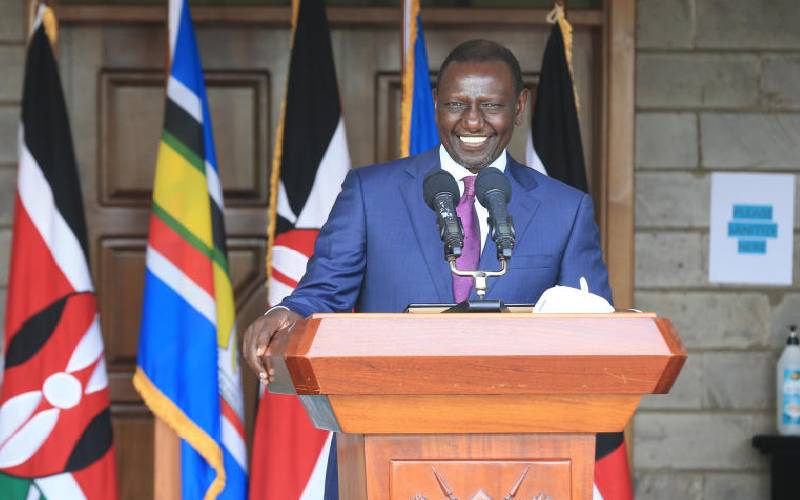 Lions do not like rain. To the big cats, rain is not an energy giver. A rained on lion loses liveliness; it quits, chickens out and shrinks. Deputy President William Ruto's (pictured) captors in Jubilee are telling us that all of a sudden he has transformed into a bruised reed and a smouldering wick.
Makueni Senator Mutua Kilonzo Jr and Nyeri Town MP Ngunjiri Wambugu argue that all along, Ruto's numbers have been a red herring and ethereal.
Jubilee Party Vice Chairman David Murathe has continuously dismissed Ruto as a political insignificant; although Uhuru has been using political war tankers to dismount his deputy's foot soldiers.
Murathe says Uhuru's Jubilee won't impeach Ruto. Instead, the party has categorised Ruto as its competitor in the 2022 presidential race.
Ruto should have faith in Murathe, but must not believe him. Either Jubilee is floating decoys, or they are genuine. If they are playing decoys, then it is too late – this is not the time to conceal their intentions. Every bird of the air and crawling creature knows that Uhuru has already unsheathed his sword against his conspirators, whose chief priest is Ruto.
Building sieges
Murathe's argument that Uhuru is against Ruto's impeachment might explain why Uhuru is de-escalating the kwekwe tune. So, is Jubilee unable to totally crush their competitor? Are they already worried by Ruto's stillness?
In a political battle, an opponent who is ready to face death can achieve anything. If that is so, could Ruto's stratagem be cooking? Note that Uhuru has said that he won't defend Ruto should corruption ghosts pursue him – we should keep watching all night long for this aphorism.
Uhuru has also said he won't help if Ruto resigns. Truth is Ruto will be strongest outside and weakest inside the government. Thus, it will be safer to lullaby Ruto into slumber inside the government.
Outside, he could snowball into a formidable force, building sieges strong enough to circumvallate. However, Ruto could be the strongest candidate outside the 2022 ballot, but weakest if he on the ballot; unless he resigns like yesterday. Ruto should take note.
We have witnessed Ruto's army fall as he whispers, shalom, shalom! Has President Uhuru seen the whole army on the side of his deputy? Or is he like the biblical Gehazi who could not see the vast army on Elisha's side?
As things stand now, Jubilee must revisit strategies for winning in the game of checkers. In checkers, you should get worried when your opponent is pushing pieces for you to capture, unless you are playing with an inexperienced beginner. Ruto is not a beginner in political gimmicks.
I have seen Ruto use forced moves on Uhuru and seemingly sacrifice his pieces in the game. He has kept his peace as Uhuru captures and hordes his pieces. In most cases, sacrificing checkers paves the way to king or capture the opponent's pieces sequentially. We are yet to know why Ruto has allowed Uhuru to capture his checkers while keeping his peace.
Two, Ruto seems to know that checkers cannot be won by playing defensively. He is not raising any overt defence or offence; he has acted as such for a while as Uhuru advanced his offensive.
In checkers, when you make a wrong move, and your opponent captures your checker, the best thing to do is to sit back and fortify. Could Ruto be retreating to create fortresses against Jubilee missiles ahead of 2022? Senator Kipchumba Murkomen has hinted that Ruto has agreed to lose the battle and withdraw to prepare for war. Isn't this worth noting?
Experienced players in checkers aim at pushing a piece until it is kinged. Whoever kings first is likely to win. Ruto has already been kinged for 2022 and what Jubilee has been doing is to try to block and capture him; a defensive strategy in checkers because a kinged piece is the biggest threat.
Whoever kings earlier is likely to have the upper hand in 2022 – not always, but the ploy works. Failure to king early has cost political outfits like NASA and ODM dearly; kinging late risks losing competitors who had high expectations for the throne. Therefore, Uhuru must be sure – extremely sure that all his supporters are doing so out of loyalty, not out of fear, intimidation or coercion.
So far, the embattled Senator Susan Kihika and Jubilee Deputy Secretary General Caleb Kositany have accused State House of intimidating Ruto's supporters and sympathisers. That is worth tracking. If it is true, it isn't a sustainable political tack. It will backfire immediately he kings his piece; it could be blocked as happened to him in 2002. Blocked checkers cannot move, and whenever they do, they are always captured.
As the Jubilee clean-up unfolds, it is not over for Ruto, and it is not going to be easy. In Kenyan politics, you must not go celebrating until Tharaka Nithi votes have checked in.
Dr Ndonye is a political economist of media and communication