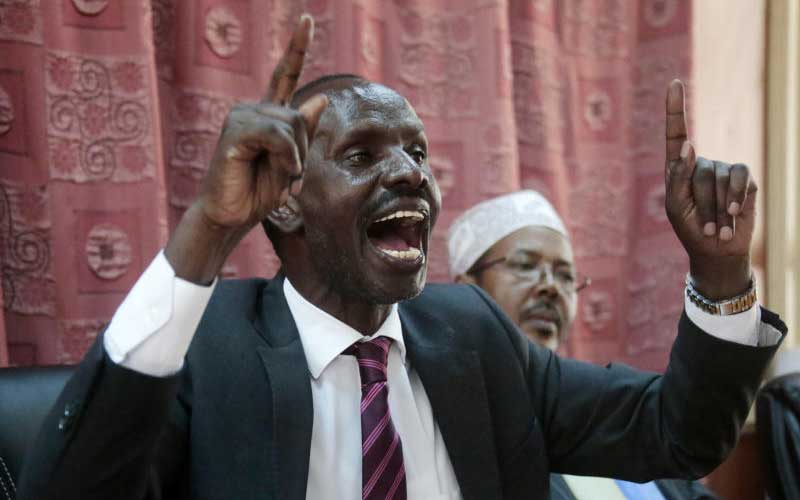 I applaud The Standard for publishing an opinion piece by Kenya National Union of Teachers (Knut) Secretary General Wilson Sossion (pictured) on March 9, 2020 on the mass transfer of teachers from the North Eastern region.
This platform is enormously essential since the news pages cannot possibly cover all the positions and nuances of Knut and Kenya Union of Post Primary Education Teachers (Kuppet) on this issue of immense national concern.
Since 2015, more than 40 teachers have been killed by terrorists who specifically attack non-locals in the north-eastern region of the country. I, therefore, reaffirm Kuppet's opposition on deployment of non-local teachers in North Eastern without demonstrable proof of improved security.
Although Mr Sossion set out to debunk this unequivocal position by Kuppet, he predictably resorted to what he knows best – maligning those who reject his ideas. His culprits were TSC bosses Lydia Nzomo, Nancy Macharia and myself.
Read More
While he assembled the fundamental global principles on the delivery of education, including the 1966 ILO/UNESCO recommendation concerning the status of teachers, he regrettably misinterpreted them. Unsurprisingly, the few he appropriately applied negated his basic arguments, hence the internal incoherence of his article.
In a piece themed on human rights and the children's right to education, it was rather odd that he blithely neglected the targeted killing of non-local teachers in the region. The closest he came to confronting the problem was to call it "any issue that results in teacher shortage".
While he reinforced the rights of North Eastern children to education, he spared not a word on the more sacrosanct right to life of the vulnerable teachers. He denounced Kuppet for frustrating the children's right to education – by demanding the transfers!
But conspicuously missing was any censure of the terrorists who pose the gravest danger to these children's education by murdering their teachers. Neither did he address the region's leaders who have not cared to devise any method to help protect vulnerable teachers through the nyumba kumi or other community initiatives.
"…Knut will never support a policy on non-local teachers being posted or transferred to the region. The union is also opposed to the teacher delocalisation policy," he wrote. Also, "Knut firmly supports the UNESCO policy that encourages natives to take up teaching posts within their clans, tribes and communities, as this helps pupils to interact with their teachers with minimum barriers."
Such noble principles overlap Kuppet's demand for the mass transfers – albeit for different reasons. In reality, however, the region – like other previously marginalised areas such as Lamu, Turkana, West Pokot and even Narok and Kajiado counties – lack local teachers to serve in its many schools. Non-local teachers have been key to the rising educational attainment in North Eastern. Recognising that Knut cannot convincingly demand the deployment of only local teachers in NEP (which alone can sustain his difference with Kuppet), he pontificated on a tangential issue in the current debate – affirmative action.
Generally defined, affirmative action is a policy in which the tribe, race, skin colour, gender or national origin of underrepresented persons are taken into account to increase opportunities for them in education or employment. Through "affirmative action", positive steps are taken to increase the representation of minorities in areas where they have been historically excluded.
There is perhaps no region in Kenya that has benefited more from affirmative action than North Eastern. But affirmative action for the recruitment of students into teachers training colleges (TTCs) has long outlived its usefulness.
Against approximately 2,500 vacancies left by non-local teachers, the region has more than 24,000 high-school graduates qualified to train as teachers. It has scores of trained teachers yet to be absorbed into public service and hundreds more currently serving outside the region, who could bridge the shortfall.
Moreover, Sossion's enunciation of ILO/UNESCO recommendation requiring that "every teacher, regardless of where they are stationed, should fully enjoy equivalent basic conditions of employment and benefits to those serving in other parts of the country," refutes his plea for the kind of affirmative action he put forward.
Through interventions like the establishment of national schools in all counties, model schools and other initiatives, Kenya is progressively standardising educational opportunities across the country. Granted, certain regions maintain relative advantages over others in the development of educational infrastructure.
If required, affirmative action policies must be empirically set and executed. I am proud to have successfully fought in the courts against the unilateral decree by former Cabinet Secretary for Education, Amina Mohamed, to lower the academic requirement for joining primary TTCs from KCSE C (Plain) to D+ (Plus). To Sossion, this was part of Kuppet's frustration with education in NEP.
Proceeding from his poor conception of affirmative action principles, Sossion sought to malign me as "one of the beneficiaries" of the system, having joined Kenyatta University (KU) years after "failing to meet the cut-off mark in the KCSE examinations".
Well, he couldn't be more wrong. I joined the university under mature entry, not affirmative action as claimed. Any Kenyan with the same qualifications I held could have applied and joined the programme.
Rather unscrupulously, Sossion buried the fact that he was my classmate at KU. Like me, he had failed to meet the cut-off points for university entry at his A-Levels. Indeed, he joined the programme with slightly weaker qualifications than mine.
This notwithstanding, neither of us would have "languished in the unknown world" without the degree. Before we joined KU, we were both long-serving secondary school teachers and branch leaders in our respective unions. Sossion's three immediate predecessors in Knut did not have university degrees. Neither was his nomination to Parliament by ODM predicated on his degree qualification.
Now, higher education should not only liberate us from economic anxieties. It should drive us to constantly question ourselves, beliefs, biases and close-mindedness in a higher quest for justice in society.
My KU education has helped me to shepherd Kuppet from a tiny institution of 9,000 members in 2006 to more than 100,000 currently. Kuppet has become the leader in teachers' unionism, initiating a Collective Bargaining Agreement that Knut had never imagined of for 50 years, among other accomplishments.
To further my understanding of the labour environment, I recently enrolled for a masters degree in Public Policy Management. Having studied and worked with Sossion over the last decade, I am aware that his slightly high level of education is a source of friction with his colleagues – most of whom have no degrees.
Unable to lead Knut to prosperity, his last refuge in dialogues with Kuppet is usually to harp on the tired propaganda that our union is allied with the government. "An indecisive Misori hardly sees anything wrong committed by TSC, even at this hour when the commission has sunk to its lowest depth," he alleged, tendering no evidence to back his claim.
It is, of course, Knut that has sunk to its lowest depth under Sossion, who clings to his union position when his interests lie elsewhere. On the North Eastern crisis, he is disingenuously using Knut to advance his own political goals by amplifying the position taken by his party leader, Raila Odinga.
Mr Misori is the Secretary General of Kuppet