Uhuru, Trump deal will boost regional security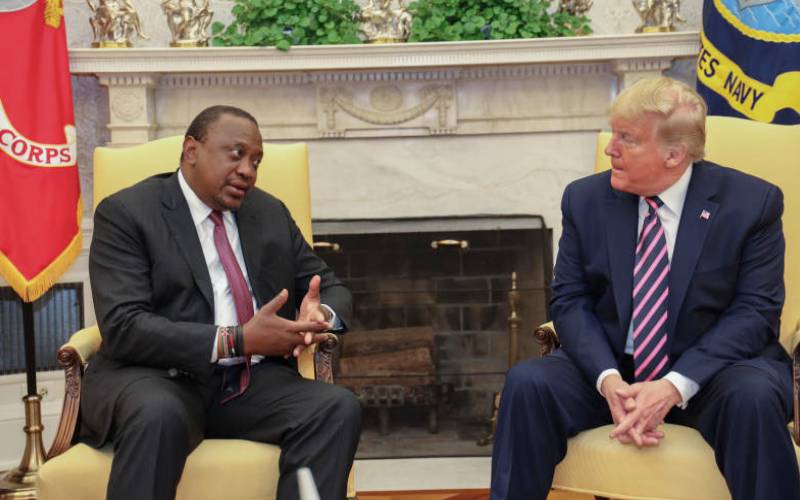 Our counter-terrorism firepower was given a critical boost recently with the formation of a joint counter-terrorism task-force with the United States. This followed President Uhuru Kenyatta's visit to the White House earlier in the month.
Additionally, it was announced that Kenya would be the first sub-Saharan African country to negotiate a bilateral trade deal with the US.
This newly formed counter-terrorism task-force will see 42 of our finest law enforcement officers undergo training at the FBI's prestigious Quantico Training Facility.
Upon completion, these officers will form the first Kenyan Joint Terrorism Task-Force (JTTF) and will be on the front line in keeping our country safe.
The challenge that terrorism has posed to Kenya over the years is no secret. The nature of our technologically-interconnected world means that this threat has only become more sophisticated with time.
And while our men and women in uniform have worked tirelessly to secure our lives, they have not always been successful.
There have been costly slip-ups. Terrorist attacks still occur from time to time since the first time when a bomb went off in 1975. From the 1980 Norfolk Hotel bombing to the 1998 US embassy bombing, Westgate (2013), Garissa University (2015) and the 14 Riverside complex in 2019 and many others on a small scale, leading to needless loss of lives.
There have been countless other attacks on police officers and public service vehicles. Needless to say, one attack is of course one too many and that is why we ought to be prepared to go to any lengths to ensure that not even one terror attack occurs.
Evil agenda
To successfully fight terror, government agencies must be a step ahead always. Globalisation and the rapid advancement in technology has afforded terrorists and their sympathisers a space and chance to change tactics and devise new methods to further their evil agenda.
That does not mean they are winning. The good thing is that the JTTF will allow for a multi-agency approach, thereby giving us an upper hand against the enemy.
After its terrible experiences of 9/11, the United States has improved and perfected the art of dealing with terrorism. Not one major terror attack has occurred on its soil since.
This is a reality our country aspires. Relationships such as that with the US and other partners willing to impart knowledge and share experiences go a long way in making us and ultimately the world, safe.
This is not something afforded to all strategic partners of the United States and its importance should not be underestimated.
The training that the JTTF will undergo extends beyond simply how to identify and prevent terror attacks. The programme will be comprehensive in nature and will include all skills needed by security forces dealing with terror cases. This includes how to investigate terror threats, rapidly respond to crisis scenarios and hone negotiation skills.
Corruption
Most importantly, the training will teach the participants how to build a case such that it can be legally prosecuted in court.
The support for these cases will be three-fold, drawing on the highest internationally recognised human rights and investigative standards, the constitution and international conventions.
Cooperation with our American partners also sounds a death knell for corruption that has been blamed for the frequent breach of security at ports of entry.
So dire is the situation that Uhuru declared corruption a national security threat in 2015. What this meant is that officers manning these critical installations are induced to look the other way as those hell-bent on causing us harm and death stroll into our borders.
Support from our international partners will give this process the boost needed to once and for all put an end to corruption among the ranks of those meant to defend our people.
Be under no illusion. This cooperation is in no way a favour or part of an international aid programme. Similar to the way in which the UK upgraded our status to that of strategic partner, the US sees Kenya as instrumental in securing its own interests on the continent and the world.
Former US President Barack Obama said of America's quest for ties in the present-day world challenges: "Where the stakes are the highest in the war on terror, we cannot possibly succeed without extraordinary international cooperation".
Facilitating and developing such extraordinary international cooperation has and continues to contribute to the safety and security of the world.
Ms Munuhe studies international relations at University of Nairobi