Jailing Kabendera only erodes Tanzania's media freedom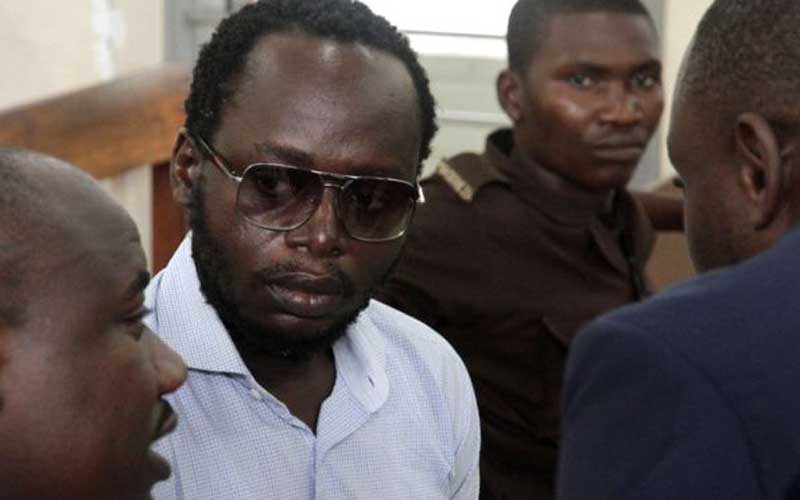 I begin this piece with a heartfelt condolence note to Tanzania's investigative journalist Erick Kabendera. Kabendera's mother, Verdina Mujwahuzi, died last Tuesday as his son languished in prison. One can only imagine the pain Kabendera is going through.
As a journalist, I know it is not an easy trade. It is even more hard to be incarcerated while you at it.
Mpendwa Erick Kabendera,

Nilisikitishwa na taarifa za kifo cha mama yako mzazi Bi. Mjwahuzi.

Pokea rambirambi zangu pamoja na wanahabari wenza nchini Kenya.

Ni jambo la kusikitisha kwamba hukupata nafasi ya kumuuguza mama yako hadi kufa kwake. Kushindilia msumari kwenye kidonda, serikali ya Jamhuri ya muungano wa Tanzania kupitia idara ya mahakama imekunyima nafasi ya kumzika mama yako mzazi. Hiyo sio haki!

Namuomba Mwenyezi Mungu akujalie wewe na familia yako subra wakati huu mgumu. Ya dunia hulipiwa duniani tu!

Mema ya mama yako yatakumbukwa daima.

Mwangi Maina.

Mwanahabari, Kenya.
Kabendera's mother died in Dar es Salaam where she was receiving treatment. Her son has been behind bars since July 2019 and is facing charges of money laundering and leading organised crimes in Tanzania.
Early this week, the court declined Kabendera's request to be allowed to attend his mother's burial. The courts showed no empathy, only compounding the young scribe's misery with a 'the offenses were not bailable' response.
The ruling drew the ire of the public and human rights activist who termed it inhumane. It cast an international spotlight on the state of media freedom in Tanzania.
President John Pombe Magufuli, known to his critics as the 'Bulldozer', is using his administrative powers to curtail the freedom of speech and that of the press. The clampdown on the freedom of the pressmen and women has been occasioned by their firm stance in telling stories that Magufuli and his operatives do not want to be heard or read.
This has seen press freedom in Tanzania drift into unprecedented crisis under Magufili's regime.
According to the Tanzania Editors Forum (TEF), at least five newspapers and two radio stations have been suspended for periods ranging from three to 36 months over claims including 'false information', 'sedition' and 'threatening national security'.
Journalists have been attacked and some have mysteriously disappeared. A case study is Azory Gwanda -- a freelance journalist working in rural Tanzania who went missing in November 2017. Gwanda wrote extensively on a string of murders of local government officials and police officers. Two years after going dark, Azory Gwanda is still missing.
Critics have argued that Pombe is drunk with power and has squeezed press freedoms through harsh media laws and intimidations. Under Magufuli, Tanzania enacted strict laws on cyber-crimes and 'media services'. The laws allow authorities to suspend media outlets and charge journalists with sedition for publishing information deemed a threat to peace, false, or even just misleading.
The unfolding has been keenly followed from across Tanzanian borders. President Magufuli, who was seen as a progressive African leader with a vision of unifying East Africa, has lost that darling status. His stellar measures to streamline various government operations are slowly being forgotten with the recent happenings. Crushing the media will only turn the populace against his regime.
The role of the media as the fourth estate – the society's watchdog, cannot be underscored. The power to enlighten and inform the masses is with them. It is within so that the critical role they play in covering politics and public affairs should be allowed to operate in free space.
Journalists and more so professional colleagues from Tanzania must remain steadfast and firm. William Randolph Hearts notes, 'News is something somebody doesn't want printed, all else is advertising'.
Fraternity colleagues from all over the world stand in solidarity with Erick Kabendera as he clears himself from the charges. Erick is not a terrorist, he wrote extensively for the betterment of everyone in Tanzania. Magufuli's regime must now appreciate and embrace the role of media as the watchdog.
The judicial processes in Tanzania also need a fingering. It is now over half a year since Erick was taken in yet his case keeps being adjourned. Why is it taking so long to hear the case? Why was he initially held over charges relating to his citizenship? If there is no evidence to charge him, #FreeErickKandera.
Mama Erick Kabendera will be laid to rest on Monday next week. May her soul rest in eternal peace.
Mwangi Maina is a production assistant at the Standard Group
The views expressed in this piece are of the author and do not represent the official position of The Standard Group PLC.