Hard choice lawyers in Senate should make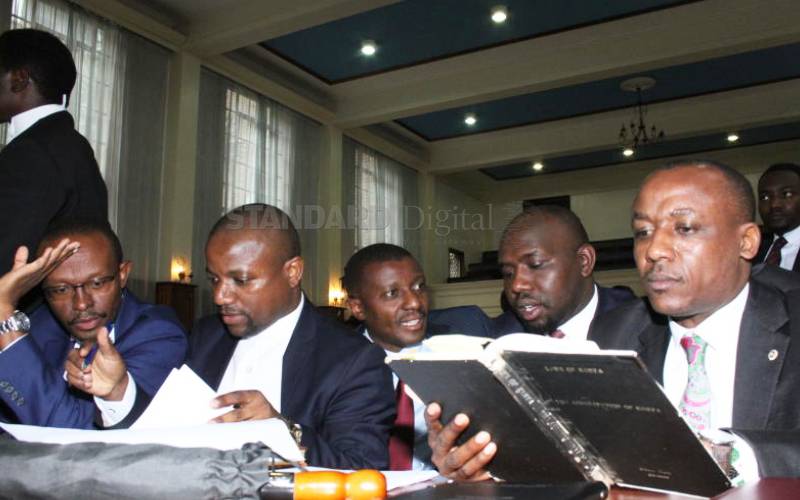 Last week, senators Mutula Kilonzo and Kipchumba Murkomen, who is also Senate Majority Leader, appeared in court to represent Nairobi Governor Mike Sonko in his corruption case.
Poignant questions have been raised regarding the appropriateness of their actions. Social media was abuzz with admonishment of the two.
In utilising the Russian propaganda tool of 'whataboutism', Senator Aaron Cheruiyot, while defending his colleagues, pointed out on Twitter that Senator James Orengo has been representing Busia County Governor Sospeter Ojamoong in his corruption case with little reprimand from Kenyans.
It is noteworthy that whataboutism is a fallacy that attempts to discredit a contrary position by charging its supporters with hypocrisy, albeit without directly refuting or disproving the contrary position.
Senator Johnson Sakaja, on the other hand, condemned his colleagues in what he termed as a complete conflict of interest.
In our democracy, Members of Parliament are responsible for oversight of the executive in the national and county levels.
According to Article 96 of the Constitution senators are charged with representing counties and protecting county interests, making law and oversighting over national revenue allocated to the county governments.
The crux of the matter is whether senators Mutula and Murkomen's independence in discharging their constitutional oversight mandate would be compromised if they were to deliberate on matters relating to their client in the House.
Of concern are: Does it sit well to have senators individually represent a governor in cases involving misappropriation of county funds?
What happens when the senators need to vote on the conduct of a governor that they represent? Do they recuse themselves, and if they do, are they absconding on their duty to their constituents who voted for them to represent them in the Senate?
To interrogate this matter, we must consider the legal and moral implications of the apparent conflict of interest; Article 77 of the Constitution that prohibits full-time State officers from participating in any other gainful employment, Chapter Six of the Constitution regarding leadership and integrity and separation of powers.
Moreover, we must consider the professional ethics issues of the legal profession, particularly the 'cab-rank' rule, which in the English law tradition requires lawyers to generally accept instructions as long as they are in their usual area of expertise in a court in which they normally appear and at the normal rates.
To put the matter of state officers in gainful employment to rest, we need to refer to a High Court decision delivered in January 2015 where a party challenged the appearance of Homa Bay Town MP Peter Kaluma as counsel in a matrimonial property case.
The court determined that MPs can indeed represent clients in court if they undertake in writing that they will not charge nor receive any payment for their services.
However, the element of conflict of interest about their direct oversight mandate did not feature in the case. The case also pronounced that MPs were not full-time state officers as per Article 77 of the Constitution, meaning they can moonlight with regard to money-making ventures.
In the Deputy Chief Justice corruption allegation case, senators Okong'o Omogeni and James Orengo removed themselves from Senate discussions regarding the case that they were handling on behalf of the Deputy Chief Justice in the guise of avoiding conflict of interest.
However, this raises other fundamental issues as to whether they should have put themselves in such a situation in the first place.
Which oath takes precedence, their oath of service to the people of Kenya as senators or their oath as advocates of the High Court that creates a solemn duty to their clients?
When they recuse themselves, they literally deny the hundreds of thousands of their constituents a say in the matter being deliberated for the purpose of and in the interest of one client.
The Leadership and Integrity Act, which was passed by the very people it was trying to address in terms of behaviour, was heavily watered down in the provisions. It is a largely aspirational piece of legislation with no teeth.
This has allowed state and public officers to swim in conflict of interest, corruption, tribalism, nepotism and general bad behaviour with little consequence.
We are living in interesting times. The BBI task force's mandate has just been extended by the president to steer the next steps of the report which identifies a lack of national ethos as a major problem that is holding Kenya back. It also proposes a strengthening of Chapter Six on leadership and integrity.
If BBI is indeed the collective aspiration of Kenyans, the executive and Parliament should begin to make positive steps towards inclusivity, non-discrimination, leadership and integrity.
Public appointments that reflect the face of Kenya, support of impartial prosecution of the corrupt and laws prohibiting conflict of interest should be implemented.
Mr Kiprono is a constitutional and human rights lawyer. [email protected] Twitter: @kipdemas
Download the BBI Judgement by all seven Judges - Civil Appeal No. E291 of 2021