We must demand accountability in church and politics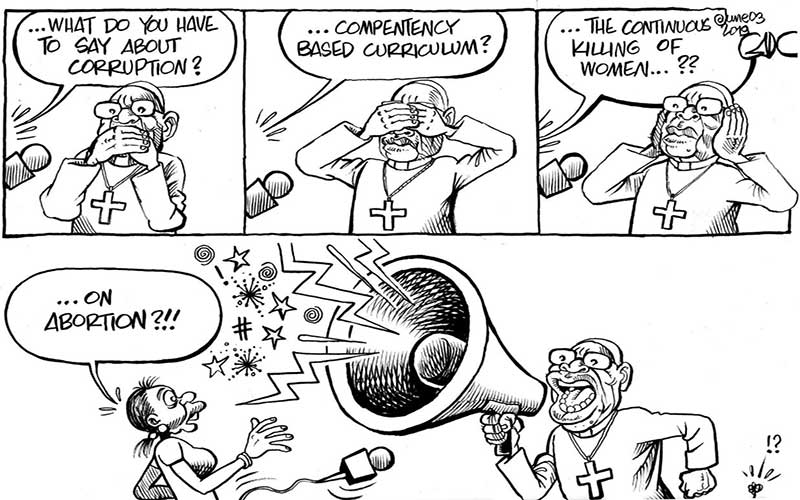 In 1968, British musician Dusty Springfield released a song known as 'the only one, who could ever reach me, was the son of a preacher man.' On this score, I could have reached her, because I am a son of a preacher man. My father, Bishop David Kalua was and is still a preacher.
He raised us with strong Biblical principles. He also personifies the famous quote of St. Francis of Assisi that, 'Preach the Gospel at all times. When necessary, use words.' In other words, preach through your actions, your lifestyle. This is particularly important in the current generation, where words from some men of the cloth are often contradictory to their actions.
CNN recently aired a story of a Catholic father who abused young boys in the Central Africa Republic. Ironically, this Father belonged to a Catholic order founded for the express purpose of protecting vulnerable children. Such cases of abuse in the Catholic Church had become such a pressing problem that in May this year, Pope Francis issued a legal decree requiring those who know about sex abuse to report it to their superiors.
Caning congregants
The Protestants and other religions alike, have their fair share of abuse, some of it so bizarre that it would be comical if it weren't so tragic. A pastor in Uganda has been filmed caning congregants who had missed church the previous Sunday. Several pastors in different parts of Africa have been filmed touching women inappropriately in the name of prayer. Right here in Nairobi, there is no shortage of supposed 'men of God' treating their ministries like commodities on sale. So brazen is a Nairobi pastor that he literally has price tags for different ministerial services. Others are more subtle, trumpeting the so-called 'seed money' as prerequisites of miracles and blessings.
Much as I may disagree with these supposed ministries that have no grounding in the scriptures, the bigger problem lies with us, the congregants. We are the ones who flock worship houses where the lifestyles, actions and words of messengers contradict the scripture. In order to tackle this scourge, we need to revisit the town of Veria in northern Greece. In Biblical times, this town was known as Berea.
Whenever Apostle Paul preached in Berea, believers there would subject his sermons to scriptural scrutiny to see if those sermons measured up to the Word of God. In Kenya, we mostly treat sermons like hype events, where getting fired up is more important than the scriptural substance of the sermon.
This measure of scrutinising public messages should also be applied to public servants all the way from the presidency to MCAs, leaders in the corporate world and also community heads. I am not advocating that we judge them because that is God's domain. Rather, we should demand from them virtues like integrity and diligence even more than we demand roads and lower taxes. Such virtues are Godly principles that would correct the moral fiber of our society.
To turn a new leaf in this season, I strongly challenge politicians to stop presiding over political rallies and start presiding over barazas where people can engage them through questions and discussions. It is we, the populace, who have the power to enforce this change.
From now henceforth, I suggest when you go to your place of worship, follow the example of Bereans as we scrutinise the words coming from the pulpit. If a political rally will come to your locality, don't go unless at least half of the time will be for people to ask questions that will hold the leaders present accountable. When the official time for campaigning arrives in a few years time, campaign rallies can take place. But before then, let us use public meetings to engage frankly and constructively even as we build bridges.
Hype shows
As Dr Martin Luther King Jnr once said, 'whenever men and women straighten their backs up, they are going somewhere, because a man can't ride your back unless it is bent.' Politicians will not be able to constantly use political rallies as one-sided hype shows if we say no to that. Neither will religious leaders be able to corrupt the word of God because we shall always subject their words to scrutiny. Life is like a tree, we must therefore think green and act green.
– The writer is founder and chairperson, Green Africa Foundation. www.isaackalua.co.ke