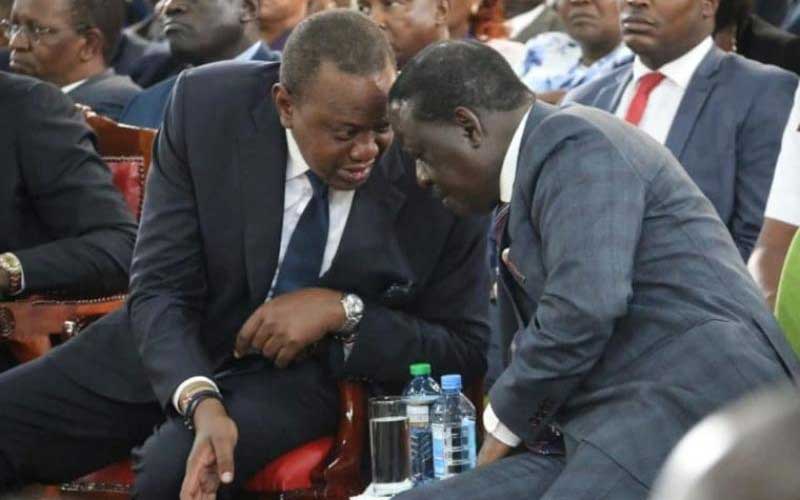 Have you ever been stuck in a challenging situation in which problems engulf you from every direction? One that appears as if you are being carried away in a flood with no dry land in sight as if too much distraction is coming from each direction and there is no way to calmly deal with the situation? We have all been there. In this chaotic and modern world, it is hard to unify the people and synthesise the responsibilities pulling us in different directions. In our personal lives, we often find solace in letting the wisdom of Jesus guide our actions and help us navigate our way out of a complex condition. And when different currents run through the nation, when it seems like the waves are both cleansing and suffocating, we can find solace by joining hands with our fellow countrymen and making strides together.
SEE ALSO: What Raila risked losing by backing Senate cash formula
We need not get swept away by the turbulent waters. We can climb a bridge above them. A Nigerian proverb goes, "In a moment of crisis, the wise build bridges and the fools build dams". This piece of wisdom from our West African brothers is relevant to the struggle against terrorism in Nigeria, the fight to eradicate racial and xenophobic tensions in South Africa, and the will to overcome tribal divisions in Kenya. We each have our struggles as a nation, but here at home, we are in the process of overcoming our greatest challenges. In such a situation it is incumbent on the leadership to look at a challenge straight in the eye, evaluate it, and then construct a path to transcend it.
SEE ALSO: What should be at the heart of trade talks between Kenya and US
Presidents are elected so that they remove nations from such situations as painlessly as possible. When a place is wont to flooding, the residents of that area can build a dam to stop it. But this will not prevent them from seeing the flood. Or a bridge can be built over the flood, and then the rough waters will not disturb the residents at all. They will be able to cross from one side to the other as if there was never anything in their way. That is, in essence, what the Building Bridges Initiative (BBI) aims to do. It is no secret that post-election violence threatened the democracy and stability of Kenya. Such conflicts should be eradicated in Kenya as it not only soils the country images but breaks the social fabric that holds Kenyans. President Uhuru Kenyatta's solution to this, it seems, was to build a bridge over the floods by extending his hand as an olive branch to opposition leader Raila Odinga. A leader cannot truly be a shepherd to his people when too many of them are not interested in following him. By partnering up with Raila, Uhuru made sure that minority voices in Kenya can be heard through government representation, rather than using violence as their stage.
SEE ALSO: Final Fate of five nominated Jubilee senators lies with NEC
And the handshake created the most stable, well-connected bridge in Kenyan history - the BBI. The BBI taskforce has spent a year and a half listening to Kenyans far and wide, figuring out what they want from elected officials, what they need and why, and developing recommendations based on public opinion. What is the point of a democratic system if it enables the majority of citizens to choose a leader, but then fails to consult with them at every turn? A truly democratic leader would not build a dam to manage the flooding, he would find a way to overcome it entirely. Kenya's position as a global trader, our increasing strength at the United Nations, and our expanding economy would not be the reality today if Uhuru had not built a bridge between our people. He inherited a difficult situation in Kenya, but in his short tenure has transformed us as a nation completely.
Bwire Mugolla comments on topical issues.
[email protected]