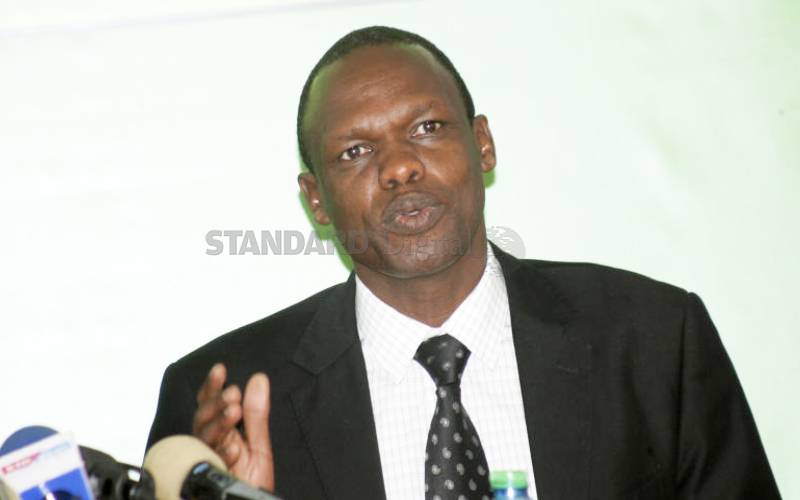 Eliud Kipchoge's successful sub two-hour marathon run did not just redefine the limits of human endurance. It also dealt a blow to erroneous doctrines ingrained in the minds of most Kenyans: That success can only be obtained through corruption or sheer artifice or that the unity of the country's 44 ethnic groups is illusive in the face of divisive politics. The Jubilee administration's fecklessness has helped get us here, with corruption at pandemic proportions and the nation's external debt ceiling raised yet again to levels that forebode insolvency. But this is not about Mr Kipchoge's earnings, estimated at hundreds of millions of shillings or the fact that millions of Kenyans cheered as one, tribal bonds snuffed in the spirit oneness.
SEE ALSO: Two shot dead in protest against cobbler's killing
This is about the unheralded heroes who work behind the scenes for years on end to ensure the positive outcome of a single day. For one, Kipchoge the athlete would never have been. Not without the mentorship and tutelage of Patrick Sang (pictured) his coach. Mr Sang, an accomplished athlete in his own right, took up coaching in his retirement. He retreated to the dusty environs of Kapsisiywa in Nandi County when he could have taken up lofty assignments elsewhere in the world. In giving back to the community of his origin, he discovered Kipchoge. Working with him tirelessly, he has seen his protégé move from glory to glory, always content to be in the shadows, even when by rights, he would have shared in the limelight.
Self-abnegation
Sang is an exemplar of the achievements of self-abnegation. Together with the pacesetters who ran alongside Kipchoge, they have demonstrated invaluable lessons of self-sacrifice that transcend running, sports that push the envelope of human limits for the good of all.
SEE ALSO: Kanu backs Uhuru's move to unite country
But there have been forerunners of this sort of selfless mentorship who changed the course of Kenya's history. Former trade unionist and Cabinet Minister in the Jomo Kenyatta administration, Tom Mboya, was one such person. Mr Mboya worked with then then United States Senator John F Kennedy and Martin Luther King Junior to create education opportunities for African students. This effort was what was known as the African Airlifts of the 1950s-60s. While Mboya himself did not benefit from the highest level of formal education, his beneficiaries went on to win the highest accolades in their chosen pursuits. One of them, Prof Wangari Maathai, would go on to distinguish herself as an environmental conservationist through her Green Belt Movement. She became the first African woman to win the Nobel Prize. Other examples of self-abasement for the benefit of others include Jaramogi Oginga Odinga. At the advent of Kenya's independence, Jaramogi refused to take up the Prime Minister's office preferring to agitate for Jomo Kenyatta's release. Kenyatta would eventually become the first president of independent Kenya even as Jaramogi faded into political oblivion. Former President Daniel arap Moi owes his meteoric rise in the political hierarchy of the time to the late Minister Moses Mudavadi.
SEE ALSO: Nandi County Executive in a spot on use of Sh180m Covid cash
Mr Mudavadi introduced Moi to politics and encouraged him to go for top designations from where he made president. Mudavadi remained content to be in the shadow of his mentee. Moi would in turn mentor political greenhorns Musalia Mudavadi, William Ruto and Uhuru Kenyatta. Musalia served as Vice President albeit for a short stint, and Deputy Prime Minister in Mwai Kibaki's government. Today Mr Kenyatta is the President while Mr Ruto is his deputy. It follows quite naturally that the rubric of successful leadership is underpinned by those who serve quietly in the background, while their charges flourish. These are the ones immortalised in the English poet Milton's words, "they also serve, who only stand and wait" but nevertheless have tremendous effect on the course of a country.
Right direction
One then wonders who the mentees of present-day politicians are. Who, for instance, has Kalonzo Musyoka brought up in politics? Who has been given a nudge in the right direction by Raila Odinga or Musalia Mudavadi? Without mentors, how will greenhorns obviate the country from the disastrous culture of personality cults? In the absence of carefully nurtured political operatives, it is possible that Kenya will have more leaders like Nairobi County's governor Mike Sonko. Mr Sonko runs the county without a deputy, hires and fires county executives at will and issues edicts that are contingent on a rationale that only he understands. This may well be the future of Kenya; unless more unsung heroes step up to the plate!
Mr Khafafa is a public policy analyst