Our children's talents should not go down the drain after music fiesta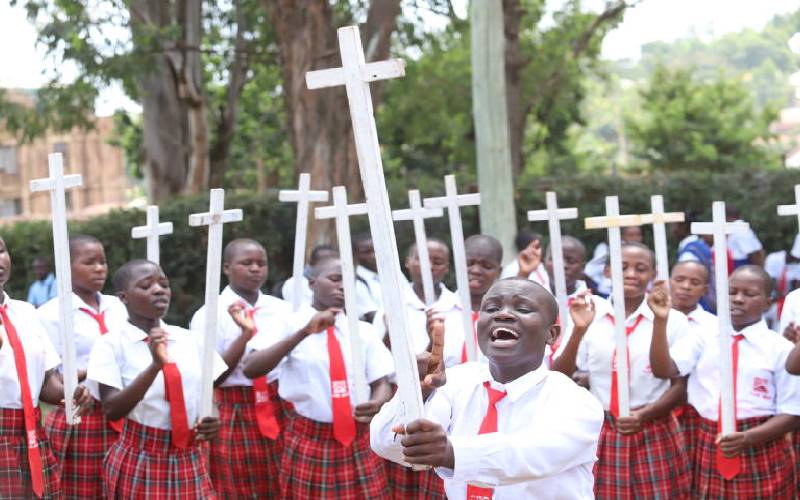 As the largest music jamboree in Kenya comes to a close this week, we need to ask the hard questions.
As usual, some children will go back home all smiles bearing their trophies. Others will go home carrying certificates, happy for making it to the national stage.
After their sterling performance, the 130,000 students who took part in the National music festival at Kabarak University are now hoping for a bright future in the creative industry.
But will their dreams come true? Most unlikely.
For starters, art and culture is a devolved function. However, I do not know of any county government that has established an art and culture facility to nurture talents.
When asked by journalists why his government had not put up such a facility in his county, a governor, whose county had just hosted the schools' drama festival some time back, replied in the same tired political style; "when funds are available, we will..."
The picture is grim countrywide. Besides the Nairobi Kenyan Cultural Centre, which we inherited from the colonial government and the Bomas of Kenya, which was built in the 1970s, few other such facilities have been put up.
What the Government is doing by promoting music and drama festivals in schools is like training drivers who don't have hopes of finding vehicles to drive. It is an unworthy effort.
While the World Intellectual Property Organisation puts the creative industry's contribution to Kenya's GDP at five per cent, things could be much better if we had a better business environment.
Pirated music
From policy to utter theft of intellectual property through piracy, the creative industry is begging for action.
Kenyans still buy pirated music, hardly pay royalties as required by law, infringe on copyright at will since there is a dearth of law enforcement.
Worse, the content management organisations have been accused of, at times, spending all artistes' royalties on administration and salaries, leaving the artistes high and dry at the end of the year. A recent meeting in Mombasa, which brought together government, artistes, and scholars to put together a creative economy policy would not have come at a better time.
Kenya urgently needs an Art Council that can oversee the creative industry to give it the economic boon it badly yearns for.
It is disheartening to see that the last budget had no mention of the creative economy and to make matters worse, the CS took Sh7.9 billion from a fund meant to propel the arts – The Sports, Art and Culture Endowment Fund–and allocated the cash to universal health care.
Film 'flight'
There's no question that healthcare needs more funding. In fact, it is part of President Uhuru Kenyatta's Big Four agenda.
But that money should not come from a fund meant to promote arts and culture. Notably, this money came from taxing betting firms.
And while we are still at it, Sports, Culture and Heritage Cabinet Secretary Amina Mohamed needs to act swiftly to stop the film 'flight' currently affecting the country.
Many films that tell the Kenyan story are being filmed in other countries, including South Africa, thus denying Kenyans crucial jobs.
And when these films are shot outside the country, the chance to premiere them in the country is also taken away.
Amina should address the tax issues that are at the heart of these film flights, and the coding of film equipment imports whose tax rebates cannot be effected by customs due to lack of required codes.
Without such action, Kenya will remain a whining and sleeping cultural giant as Nigeria and other countries take advantage of a world market thirsting for authentic and exotic cultural heritage.
It is sad to watch the musical Lion King at the Minskoff Theatre on Broadway, because you know fully that that is our story but not even one single Kenyan was in the cast, including the crew involved in the production of the film.
Isn't it time, as Kenyans, we rolled up our sleeves and got down to work to make the creative industry a viable and sustainable business that will guarantee jobs for thousands of youths who want to contribute to the growth of Kenya's economy in the best way they know how?
If job creation is part of the gains of improving the environment for the creative economy and industry, then it is certainly part of the Big Four agenda.
It is therefore good for the Government to rise to the occasion and give the creative industry the boost it requires.
Mr Orido is a journalist at The Standard