Uhuru, Raila-backed plebiscite will bring changes we all desire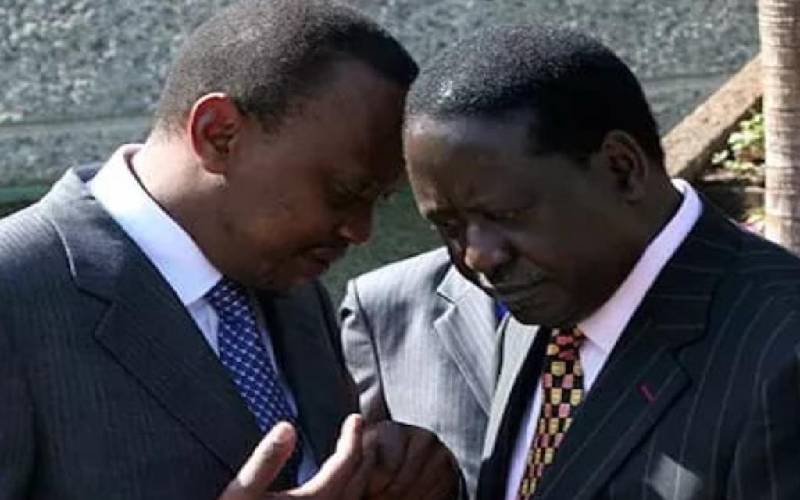 With less than two months to the tabling of the report of the Building Bridges Initiative (BBI) taskforce chaired by Senator Yusuf Hajji, a few home truths may have to be digested.
Kenyans are anxious and upbeat believing change is within sight. For years, they have been cannon fodder in a system that had refused to inspire hope.
There can never pretence about the challenges we as a nation have endured and which we now hope could be addressed via the BBI process—a product of President Uhuru Kenyatta and Opposition chief Raila Odinga's March 9 handshake.
Love them or hate them, Uhuru and Raila have unconditionally decided to walk the talk in making Kenya a better place and country that will never eat its people in the name of politics.
Former minister George Saitoti once said there comes a time when the interest of a nation is bigger than that of individuals.
Author Rasheed Ogunlaru also captures this with his famous quote: "In leadership, life and all things, it's far wiser to judge people by their deeds than their speech-their track record rather than their talk".
As the BBI team retreats to write their report, there's little doubt that Raila and Uhuru are determined to go the long haul in ensuring an enabling environment for Kenyans to co-exist and for government to implement programmes and policies. And their troops are following in tow.
There can never be any doubt regarding the challenges we have faced as a nation.
The battles fought in the year were many. While we won some, attempted others and failed in most instances, Kenyans faith in their leaders waned and the love for the republic took a beating.
Beloved country
However, the real push for change must begin with an acknowledgment of failures of some of the country's most critical stakeholders, and begin to look at each other in the eye then have candid conservation.
Ask any Kenyan in the streets today about what ails his beloved country, s/he would tell you about political exclusion, tribalism, corruption and sham elections and impunity in high places.
You can take this to the bank. The best bet now for constitutional and institutional change is the BBI initiative. It's only the BBI that has a semblance of the collective aspirations of Kenyans. No other players can best espouse wananchi's values and guard them jealously.
Sideshows and premature 2022 campaign realignments will not solve these problems but will instead lead to one crisis after another.
If we can set aside all our differences and interests to back the handshake and the BBI spearheaded by the two leaders of our two biggest political formations, this will be a turning point for our country. Sometimes we win wars not for being patriotic but because of collective strength.
Lost and found
We should also call out critical entities that have failed this country's quest for change. Religious leaders have appallingly lost their spine in what resembled total state takeover.
Robert Short, an American sports team owner, and politician once said the church is the great "lost and found" department. It's true in our context.
Churches have been more indifferent and principally unpredictable. They lack the punch to deliver change. Good ideas without the needed push for change never makes a difference.
The opposition is no longer vibrant and Parliament, on the other hand, can't just live up to its mandate due to various interests.
They should now back the BBI towards achieving what they failed to realise.
Claims that BBI process isn't anchored in any law is neither here nor there. The fact of the matter is that the task force enjoys the support and goodwill of the majority.
Thanks to the handshake, many benefits are already evident. Projects are now equitably spearheaded across the country, State jobs are no longer a preserve of the 'right' communities and the national and county governments can now implement programmes unhindered.
President Kenyatta's Big Four agenda is another game-changer. Doubt it no more. Uhuru and Raila mean well for the nation and we can only support them to remain a regional economic powerhouse. Raila and Uhuru have demonstrated statesmanship which we should all emulate.
We can never give up hope because we have the responsibility to make Kenya a better place. We see the example of Rwanda that leveraged on its dark past of genocide to become the glory it is today under the leadership of Paul Kagame.
Uhuru and Raila's truce after years of political animosity should provide an opportunity for us to forge unity and overcome our challenges once and for all.
The writer is former MP for Nyatike