There's more to gain in having a stable South Sudan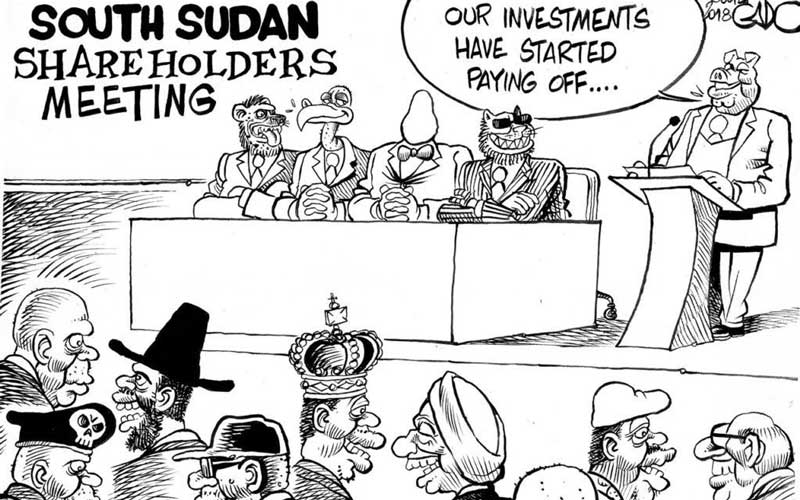 The recent state visit by South Sudan President Salva Kiir got me reflecting on the importance of good regional relationships. As Africa's newest nation, South Sudan is celebrating its eighth year of independence. I know of few countries that do not struggle in their early years of statehood, and South Sudan is no exception. That is why it is our responsibility to be a supportive neighbour while they work towards achieving stability. It is in our own interest. The hand that President Uhuru Kenyatta gives Kiir will not be forgotten years in the future when South Sudan is - hopefully - a prosperous, conflict-free nation.
I don't mean to say that one's behaviour should be shaped by reward-seeking. I mean that it pays to be a good friend, and that our stability is affected by that of those around us. Foreign policy often has a direct impact on domestic prosperity. Uhuru has positioned himself as a regional leader, and Kenya as a nation has for quite some time set an example for the rest of East Africa.
But we must always remember that we are in it together. The languages and mix of cultures in East Africa are as diverse as can be. But our shared borders mean that on the global stage, the world often looks at East Africa as a single region. The future success of South Sudan therefore will inevitably reflect on us. South Sudan is the youngest member of the East African Community, while the African Continental Free Trade Area (AfCTA) enables significant trade and investment opportunities within the region. Of course, trade with China, Europe and the US is important. But before we go looking for opportunities on the other side of the world, let us take advantage of what's right here in our backyard.
Transition to full stability
By appointing Wiper Party leader Kalonzo Musyoka as Special Envoy for peace monitoring in South Sudan, Uhuru is showing his utmost commitment to accelerate social and economic growth, while furthering efforts for unity following 'the handshake' at home. During his meeting with Kiir, Uhuru discussed the "once in a lifetime" opportunity that the fledgling nation has for exponential growth. South Sudan is too young to already have status quos in place, which makes it an immensely exciting time to partner with it. The possibilities are limitless.
The question remains: Will the young people of South Sudan put their differences aside and go for unity, or will they continue to fight? With our help, we can make sure it is the former..
Many countries go through periods of conflict right after achieving independence, but not all of them have a neighbour willing to provide comprehensive guidance to form successful democratic institutions. Moreover, Uhuru pledged all the technical and diplomatic support necessary to help them reach a ceasefire and then transition to full stability.
The construction of the Lapsset corridor project, which will link us with South Sudan and Ethiopia, is a major step towards effortless and efficient regional trade.
Our relationship is a two-way street. A new deal struck between our nations will send geothermal energy to South Sudan in exchange for gas from their oil fields. As the ninth largest producer of geothermal energy in the world, there is no need for Kenya to hoard its energy. By sharing it with our neighbours, we help their industrialisation process; a game changer for their economic growth. We also set an example for the entire world about sustainable energy use, which has been a recurring theme for the duration of Uhuru's tenure.
In exchange, we get much needed gas without paying high premiums to import it from other continents. Why go searching for natural resources far away when much of it can be sourced closer to home? Energy Cabinet Secretary Charles Keter stated that a transmission line through Lodwar to South Sudan is in the works. This is a much more environmentally friendly way to ship energy than bringing in resources from distant countries.
As former US President Harry Truman once said, "All will concede that in order to have good neighbours, we must also be good neighbours." The Kenyan government is wise in recognising the importance of making sure that all is stable and well on our borders. Together we are stronger, so let us pray for, and do the best we can for South Sudan.
- The writer is a Human Resources consultant and comments on topical issues