Review security and safety of our learners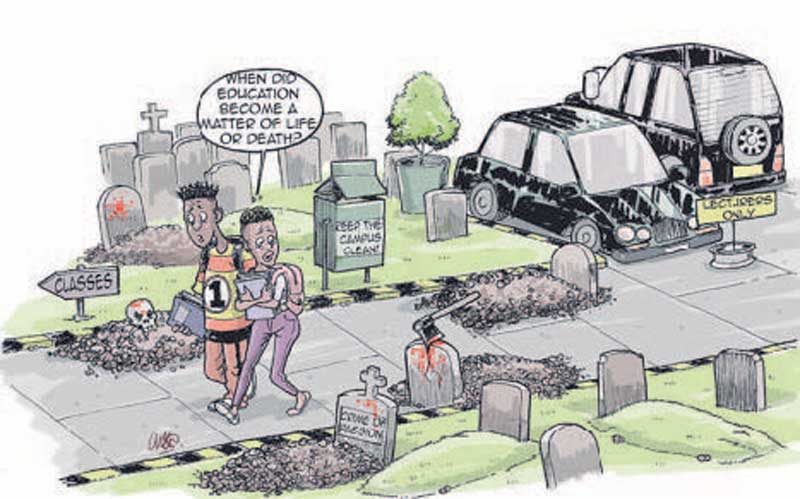 The issue of security and safety of learners should preoccupy us as educators, parents, guardians and policy makers. This is more urgent because of the spate of crime that has hit learning institutions lately.
Nothing explains this more than the murder of Ivy Wangechi, a medical student at Moi University by Naftali Kinuthia. Whether the duo was in a romantic relationship is neither here nor there. Regardless of the circumstances, Wangechi, like many girls who have been felled through crime of passion, did not deserve to die.
There are many questions that beg the issue of security and safety of learners in institutions. However, the main ones are: What should we do to help the younger generation overcome the challenges of the millennial era? Why are most of these crimes occurring around inter-sexual relationships? Where has the society gone wrong?
Addressing the issue demands a collective effort by stakeholders. However, the adolescents should learn from our presidents' advice that on matters security, it starts with the self. Students should ensure they steer away from situations that expose them to danger.
As adults, they can tell a dangerous situation and should thus do everything possible to keep away from such. Avarice and "good" life should not control their lives. It demands self-reflection and getting one's priorities right. Use of drugs and other substances is surely one way of taking the path to ruin. The same applies to trying to live a lavish lifestyle.
Many students have become prisoners of social media. Most want to be seen to be better. What they fail to comprehend is that many of the things on the social media are artificial. They need to learn that life has many ups and downs that should be borne bravely.
As human beings, we should be measured in our acts. Yes, this is the ideal, something that is at times difficult to attain, especially where emotionalism is concerned. This is where the society comes in.
College students need to be counseled. This should take the form of both peer and use of professional counsellors. Many victims of crime of passion reveal their tribulations to close friends or trusted relatives. Unfortunately, because of our poor knowledge of mental illness, those being opened up to fail to understand the enormity of the problem.
As a society, we need to invest in the area so as to have a population that is literate and a profession that teems with well trained and motivated personnel. But are these all that should be done to address the issue of security and safety of institution-based students?
Heinous act
Let us imagine that Kinuthia went berserk and in the process turned his fury on the crowd that surged to witness what was happening. How many lives would have been lost?
The other question we need to ask is, where were the security as the culprit came, parked his car, waited for the victim he had been stalking, removed his weapons when he saw the victim and began perpetrating the heinous act? What does his act tell us about his possession of life skills, especially these psycho-social competencies touching on friendship formation and retention, stress management and self-awareness?
I want to tie the above questions to education. Those that revolve on the crowd partly touch on safety education. As a society, our response to disaster, to say the least, is wanting. We respond in ways that expose us to danger and even in situations where we can arrest the situation before it degenerates to a worse state, we tend to be spectators.
Why would a rational being take videos of a fellow human being butchered by a deranged beast? Is that the best you can offer? Can't we have feelings for both the victim, friends and relatives as we think of splashing the pictures on the social media?
Emulate them
There is another angle to the issue of crime of passion that needs attention. This is the culture of impunity that pervades our society. Might it not be possible that the culprits, by seeing what the rich and powerful do, but when taken to court are released after payment of bail to continue with their lives regardless of the crimes they are suspected of and wish to emulate them? What would make one so daring to drive more than 400km to attack a victim in an environment that he least understands? This is the height of impunity.
The last question we should ponder touches on security at the institution. Could they have arrested the situation? Where were the police in such a busy place, which, on a daily basis, teems with heavy vehicular and human traffic?
I believe that the mere presence of our law enforcers would have scared the life out of the culprit, thus saving Ivy's life. We need to invest in the safety and security of our students in college. This should take a multi-pronged approach.
Dr Ndaloh is a curriculum and teaching expert at Moi University. [email protected]