Women prove their worth despite challenges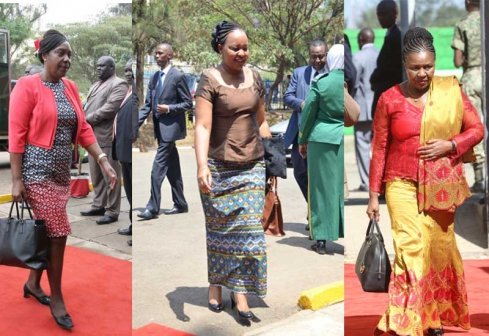 Last week's failure by Parliament to raise enough numbers to pass the two-thirds gender Bill demonstrates the uphill task Kenyan women will have to painfully climb so as to attain the desired equity in the country's representation in terms of gender.
However, despite the challenges, some women have made it to the high table of Kenya's rough political leadership as governors.
For the first time, three women became governors during the 2017 elections. According to a report dubbed A Gender Analysis of the 2017 Kenya General Elections, the 2017 elections did represent a step forward for women's representation, albeit an incremental one.
Out of the 47 counties, Kitui, Kirinyaga and Bomet Counties are headed by Charity Ngilu, Anne Waiguru and Joyce Laboso respectively.
Charity Ngilu, Kitui Governor.
Kitui is home to 1,147,200 people, with an area of about 30,496 km2. Kitui has been one of the regions most affected by the impact of failed rains that have occasioned the drought and hunger.
Ngilu has, however, rolled out a series of development projects in a bid to deliver on her promise as well as ensure the people of Kitui county move from poverty into prosperity.
One of the projects includes the partnership with the Kenya Red Cross Society (KRCS) for the launch of the Ndengu Revolution food security targeting approximately 200,000 smallholder farmers in the county.
The project seeks to improve food security and livelihood of residents, reduce poverty through rural development and train small-scale farmers alongside the provision of financial services to the farmers.
Each household was issued with a 2Kgs packet of seeds enough for planting in a half acre farm.
"This will cost us just about Ksh 100 million. If each kilogramme yields a bare minimum of 90 kgs, this will give us a total of 36 million kilogrammes, which when sold at Ksh 100 per kilo gives us a total of Ksh 3.6 billion! Imagine Ksh 3.6 billion in one season in Kitui County, from investing only Ksh 100 million in seed – isn't this a good investment and good value for money?" Ms Ngilu noted.
Other projects include the launch of an affordable medical cover targeting all residents in which every household is required to pay an annual fee of only Sh1000, so as to access quality and affordable healthcare.
The governor is also running other beneficial projects for the county including construction of a mega water tank with a capacity of 500,000 litres. The tank is expected to drastically improve water availability and supply in Mutomo and the neighbouring regions. The county government is also involved in the distribution of bursary funds to schools, colleges and Universities.
Anne Waiguru, Kirinyaga County
Kirinyaga County, with a population of 528,054 as of 2009 census, covers an area of 1,478.1 square kilometres and lies between 1,158 metres and 5,380 metres above sea level in the South and at the peak of Mt. Kenya, respectively.
At the helm of the county is Governor Anne Waiguru. Since taking up the office in 2017, the governor has rolled out various projects in a bid to fulfil her campaign promises. Among them is an improvement in healthcare in the county.
"In less than a year in office, we built a fully functional x-ray unit at Sagana Hospital, expanded Baricho and Kianyaga Hospitals by building a new male ward and mother and child unit respectively," Ms Waiguru said in December last year.
Kerugoya Sub-County Hospital, which had never been renovated since it was constructed before independence has been extensively renovated. Hospital facilities were upgraded to include a fully functional eye and renal units where patients can now receive affordable dialysis treatment, CT Scan, and an Outpatient department that has also been upgraded to better serve patients in an environment of dignity.
Another project is the street lighting project worth Sh170 million. This was targeting Sagana town to Samson's corner through a partnership between the national and county government.
With the county hosting the sixth devolution conference, the governor has already commissioned and implemented massive infrastructure developments in readiness for the five-day conference.
"Upon receiving news that our county had been identified to host the sixth Devolution Conference, late last year, we approached the national government for assistance. You can now see what such partnership has done," Ms Waiguru said.
"It is not just the conference which, is making us install street lights but the realisation of a 24-hour economy, "she said.
Ms Waiguru also launched an Open Air Market, in an effort to support 24 hours economy in the county.
Joyce Laboso, Bomet County
With a population of 730,129, Bomet County covers a total area of 1,997.90 Sq Km. Bomet Governor Joyce Laboso, who made history as one of the first three female governors in the country, recently expressed her concerns over the levels of alcoholism in the county.
However, this has not stopped the county government administration from pursuing its vision of delivering its promise to the county residents.
To address the alcoholism menace, the county government has commissioned the construction of Sh8.2 million rehabilitation centre.
Agriculture is the mainstay of Bomet County with tea farming and dairy production leading in the sector. Tea earns the residents most of their revenue, according to data from the county government. The dairy industry is also a major player in contributing to household incomes. There is a milk factory in Sotik town and milk cooling plants spread across the county. Coffee farming is also established in areas around Bomet, Tarakwa and Ndanai. Fish and poultry rearing are also receiving attention in the county of late.
Ms Laboso has rolled out various projects in the county government among them a partnership with the Rural Electrification Authority (REA) to supply electricity to 15 villages across the County, three from each sub-county. Overall, the Last Mile project targets to connect 45,000 households in Bomet with electricity in 3 years at a cost of 2.8 billion.
In September last year, World Bank through Kenya Urban Support Program (KUSP) team leader Abdu Muwonge said Sh 890 million was allocated to Bomet County to improve infrastructure in Bomet Municipality. An additional Sh 117 million was channelled towards Kenya Climate Smart Agriculture Program (KCSAP) this financial year.
The governor also plans to set aside Sh60 million towards Universal Health Coverage.
"However, this annual budget will not be enough to cater for all households in our county. I urge all residents of Bomet and Kenyans at large to volunteer to be each other's keeper through Playbill No.116099. UHC half marathon race proceeds will be channelled towards this noble cause," the governor said.
In October last year, the county hosted the Lake Region Trade, Investment and Blue Economy (LREB) Conference. The four-day event brought together thousands of delegates, investors, exhibitors and visitors from all walks of life.
In a bid to deliver on her promises, the governor also launched the 2018/2019 Work Plan for the people of Bomet.
Governor Laboso assured the residents that the work plan will be implemented fully in order to achieve the desired outcomes.
"We now have a work plan, implementation of the same will be effected to the last word," said the governor.
The governor has also vowed to invest in the construction of more standard Early Childhood Development (ECD) centres, Health facilities and Vocational training centres.