Pursuit of Kenya's Blue Economy growth needs right mix of technology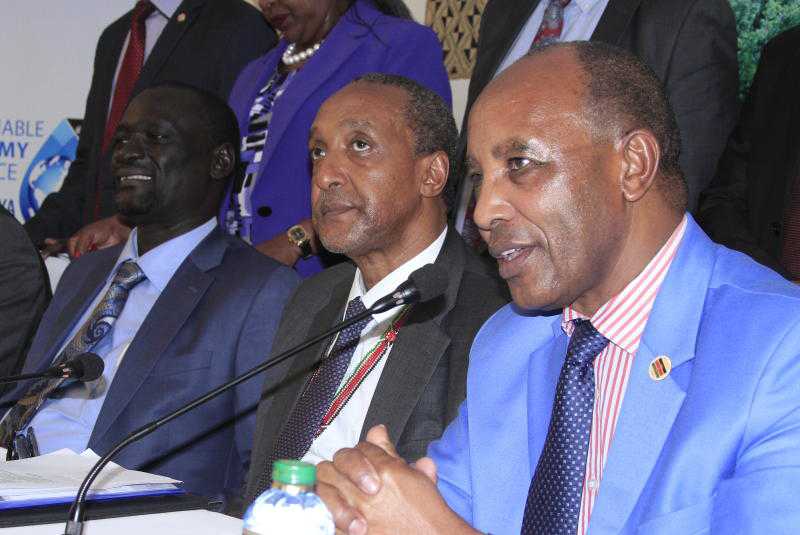 Pursuit of Kenya's blue economy growth needs right mix of technology
It is unfathomable that Africa has not tapped its comparative advantages in the blue economy, despite the industry being touted as the world's next oil frontier.
Closer home, Kenya's blue economy contribution (to its local and Global Gross Domestic Product) has routinely punched below its weight. The numbers do not lie.
As of 2010, the industry's economic contribution amounted to Sh150 trillion ($1.5 trillion) in value add, or about 2.5 per cent of the world's total, employing over 350 million, which is set to double this value by 2030, according to the Organisation for Economic Co-operation and Development (OECD).
In comparison, the Kenyan blue economy amounts to Sh44 billion to the GDP, about 0.5 per cent of the GDP, employing just about 2 million Kenyans through fishing, boat building, equipment repair, fish processing and other ancillary activities.
It's a no-brainer then that the industry could earn Kenya more revenue given our maritime territory that stretches to about 230,000 square kilometers, a distance of 200 nautical miles offshore, equivalent to 31 of the 47 counties.
To fully realise the blue economy's sustainable gains, deliberate steps must be adopted to improve its sustainability. As it has in other industries, information and communications technology combined with "big data" analytics holds the potential to disrupt the hitherto inertia in the sector.
A good example of how capacity and utilisation of technology play a role is on the fisheries/seafood front. Where the world has moved on to technology in the quest for a sustainable future there is a gulf with the counterpart Kenyan industry which is at best a cottage industry.
Invested in
Now, technology has refined the art and science of catching, processing, and physically moving seafood across the globe. Boats are ornamented with "big data" driven fish finders and powerful hydraulics for hauling traps.
Processors and distributors are invested in cold storage facilities technologies and planes to quickly move a day's catch across the globe within 24 hours.
As Kenya deliberates its next policy direction and implementation in the sector, our counties are at a good place to influence the mind shift required to commit significant investment in innovation that will turbocharge the industry.
Focus must be on science, technology, R&D, manufacturing, infrastructural design, consultation and decision-making processes, institutional co-operation and last but not least, in the policy mix that the government implements to support and encourage innovative capacity in the Blue Economy more broadly.
The private sector, leveraging innovation and technology, must play its leading role in enabling, incentivizing and innovating around the sector – designing solutions that promise greater efficiency and productivity in the blue growth.
Traded commodities
In the developed world, innovative entrepreneurs have for instance given a few notable firsts to the blue economy world - a working barcode system for individual fish, enabling customers and fisheries managers the ability to trace the exact location of where the fish was caught.
They boast of technology and a distribution system allowing buyers to scan a QR code and pull up a website with information on the catch and even a bio of the fisherman; a software that helps fishers establish a price before they leave the dock, much like other traded commodities which allows fishers maximize their sales and allows buyers to plan their menus, reducing waste and inefficiencies at both ends of the supply chain.
Commendably, county governments comprehend how the odds are staked and therefore need to begin planning and positioning for these opportunities.
The Jumuiya La Kaunti Za Pwani, the Coastal socio-economic bloc has provided room for mutually beneficial conversations with the private sector on what pervasive connectivity, technology and innovation can do to the industry and millions of the coastal populace.
Telkom for instance, with one of the largest fibre optic infrastructure, capacity and enterprise connectivity nous has embarked on a drive to create propositions aimed at enhancing delivery, effective productivity and collaboration that will benefit Counties, Parastatals, Corporates, SME's and Start-ups relying on services to drive blue growth.
Technology is just but a great enabler in the grand scheme of things. However, it will be buttressed by actions of the national and county governments of the day and key players in the industry to turn around.
Challenges abound and the path is windy but the time is right for proper foundations for a sustainable Blue Economy.
Mr Senanu is the Telkom Managing Director, Enterprise Division