Opinion: NASA a coalition of one alpha male and three flower girls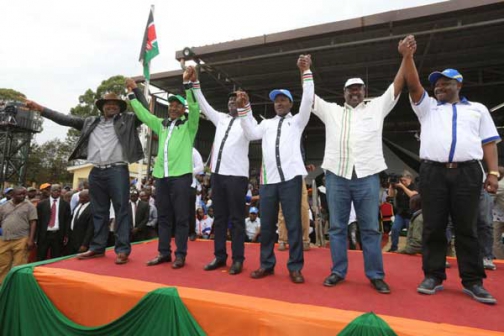 The bearded sisters of NASA have allowed the 'exotic dance' for a flag bearer to drag out for so long that it is no longer politically arousing.
Instead of building up to a shattering climax, the teasing has now become irritating, the tempo is too slow and there are still too many layers to be shed. But the worst part is this: it is rather obvious that what is underneath the bulky and shapeless dressed-up negotiations is not the exciting 'surprise' this extended disrobing will reveal. The surprise is Raila, and Raila is the surprise. End of strip-tease.
When this protracted dance began four months ago, the first layer was an exciting announcement in October 2016: CORD was engaged in negotiations with ANC, KANU, and CCM to form a super-duper alliance called NASA.
Finally, it looked like the opposition was shaping up and drawing lessons from history. It had learnt from failures of the fragmented oppositions of the 1992 and 1997.
The second layer was at Isaac Ruto's homecoming in November — we thought this time, a solid declaration that would radically alter the political landscape was definitely coming our way. It turned out to be a repetition of October: just another endorsement of an endorsement.
Then came the Bomas Unity party in January — no happy ending there either! The NASA pole dance has quickly decelerated from supplying exhilarating tension, to providing nothing but tedious suspense.
Then early this week, of all the delay tactics NASA could have used to postpone the inevitable candidate announcement, they chose the killer of all excitement and stimulation: a committee.
It is said the surest way of NOT getting a job done is to appoint a committee. In fact, someone once said 'If you see a snake, kill it on the spot. Don't go and appoint a committee on snakes.'
But let's assume that NASA goes the full hog with their committee. What will the likely results be?
Scenario one: they will suggest Raila for presidential candidate and Mudavadi for running mate. This is a very likely scenario. History has taught us, that Raila is politically promiscuous; he never goes to the ballot with the same partner twice. What does this mean for a 'jilted' Kalonzo? At least Wetang'ula can hold on to Mudavadi's apron strings all the way to State House.
Scenario two: they will make Mudavadi candidate with Kalonzo miraculously agreeing to be his running mate. This combination would be favoured by ethnic arithmetic. Assuming the entire Luhya community turned out to vote, combined with the Kamba, they have the potential of fetching 4.7 million votes. And even if they won't win round one, they can attempt to force a run-off. The question is: will Baba lend them his 'Magic' and sit on the sidelines as the two go on to live out his dream?
Scenario three is a product of scenario two: Baba is not the preferred candidate. He will throw a tantrum like he did during his short-lived romance with Moi and KANU in 1997. He will petulantly pick up his votes and storm out of the coalition arrangement in a huff. NASA will be forced to adopt scenario two but on Raila's terms. And this is pure political genius.
Raila will have a slot open for a running mate and he will be in a position to accommodate whomever will be left out of the NASA ticket. In this scenario, if Raila goes for instance with Wetang'ula, they are still capable of getting a significant chunk of the Luhya vote. When combined with his other support across the country, they can still come in second and force a run-off.
Alternatively, Raila's intention here is for Mudavadi and Kalonzo to do all the hard work of forcing a run-off in the first round, then they will be forced to come back and negotiate with him to clinch victory in the second round. The price of his support will be high at this point. The price tag will probably read "Executive Prime Minister".
If all these possibilities are in the public domain, why the committee? What news will they give us?
This eternal peek-a-boo will leave NASA supporters frustrated and flaccid. It will affect registration and result in a low voter turnout. NASA should stop wasting everyone's time and realise that for the electorate, decisiveness and clarity of agenda are always a huge political turn on.
Angola deserves new leader after 38 years
The announcement by Angolan President Jose Eduardo dos Santos that he will retire after 38 years should be greeted with tempered relief. The strongman has been at the helm for far too long and the country will need fresh blood to steer it up a new course following the collapse of the economy last year.