Why William Ruto must be afraid of the Moi-Kenyatta clan meetings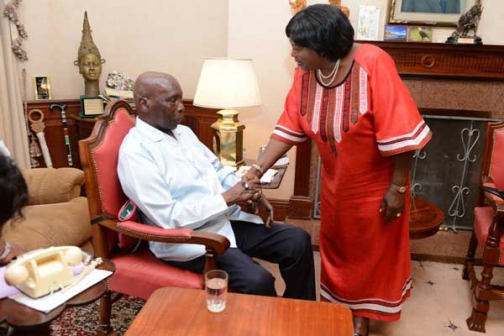 Last weekend, a group of women met for lunch in Runda. The meal made it to the news. Separately, a cûcû went to pay a 'courtesy call' to a retired Mzee at his home. The visit also made it to the news. These two seemingly unrelated 'rendezvous' are very closely linked, yet we missed the link. Allow me to give you a hint.
The first event was an exclusive lunch hosted by Gideon Moi's wife, and attended by Uhuru Kenyatta's wife. The second event was a courtesy call on Gideon Moi's dad, and his visitor was Uhuru Kenyatta's mum. Do you notice a pattern here?
My reading of these two occurrences is this: Gideon Moi is the man being primed to succeed Uhuru Kenyatta come 2022. Let those who have eyes see. And if you have eyes, you will see three things.
The first is that the luncheon at The Lord Errol was not a frivolous afternoon session intended for 'girl talk' and empty merriment. It was a gathering of women who represent the country's power structure.
Under the pretext of celebrating Amina Mohamed, this party was an exhibition of the political re-alignment taking place among the ruling elite. To begin with, the guest list was telling. What it revealed is not so much about who was in attendance, but who was excluded: William Ruto's wife, Rachel.
Now, one could read this as an inadvertent omission. I see it as an outright rejection. What's more, this is just but the beginning of what will be a continual social ostracisation of the Ruto clan. Their sin: they suffer from an acute lack of pedigree, and a severe deficiency of royal blood. In fact, their royal blood count is so low, it is painful. I have said it before.
Unlike Raila Odinga, Uhuru Kenyatta, Musalia Mudavadi and Gideon Moi whose fathers were political kings, William Ruto's only regal relative is Jesus Christ. You see, the bourgeoisie feast at the Lord Errol was a dynastic affair. The Kenyatta and Moi dynasties 'trooped their colours'.
These political families were re-affirming that the establishment is intact, and they were demonstrating it unapologetically over a lavish meal. In sum, dynasties are jealous institutions. And William Ruto is a disruption to their elegance. This is why his wife did not qualify for an invitation to this 'Boston Tea Party'. She lacks the pedigree.
What a pity! Meanwhile in Kabarak, Mama Ngina's visit to President Moi sent a similar message: "We are old friends, and permanent political allies. We are custodians of the dynasty." In other words, Gideon should support Uhuru and Uhuru might support Gideon.
The second thing is this Amina charade. What is it about? Why have we spent so much time and money on her candidacy? Something does not add up here! Especially the fact that Ruto has been dispatched all over Africa to campaign for her. Is he just a 'KYM'? If indeed he was in the inner circle, his wife would have been invited to celebrate his hard work in this 'Runda Tea Party'.
The third thing: At Mark Too's funeral earlier this month, Gideon Moi showed off his newly upgraded oratory skills. And he did not hesitate to calmly, and disdainfully poke endless fun at the Deputy President. He was saying- I am here! Let's do battle. This is the person Ruto is competing with. A preppy man who plays polo and intoxicates his local crowds with lyrical, British-tinged Kalenjin. But most importantly, he is the heir apparent of the dynasties after Uhuru.
A message to Deputy President Ruto: Do not be dismayed! Even as the 'thoroughbreds' consider you an 'under-class', remember what the Chinese say: Dynasties rise and fall according to 'the mandate of heaven'. Sometimes they have their finery stripped away and then returned, sometimes they lay dormant for years, then execute a restoration of glory, just like the Moi house is planning. But sometimes, when aspiring peasants are lucky, the dynasties perish.
Whatever the case, Your Excellency William Ruto; be wary. Dynasties are united by a bond that is stronger than tribe: Class. In case you find my assertions hard to swallow, consider the old saying that goes: 'When smoke fills your eyes, there is a fire blazing nearby'. Presently, your eyes should be stinging with smoke.