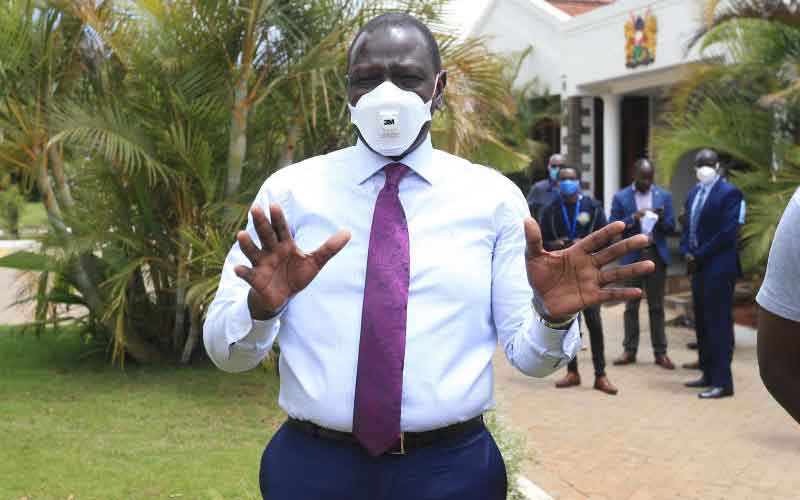 Of late, Deputy President William Ruto (pictured) has been reduced to a whiner by some Jubilee insiders. Vice Chairman David Murathe seems to relish needling him and makes no apologies about it.
What Ruto fails to notice, however, is that every time he complains publicly about one thing or another, he precipitates the erosion of his power. He cuts and projects the figure of a helpless, besieged forlorn man.
The pandemic enforced political lull on our landscape was interrupted a few days ago by fresh wrangling inside Jubilee. Apparently, new appointments to the National Management Committee were gazetted on April 6 without Ruto's knowledge, yet he is the deputy party leader. In a letter to the Registrar of Parties, Ruto raised objections, terming the gazettement nugatory.
While Murathe and Jubilee Secretary General Raphael Tuju said they acted on instructions from the party leader, Ruto averred President Uhuru Kenyatta could never be party to such.
Read More
This is only one of many instances in which Ruto has been pushed into a defensive position from which he appears to directly challenge the authority of President Kenyatta. The camaraderie between Uhuru and Raila Odinga after the March 9, 2018 handshake appears to have thrown Ruto off kilter, bringing out the worst in him. BBI, a product of the handshake, has rankled him to no end.
The elevation of CS Fred Matiang'i to coordinate ministries pulled the rug from under our DP. It doesn't help that Matiang'i does not believe in the nonsense of a co-presidency; recognising only the appointing authority, and that is President Kenyatta.
Early this year, the public learnt of a Sh39 billion fake arms deal that somehow drew in the DP's office. Days after the revelation, Sergeant Kipyegon Kenei, the DP's office guard was murdered, sparking wild speculation. In yet another pointer of his untenable position, Ruto emotionally claimed during Kenei's burial that he was the target of some individuals in government who want to eliminate him.
If there was mischief regarding the NMC appointments, the schemers would have done it in such a way that Ruto would miss the seven-day window in which he could legally challenge the gazettement.
But as co-founder of Jubilee, it baffles that Ruto was unaware of a clause in the party constitution that allows the president to unilaterally appoint officials, and which Tuju and Murathe harp on while defending the NMC appointments. It is instructive that though Murathe purportedly resigned from Jubilee, he still has enough clout to disparage the deputy party leader without fear of consequences.
The NMC saga is only one of the cases that have been sprung up on Ruto, and which depict him as a mere figurehead. Some of Ruto's closest associates who should know better by virtue of their training as lawyers, seem as clueless of the legal mazes as any ordinary Kenyan. It is easy to question their value to Ruto when they have hardly steered him on the right legal path where challenges have arisen. It also raises questions on what role they played in the drafting of party laws, or even whether they understood what they were committing to.
The progression of intricate political machinations exposes Ruto as a man standing in the path of a tornado. The attacks on him are multi-pronged, psychological and intended to humiliate and break him up. He came close to that at Kenei's funeral. It is a clever strategy that while gradually putting the squeeze on Ruto, slowly drive his supporters to indifference. The seemingly isolated incidences that assail Ruto will have a convergence point, which could be an impeachment unless he throws in the towel first.
Orchestrated assault
The comfort Ruto draws from having the support of a few loquacious Members of Parliament from Central Kenya and Western is misleading. It is not far-fetched to think some of them are part of an elaborate plan to egg him on only to abandon him when it is too late to assemble another team. But even assuming their support is genuine, they are still political minnows who could easily run at the first sight of blood when the daggers are finally drawn.
By now, we must admit that politics is a dirty game. Most politicians have skeletons in their cupboards that can be used to haunt them. As such, if push comes to shove, a little squeeze where it really hurts could result in Ruto's warriors losing their combativeness.
It is doubtful that Ruto can pull the plug on the orchestrated assault on him from within Jubilee. He should get out of denial mode, decamp, and join or form another party while he still has the time.
Mr Chagema is a copy editor at The Standard [email protected]