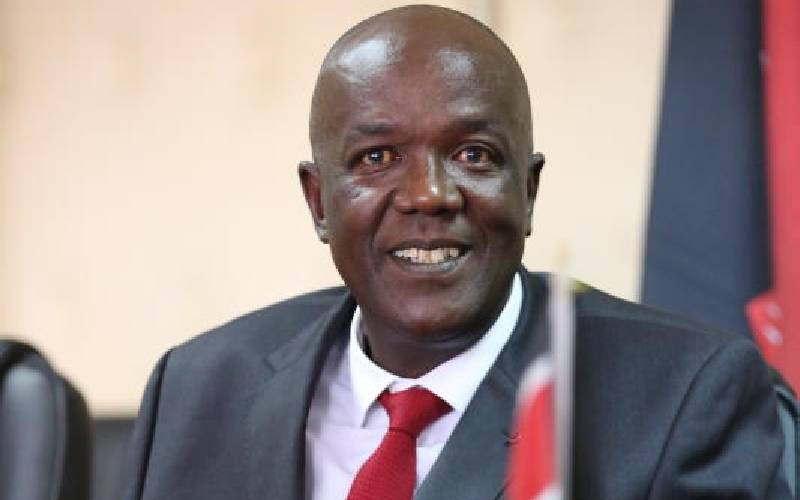 Former Devolution Chief Administrative Secretary Gideon Mung'aro has claimed that corruption slowed down the development of Kilifi county.
Mr Mung'aro who is the ODM candidate for Kilifi governorship said that the last 10 years of devolution have not made a difference in the lives of residents because of alleged runaway wastage of public funds.
Addressing a rally at Kanamai trading centre in Kilifi South sub-county on Sunday evening, the former Kilifi North MP said billions of shilling pumped into the county from the National Treasury have not transformed livelihoods.
"It is sad that even with more than Sh80 billion pumped into the region, residents cannot count any development. We still have the very challenges that plagued the county at the onset of devolution," said Mr Mung'aro.
The former CAS was accompanied by Azimio leaders including his running mate Flora Chibule, Senator Stewart Madzayo, Kilifi South MP Ken Chonga and Deputy Governor Gideon Saburi.
He claimed that his competitors were allies of Kilifi Governor Amason Kingi and are not best placed to protect public resources.
Mr Mung'aro will battle it out with United Democratic Alliance's (UDA) Aisha Jumwa and lawyer George Kithi of Pamoja African Alliance (PAA) who are in Deputy President William Ruto's Kenya Kwanza coalition.
Mr Madzayo said it was unfortunate that even after receiving more than Sh80 billion in allocation since 2013, Kilifi county government remained under-developed because of corruption.
"I have fought for more allocation of funds to Kilifi county because of its numerous challenges. But it is sad that the money has literally ended in individual pockets instead of benefiting the Kilifi masses," he said.
"The only person who can bring the much-desired change is Mr Mung'aro. Let's all support him in this journey of transforming Kilifi in terms of development and social well-being," he added.
Mr Mun'garo said Kilifi residents need a change of leadership to reap the fruits of devolution.
"We don't have proper services in our health facilities because funds meant to improve them were siphoned by greedy officers as the governor watched. Most of the roads are dilapidated, some shoddily done so that corrupt officers would siphon public money. We shall make sure that this comes to an end once you give me the chance to serve you in August," he said.
Mr Chonga also poked holes in Kingi's leadership style claiming that the cost of many projects was inflated.
"I recently bought three acres of land at a cost of Sh13 million in Mtomondoni to construct a school. Unfortunately, it is the same acreage of land in Mtwapa where the county government bought at a cost of more than Sh300 million. What can you call this if it is not theft of public funds?" He posed.
He told Kilifi South residents not to support PAA claiming that it would not protect public funds.
"Don't buy into this idea because it will be the worst mistake one can do," Mr Chonga said.
Mr Saburi told residents of Kikambala and Mtepeni to vote for Azimio presidential candidate Raila Odinga, saying the region will benefit immensely from his leadership.
"As we speak now, one leg of Mr Odinga is already in State House. So it is up to you as Kilifi South residents to affirm this by voting for Mr Odinga in August," he said.
But speaking in Kaloleni sub-county, Kilifi North MP Owen Baya hit out at Mr Mung'aro saying he was rejected by voters when he contested on Jubilee ticket in 2017 and was kicked out by ODM as Minority Whip.
Mr Baya who rallied support for Ms Jumwa's candidature noted that the former CAS was also kicked out by Malindi councillors when he served as mayor in the 1990s.
"Jumwa is the best bet for Kilifi because she is brave. She became councillor at the age of 20 and chairperson of Kilifi Town Council and her star has been on the rise. She became Kilifi county Women Representative, Malindi MP and is a commissioner with the Parliamentary Service Commission," he said.