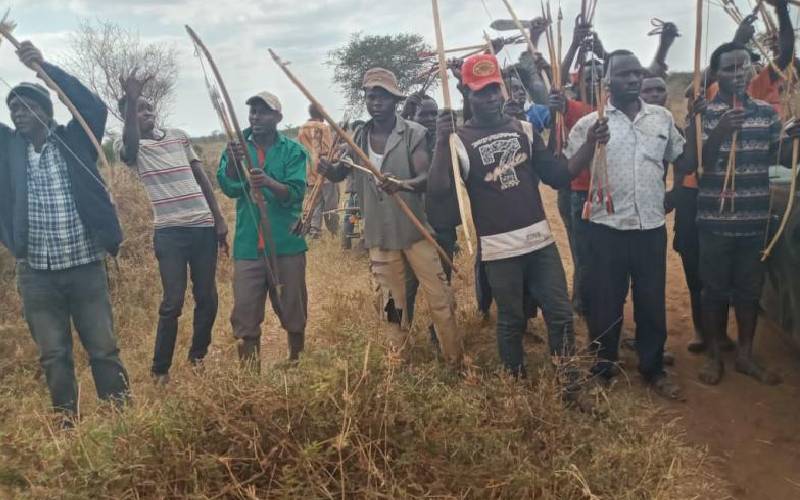 The National Land Commission (NLC) has been ordered to end boundary disputes between Taita Taveta, Kwale and Makueni counties.
Justice Lucas Naikuni ruled that NLC should investigate the border disputes between the three counties and provide a report within 180 days.
Makueni and Taita Taveta have both laid claim on Mtito Andei, while Kwale and Taita Taveta claim Mackinnon town, leading to double taxation of traders in the two towns.
On Wednesday, the court directed that Taita Taveta will, temporarily, be the sole collector of revenue and issuer of business permits to traders in the two towns.
Justice Naikuni of the Environment and Land Relations Court in Mombasa said revenue collected in the towns should be deposited in two escrow accounts.
The first account will be managed by Taita Taveta and Kwale County, and the second by Taita Taveta and Makueni. The accounts will run for six months.
"It is my finding that to resolve the present boundary dispute pitting the three counties and having the disputed areas investigated, surveyed and beacons erected to clearly demarcate the boundaries, the issues are best handled by the National Land Commission. Making appropriate recommendations and ultimately resolving the boundary dispute will, in turn, provide clearly which county/ counties the residents of the towns of Mackinnon Road and Mtito Andei should pay their taxes to," the judge ruled.
Justice Naikuni also ordered human rights activist Okiya Omtatah, who filed the petition on behalf of more than 178 residents of Taita Taveta County, to serve the order to NLC and lodge a formal complaint to enable the commission to initiate the investigations.
He said the commission should prepare a detailed report with practical and pragmatic recommendations on the appropriate redress to resolve the disputes, once and for all.
"This court having perused all the relevant provisions is telling the petitioner to lift his eyes; help is coming from the Constitution of Kenya that is the solid foundation of all doings governing this Republic," the judge said.
He added that the matter be mentioned before the court on October 10 for purposes of compliance by the commission, ascertainment of the progress and taking further directions about the disposal of the main petition.
The court reiterated that the boundary disputes affected Taita Taveta, Kwale and Makueni and thus other spiral effects it has had on the fundamental rights of the ordinary residents, are essentially caused by the insurgencies of historical injustices.
"My discernment from the Constitution is that the National Executive has no role in altering or demarcating county boundaries, while Independent Electoral and Boundaries Commission can only delimit constituencies and wards and has no role or authority to alter or demarcates county boundaries," the judge said in his ruling delivered on Wednesday.
The judge also dismissed preliminary objections by the Attorney General, the Senate, Kwale and Makueni counties.