Raila and DP William Ruto battle for Coast vote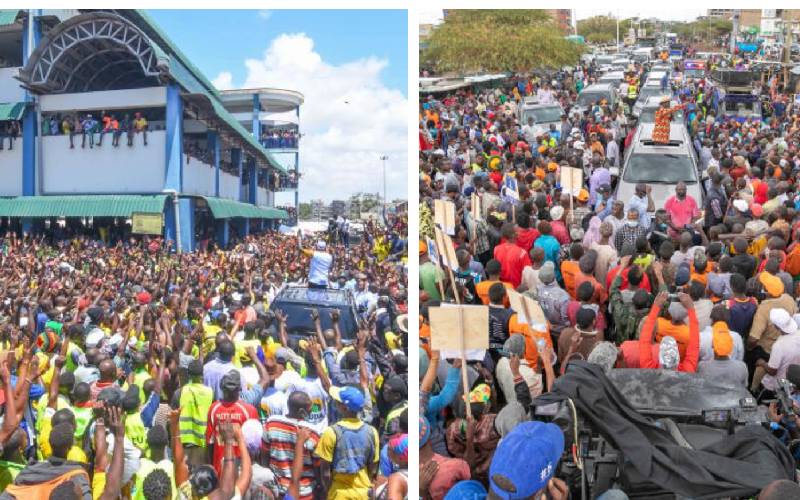 ODM leader Raila Odinga and Deputy President William Ruto renewed forays in Coast appear have been fuelled by the collapse of unity talks in the region.
Political analysts say that Mombasa Governor Hassan Joho's decision to drop out of the presidential race turned the Coast into a swing vote bloc and is up for grabs.
Talks between the four fringe parties to unite the Coast under either one big party or a coalition collapsed. Last week, Kadu-Asili joined the One Kenya Alliance (OKA).
Meanwhile, Pamoja Africa Alliance (PAA), which is linked to Kilifi Governor Amason Kingi, is yet to be launched but it has started a membership recruitment drive.
"It is a fact that ODM is still a dominant party particularly in Mombasa County where it has already lined up strong aspirants for the governor seat. Ruto is here to consolidate the gains in parts of the region and stretch his reach to areas like Lamu where he can ride on the Jubilee support witnessed in previous years," said political analyst and Mombasa-based lawyer Yusuf Abubakar.
He said presidential aspirants see Coast as a swing vote bloc due to increasing number of the upcountry votes, divisions and the absence of a presidential candidate.
"Presidential candidates see these divisions and Joho's decision to drop out of the race as an opportunity to try to woo the region's 1.7 odd million votes," said Salim Yahye, a PhD student of political science.
Yahye said ODM was still the party to beat at the Coast and "that is why the so-called fringe parties want to associate themselves with Raila."
Coast's senior and most influential politicians - governors Joho, Amason Kingi (Kilifi) and Salim Mvurya of Kwale - will also not be defending their seats in 2022, having served their two terms each.
Abubakar and Yayhe agree that with the three would not be very enthusiastic to spend big in the Coast elections, a move that creates a window for the "outsiders" to exploit.
Ruto is currently conducting a five-day tour of the Coast to consolidate his support base ahead of the 2020 polls.On Thursday, he toured Taita Taveta and Kwale.
On Friday, he addressed youth and women groups in Kilifi and Kwale and pledged to end years marginalisation in the region by empowering the poor in the country.
Tomorrow, according to the itinerary shared by his office, he will hold United Democratic Alliance (UDA) Coast aspirants convention at Wild Waters in Mombasa.
Three weeks ago, Raila hosted Coast ODM delegates at the same venue.
A week later, Kanu chair, Senator Gideon Moi, who has since been endorsed by the party to run for the presidency in 2022, hosted Kanu Coast delegates at the same venue.
Ruto's latest campaigns appear to be focusing on Mombasa County. His team has lined up 17 events in two days in Mombasa County alone.
On December 15 last year, Ruto successfully wrestled the Msambweni parliamentary seat from ODM through his preferred candidate, Feisal Bader.
Meanwhile, Raila campaigned at the Coast last month when Joho joined delegates in endorsing the former prime minister to run for the presidency.
Raila sent a strong political signal when he was flanked by Taita Taveta governor Granton Samboja (Wiper) and Lamu governor Fahim Twana of Jubilee during his recent tour.
He also indicated he was courting on Kwale governor Salim Mvurya (Jubilee) who is known to be Ruto's political ally.
ODM has continued to build grassroots networks, reconciling warring factions in branch offices as it seeks to solidify its base threatened by Ruto's persistent push.
In Mombasa County, ODM has intensified efforts to bring together two factions that emerged after the death of branch chair Mohamed Hatimy. He was replaced with Mohammed Hamid Khamis as branch chair.
In Tana River County, the ODM secretariat called for branch elections last month to quell four-year wrangles between governor and chair Dhadho Godhana and businessman Adam Barisa ahead of the 2022 General Election.