Coast residents in last-minute rush to file land claim papers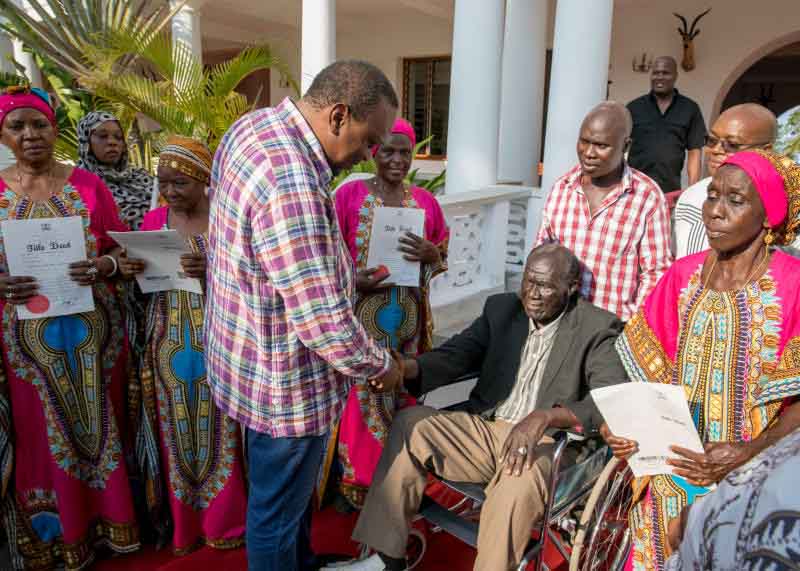 Have you lost your land to grabbers? Have you lived on a piece of land for several years and by law you are entitled to ownership of that property but you do not have a title deed? Are you a tenant-at-will?
Or maybe you just did not apply for a title deed for whatever reason. Well, you have 19 days to file a claim for that land.
The Historical Land Injustice Law (the Land Law Amendment Act of 2016) requires all claims for such land are presented to the National Land Commission (NLC) by September 21.
The law is expected to help the country resolve the cases of historical land injustices.
It has emerged that the number of cases filed at the Coast — one of the areas adversely affected by land injustices with hundreds of thousands of squatters — is negligible.
In Mombasa for instance, only 80 case had been filed at the NLC offices by Friday.
In 2013, President Uhuru Kenyatta promised to resolve historical land injustices, especially at the Coast, saying he'll ensure it is not used as a political tool again.
During elections, politicians would promise to resolving the land issue at the Coast in order to woo voters, then disappear.
Uhuru's initial plan was to issue 500,000 title deeds during his five years in office.
Three weeks ago, he issued 2,169 land titles to residents of Rabai Constituency in Kilifi County. He is expected to distribute more title deeds when he returns.
Figures from the Ministry of Lands indicate that Coast has received 500,000 title deeds in the last nine years.
This is more than what they had received in 50 years before Jubilee administration came to power.
A document issued by the then Lands Cabinet Secretary Charity Ngilu showed Coast had received 230,000 title deeds by August 2013.
Kilifi, according to Governor Amason Kingi, received 52,000 land title deeds between 1963 and 2012. Between 2013 to date, it has received 100,000 title deeds.
Kingi said in nine years, under the Jubilee administration, the number of Coast residents with title deeds had risen.
Land rights activists at the Coast however say the delay in issuance of title deeds, after the enactment of the 2010 Constitution, was due to wrangles among political leaders.
Some leaders are said to be planning to ask the National Assembly to review the law and extend the deadline to enable more people file the claims.
So, why did many Coast residents fail to file the claims as expected?
Critics are accusing the land commission of not doing enough to sensitise residents on how to file land claims.
Many residents said they had problems with the language used in the claim forms. There are those who said the English used was too complicated for them.
Former NLC chair Muhammad Swazuri said most of the affected had difficulty proving the properties belong to them because they lacked ownership documents.
Prof Swazuri told The Standard by the time he left office in February 2019, the commission was handling over 700 cases of historical land injustices from across the country.
"When I left office, the commission was looking into 740 cases of historical injustices. The problem was lack of documentation, especially on the part of squatters," he said.
Many Coast residents were hopeful the formation of NLC would end their land woes.
The commission held several meetings across the Coast, and collected views on how to resolve the land problem.
And by Tuesday, Coast residents were reported to be rushing against time to file their land claims with NLC even as other counties in region analyse claims so far filed.
In Mombasa, most of those who have filed the claims are tenants-at-will, those who have built houses on land owned by the so-called absentee landlords.
A tenancy-at-will is a property tenure that can be terminated at any time by either the tenant or the landlord. It exists without a contract or lease and usually does not specify the duration of a tenant's rental or the exchange of payment.
Registered owners
About 15,000 families, representing 100,000-odd residents, face eviction after disagreements with registered land owners.
They also want the NLC to repossess land registered in the name of Mombasa Liwalis (governors).
Current NLC chair Gershom Otachi did not respond to our calls but officials of the commission at the Coast reported a last-minute rush by residents to fill the forms.
"We are witnessing a rush by residents to fill in the forms.
"The problem is most people had difficulties in answering the questions, especially because of language," said an official.
Jomvu MP Badi Twalib said there has been progress in tackling land problem at the Coast since the Jubilee administration came to power.
"Land remains a serious problem at the Coast. But we are also aware we need to engage the government and land institutions more and seek ways of resolving the issue rather than complain. I can say the Jubilee administration has made progress in resolving land problem at the Coast," Twalib said and challenged the land commission do more. "In Jomvu, we have distributed 638 title deeds to residents of Funga Shati. Over 1,000 more title deeds are ready for distribution to residents of Kwa Hakatsa and Kitui. There are so many people who require titles but at least we are witnessing some progress."
The legislator said the government's move to issue titles to squatters at the 930-acre Waitiki farm in Likoni, Mombasa County, raised hopes in the region.
Twalib asked the new NLC team to expedite land matters and pursue historical land injustices at the Coast.
However, Kilifi Senator Stewart Madzayo called for disbandment of the NLC which he said has done little to address the land question in the country.
"We have serious land problems from Mtwapa, Takaungu to Watamu where thousands of people are being uprooted from their ancestral land and graves of their grandfathers being dug out.
"We have some instances where public schools are also targeted for demolition. What the Jubilee administration and NLC have done is a drop in the ocean," Madzayo said.
The senator accused NLC of favouring influential individuals who acquire title deeds fraudulently. This, he said, had triggered conflicts.
"I had believed strongly NLC would be our saviour but it failed miserably. Very few people have title deeds in Kilifi County," Madzayo said.
Kenya Land Alliance chair Najib Shamsan said the deadline for filing land claims should be extended.
"After the law was established, residents were not sensitised about it. It is also not clear what will happen after those claims have been forwarded to the NLC, said Shamsan.