Family to bury banana trunk in grave of wife whose body 'vanished'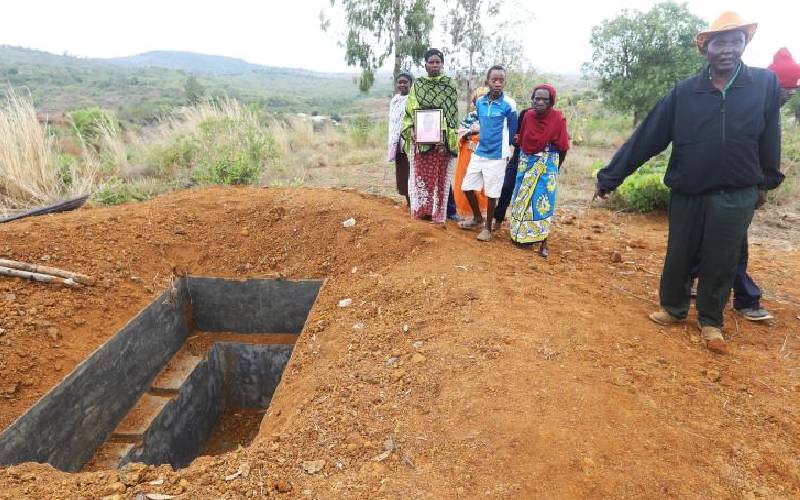 An ancient Mijikenda ritual will be performed at the open grave of Fatma Mwero, whose body disappeared on Monday night.
The ceremony will culminate in the burial of a banana trunk in the grave, said the woman's widower Daniel Chiro. He said a priest will conduct prayers in his house ahead of the ceremony.
Chiro, a former police officer, said the body of his wife disappeared on Monday night from the grave at Mabirikani village in Bonje area of Rabai Constituency in Kilifi County.
Rabai sub-county police chief Fred Abuga said an inquiry file has been opened and handed over to Criminal Directorate of Criminal Investigations officers to probe the matter.
"As we speak the DCI officers are trying to find out what could have happened," said Abuga, adding that, "during the investigation, several family members will be required to record statements with the police."
Yesterday, Chiro revealed that his family had decided to bury the banana trunk in accordance with traditions of the Duruma, one of the nine Mijikenda sub-tribes, even though he is a Christian.
"We have searched everywhere including the thicket around and beyond Mabirikani village, in Mazera, Rabai but we found nothing," said Chiro.
Chiro said his family was exhausted, in great pain and agony and they had decided to close the chapter by burying the banana trunk.
"We will conduct prayers with the help of the priest at my homestead and then move to the graveyard today before burying the banana trunk," said Chiro.
He said according to his tribe's tradition, a grave cannot remain open for many days as it will haunt people in the village.
"I suspect they came with a vehicle and took away the body in the coffin after removing it from the cemented grave," said Chiro.
He said he built the grave with concrete as it was his last house, where he was going to wait for the coming of Jesus.
He admitted he was embroiled in a land dispute with somebody where the body was buried, but said the matter was still in court.
Chiro said he had left everything to God.
He said they would still put on top of the grave, a cross with a silver metal inscribed with Fatma Mwero's name.
She was born on August 4, 1949 and died on February 21 this year.
"Even the flowers which were thrown away when the body was removed from the grave will be placed on a heap of soil on the grave," said Chiro.
He revealed that after the burial, they will spend three days in mourning and later slaughter a goat in line with the community's traditions.
"Although I am saved, I will still follow some traditions so that I remain relevant in the community," said Chiro.
[email protected]andardmedia.co.ke