Elephants and buffaloes invade Taita Taveta homes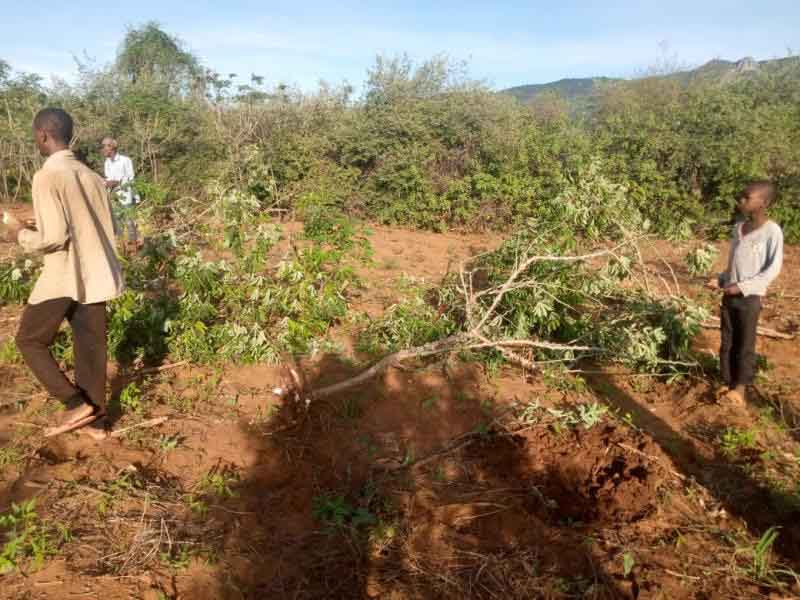 Residents of parts of Voi in Taita Taveta are living in fear after elephants and buffaloes invaded villages.
The elephants have destroyed hundreds of acres under crops and their presence has also affected learning, as teachers and learners are forced to stay away for fear of being attacked.
Mbololo, Ngolia, Kasigau and Sagala are some of the hardest hit areas, as the wild animals restrict movement of people. Anderson Mwaloma, a resident of Mbololo, said the invasion by the animals had disrupted life locally. "Students are now reporting to school late and have to go back home as early as 2pm for fear of being attacked by the buffaloes and the elephants," he said.
He said the animals had mainly been invading homesteads in the evening. "The Kenya Wildlife Service personnel and local leaders appear unbothered by what is happening here. We continue to participate in wildlife conservation in this area, but we are not seeing the benefits of our efforts," he said.
Dan Mwakoma, a farmer, said the animals had destroyed his four acres of maize, cassava and peas at Mwakilima. He said his neighbour, Fredrick Kilalo, had also lost four acres of cassava.
"Herds of elephants and buffaloes broke out of Tsavo National Park and invaded farms in search of pasture and water. The animals almost attacked me as I went to my farm in Mwakiki. We have tried to light fires and beat drums at night to scare them away, but in vain," said Mwakoma. Isaac Mwangasu, a resident of Mwangarana village in Mbololo, said elephants had destroyed his one acre under cassava. He said elephants had also destroyed several water pipes, occasioning water shortage in the region. "I reported the matter to KWS but no action has been taken. [Renson Mnyamwezi]
The elephants have restricted our movements and this has also affected many activities, including learning in several schools," said Mwangasu.
Voi sub-county Deputy Commissioner Daniel Nduti said: "We have already dispatched a team of KWS officials and chiefs to drive the animals out of people's settlements. There is no cause for alarm."
Tsavo Conservation Area Assistant (TCA) Director Kenneth Ochieng' said he could not comment on the matter as he was out of office.
Records from TCA offices at their Voi town offices show several people have been killed by wild animals in the area and others have suffered injuries. The animals have also destroyed property of unknown value over the years.
About 20 deaths, as a result of wildlife attacks, have been registered in the area and some of the families of ten victims paid Sh35.6 million in compensation. The rest of the claims are still pending, said a KWS official who did not wish to be named.
Recently, Tourism and Wildlife CS Najib Balala said the government spent over Sh93 million to pay several families of victims of wildlife attacks in the last financial year. Another seven death claims have been approved and will cost Sh30.2 million.
The payments included more than Sh2.7 million paid to those who suffered injuries in the last financial year.
Balala said 71 human injury claims have also been approved and will cost the government Sh6.3 million.