Murder suspect escapes from Mombasa court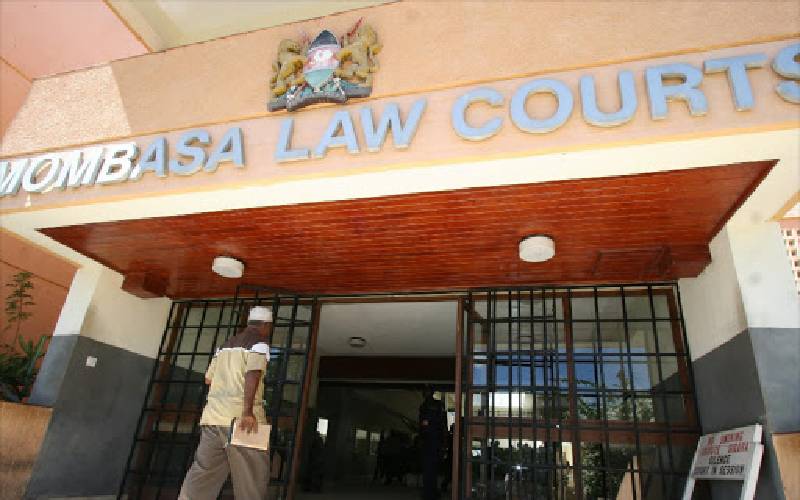 A suspect linked to murder and robbery incidents escaped from court precincts in Mombasa on Monday.
Ngalaa Chuphi alias Hassan Ronald duped police officers that he had a runny stomach and needed to visit a toilet.
As he left the toilet, he wrestled to the ground the officer who was waiting for him outside and scaled a perimeter wall of court precincts.
Detectives have launched a manhunt for the suspect.
Yesterday, sleuths from the DCI office interrogated police officers and court officials at the Mombasa Law Courts to establish how the man they described as "very dangerous" escaped from lawful custody.
"While at the parking area of the court, the prisoner requested to use the toilet. After relieving himself, he charged at the officer who was waiting for him at the toilet entrance and pushed him to the ground and managed to scale the perimeter wall and escaped,'' said Patrick Mbuvi, an officer from the DCI office who had accompanied the accused to court.
He claimed the officer fired twice at the accused person and that he may have injured him.
A witness said the escapee ran towards State House Road and it is not clear if armed officers manning the gates heard the said gunshots.
The magistrate's court in Mombasa has earlier on Monday cancelled his bond and ordered he be remanded at Shimo La Tewa, pending hearing and determination of cases he is facing.
The 34-year-old suspect was arrested last week in Ujamaa, Likoni, after warrants of arrests were issued for failing to attend court proceedings. He is facing two robbery with violence cases in Mombasa.
The future of driving is electric
Technology has seen development of more efficient and reliable EV power units while biases towards fossil fuel-powered vehicles are weathering.