Lamu Port opens door to the reality of Lapsset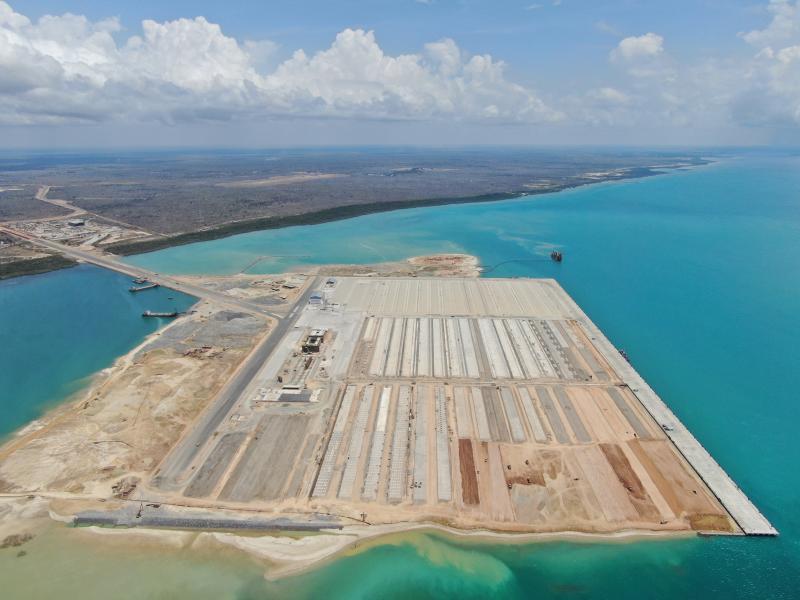 Lamu Port is set to start operations this month. This will be a major boost for Lamu Port South Sudan Ethiopia Transport (Lapsset) corridor, which is now taking shape after years of anticipation.
The country's second commercial port is set to receive its first ship in the course of this month, a milestone for the corridor, which has ambitions of being a key gateway for eastern and central Africa.
The corridor has a short term target of serving Ethiopia and South Sudan.
While there is optimism that the port will bring about the renewal of Lamu, there are concerns about the degree of connectivity between the county and the rest of the country.
The corridor itself is expected to have roads, rail and pipelines connecting the port to the hinterland, going as deep into the region as South Sudan and Addis Ababa.
"The Lapsset Corridor is primed to be the most competitive corridor in the region," said Lapsset Authority, adding that currently there are options for businesses using Lamu Port to evacuate or bring cargo to the port.
It added that there are a number of critical roads that are currently being constructed, which will significantly improve access to the port. These are expected to lure businesses importing and exporting to and from South Sudan and Ethiopia.
Currently, Lamu Port connects to Ethiopia through a 1,425km road through the Lamu-Garsen-Garissa-Kilimambogo-Isiolo-Moyale (Ethiopia border) route, of which 1,075km is paved, while the balance is under construction and expected to be complete in the course of this year.
The Authority said this journey would reduce to 832km once a number of roads, key among them the Lamu-Garissa road, are completed.
It is also the case for South Sudan, which though Lamu offers a much shorter route compared to using Port Sudan, over 2,700km from Juba, a poor road network might hamper access to Lamu Port.
According to the Authority, the planned route to South Sudan will be through the Lamu-Garissa-Isiolo-Wamba-Baragoi-Lokichar-Lodwar-Nadapal, a 1,238km road section. A substantial stretch of this road is however in a bad state.
"Designs have been completed for 651 kilometres of road (Garissa to Lokichar section) while the construction of the Lokichar-Nadapal (330km) section is at an advanced stage of construction," said Lapsset Authority.
"Various interlinking roads in to towns and centres are planned for to facilitate local trade as well as security roads to boost security response along the Lapsset Corridor."
In an interview with Shipping and Logistics, Coast Regional Coordinator John Elungata disclosed that different aspects that would facilitate the smooth operationalisation of the port including road connectivity, power supply, security and air transport are being addressed.
Even as the government addresses the connectivity challenge, there are residents who are already expecting changes to the economic prospects of Lamu.
Awadh Bashir, a Lamu businessman, said the establishment and operationalisation of the Lamu Port will herald a boom to the economy of the county that has traditionally relied on tourism and fishing.
"There are no industries in Lamu apart from the largely artisanal fisheries. With this new port facility, we expect many industries to rise up here," said Mr Bashir.
"It will be a boost to locals who will either be employed directly or indirectly in these businesses related to port activities.''
He continued: "Ports that dot world waters spur an important economic activity in areas they are located. The higher the throughput of goods and passengers year-on-year, the more infrastructure, provisions and associated services are required."
Karanja Kanyi from Mpeketoni trading centre expects there will be varying degrees of benefits to the local Lamu economy as well as the country and region as a whole once the new port is operational.
''Ports are important for the support of economic activities in the hinterland since they act as a crucial connection between sea and land transport. As a supplier of jobs, ports do not only serve an economic but also a social function. In terms of load carried, sea transport is the cheapest and most effective transport system,'' he said.
He added that it is only a matter of time before investors set up industries around Lamu as they eye the export market.
"These industries will in turn churn out jobs for people. There will be many beneficiaries both direct and indirect," Mr Kanyi said.