Church probes sexual harassment claims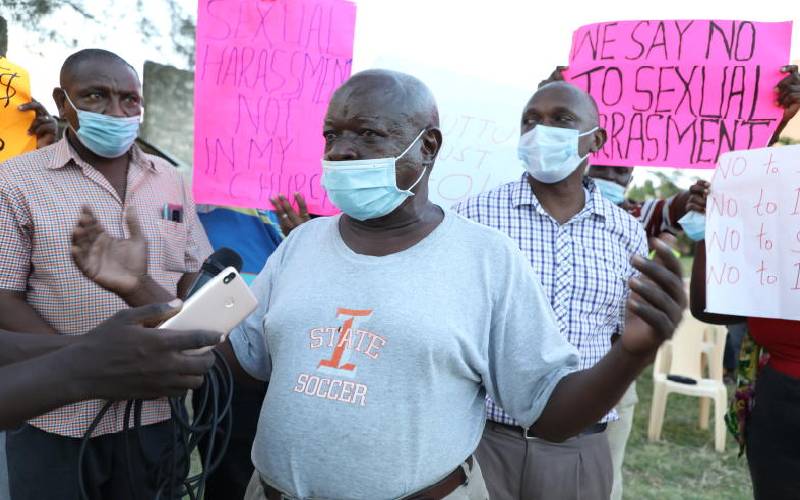 The Anglican Church of Kenya (ACK), Mombasa Diocese, has formed a task-force to probe scandals that have rocked one of its churches in Bamburi, sparking chaos during the New Year services.
Yesterday, ACK Mombasa Diocese Bishop Alphonse Baya said the church's vicar general and Archdeacon were probing alleged sexual harassment of female congregants at St Stephen.
"I expect the team to complete its investigation and hand in the report by next week," said Bishop Baya, who promised to personally address the issues, but "in a just and fair manner."
On Thursday chaos erupted at St Stephen church, situated along Bamburi-Mtamboni road after the congregation refused to enter the church and instead held prayers at the entrance.
The worshipers alleged sexual harassment of female congregants, female staff and deaconesses in the church. They held a demonstration outside the church.
"The church is supposed to be the safest place for our girls, but we are surprised that this is not. We must get rid of predators," said the church elder and Warden Stephen Ochieng'.
"Since January, controversies and confusion over leadership have rocked the church, almost tearing it apart. We now appeal to our Archbishop to intervene," said Ochieng.
Mr Maxwell Odhiambo, who is a youth leader, said priests of the church were behind the differences among the congregants, which have forced some to migrate to other church denominations.
"Other church members have decided to abscond church liturgies," said Odhiambo.
Yesterday Bishop Baya said he will be given a fair hearing adding "our first action is to try to bring the warring groups together."
Other allegations are that a leader scolds a member of the congregation in front of the church because of failing to meet the church tithe target.
Harriet Savulenze, a woman church leader, condemned sex assault incidents among young girls and women congregants, saying this had made the church too insecure for them to worship.
"Claims of sex assaults in the church have reached an alarming level. We cannot allow our girls to be alone in the church, it is not safe," said Ms Savulenze.
Baya said the church had procedures for addressing grievances, starting from the committee of the affected church before it is escalated to the diocese.
"I have a report on all the allegations but we must give the accused party fair hearing. The committee will give me feedback and resolutions next week," said Baya.
The cleric said after the church council meeting, he would forward the grievances and findings to a higher authority within the religious institution for proper action.