Coast drug addicts decry shortage of rehabs and counselling centers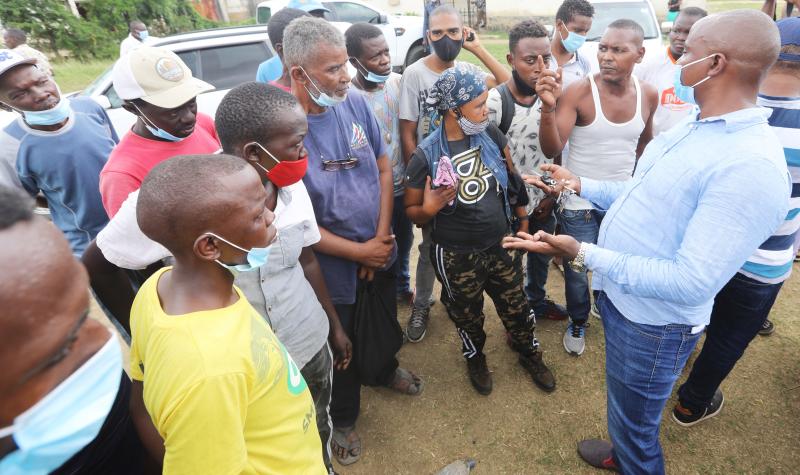 Hundreds of recovering drugs addicts in Mombasa County have decried lack of easy access to rehabilitation services to support them. Walid Mbarak from Mtwapa in Kilifi County said raising fare to travel to Freetown Centre to collect methadone dose was a major hurdle.
The recovering addicts were addressing the media at Freetown Centre where they had gone to collect doses of methadone. Officials from the Mashinani Watch Organisation were present.
"We are asking for support from government to enable us access the methadone and counselling services. Because we are jobless, sometimes we fail to raise fare to get to this centre," said Mr Mbarak, adding that the society has also stigmatised them. He urged the Government to also include them in menial jobs programme for youths as idleness makes most of them to relapse.
MWO chairman Moffat Mutero (right), who distributed face masks to the recovering addicts, called on Parliament to introduce a clause for funding in the Narcotics, Drugs and Psychotropic Substances Control (Amendment) Bill, 2020, to help in the rehabilitation of drug addicts.
"The Bill is good because it will cut down drug supply. But we are telling the parliamentary committee on Health to include mechanisms for recovery among the drug addicts. The Coast region has a high number of youths being wasted away by drugs and need well-equipped rehabilitation centres," he said.
Ahmed Masai, who abandoned his job as an accountant at a local flour mills due to drug abuse, appealed to the Government to introduce more rehabilitation centres at the Coast which has thousands of addicts.