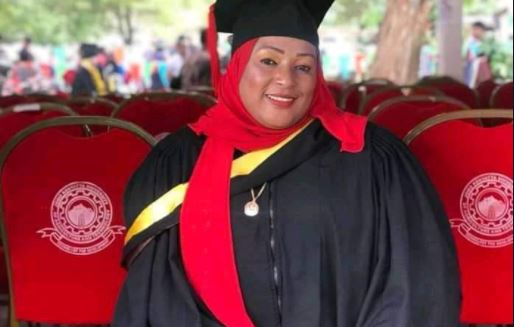 Tragedy has befallen the Kajembe family again after losing his daughter, Langoni Kajembe yesternight.
Reports say that Ms Langoni (pictured) died on Wednesday evening at around 10pm at Panday Hospital in Mombasa.
She had been admitted to the Intensive Care Unit (ICU) for the past week.
Family and friends of the Kajembe's including political leaders have already made way to Kwa Shee cemetery in Jomvu, Mombasa to bury the late Langoni.
Read More
Her death comes just two weeks after her father and former Changamwe MP Ramadhan Seif Kajembe passed on.
The late Kajembe succumbed to Covid-19.
The family is now in mourning again, having suffered four deaths within six months. Reports also emerged after his death that two of his children had been taken ill.
The family has since suffered immense tragedy after Kajembe lost the 2013 senatorial race for Mombasa. His son, Seif Kajembe, who tried to succeed him as MP on an Orange Democratic Movement ticket died abroad in 2017. Kajembe's son-in-law Badi Twalib captured the seat on a Wiper Democratic Movement ticket.
His second wife Zaharia died early this year. Two weeks before Kajembe's death, Aziza, his first wife, also died suddenly. By then, he was too sick to attend her burial.
It was speculated that the family had been afflicted by Covid-19 after being visited by an infected young relative who recovered from the virus.
Kajembe was laid to rest in a simple grave dug next to that of his first wife, Aziza.
Other family members who have been buried in the same cemetery include Kajembe's sons Hatib Kajembe who died in 2006, Seif Kajembe (2017) and his second wife, Zaharia who died about six months ago.
Ms Langoni is the first born of Kajembe's daughters.