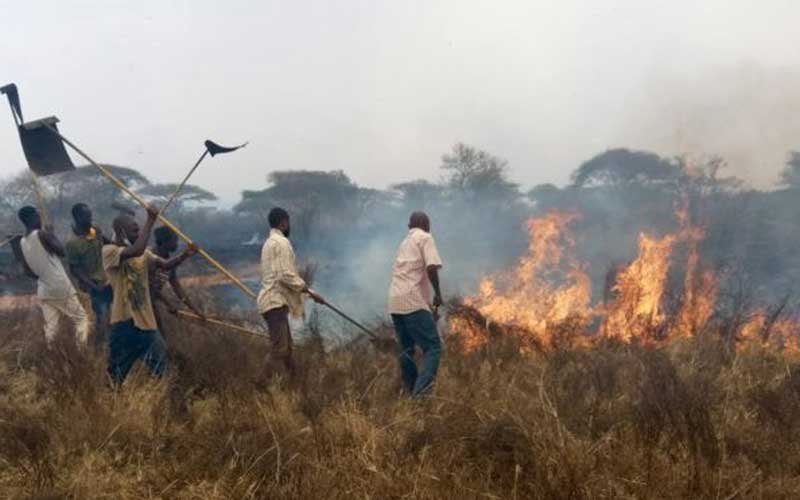 A multi-agency team on Monday put out the big fire consuming the Tsavo Conservation area, the Kenya Wildlife Service (KWS) said.
The fire, believed to have been ignited by arsonist, started on Saturday at Mgeno and Lumo conservancies at the Tsavo West National Park.
KWS said by 10:00pm on Sunday night, the interagency team – including local volunteers, the National Youth Service and the military – had contained the fire but strong winds in the area reignited it.
A Kenya Air Force Helicopter pours water at the Tsavo National Park in an effort to put out the fire. pic.twitter.com/nt80wjo6nx

Read More

— Kenya Defence Forces (@kdfinfo) August 9, 2020
"This morning the team successfully fought the fire at Murka area," KWS said in a statement.
It added that both aerial and ground teams were mobilised, with graders, water bowsers and fire engines at the site to augment the fight to extinguish the fire.
There will be a team stationed at the park for the next 24 hours to watch out for any further outbreak.
Tsavo is Kenya's biggest national park and one of the largest wildlife ecosystems in Africa. Its existence is, however, threatened by recurrent fires that are crippling conservation efforts.
This week's fire is the seventh to be reported in the area within a month.
While promising investigations into the fires that have consumed thousands of acres, authorities have often blamed illegal herders from communities neighbouring the park as some of the fires start inside protected areas.
Park officials hold that they are still pursuing the suspected arsonists and have not outlined the full extent of the damage caused the fires.
Tens of animals have been killed in the fires.