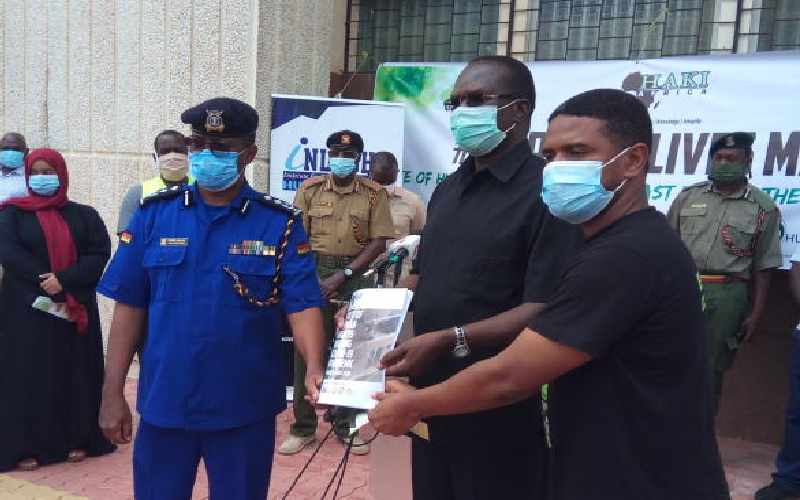 Security officers have been linked to 20 deaths in the Coast since the declaration of dusk-to-dawn curfew in early April, a lobby group has revealed.
The curfew and other containment measures were imposed in Kenya and select counties in the Coast to curb the spread of coronavirus.
The survey, by rights group Haki Africa, was carried out from March to May 31 in six coastal counties.
"We have documented 291 cases across the six coastal counties.
"The county with the highest cases is Mombasa and county with the lowest is Tana River," Hussein Khalid, the Haki Africa Director, said yesterday.
He said more than 70 per cent of human violations were committed by security personnel tasked to enforce the curfew.
Mombasa County had 103 human rights violations followed by Kwale at 52, Taita Taveta 48 and Kilifi with 35 cases.
Lamu had 42 cases while 12 cases were documented in Tana River.
The atrocities ranged from torture, rape, defilement, extra-judicial killings and gender-based violence.
Mr Khalid who presented the report to top coast security team led by Regional Commissioner John Elungata, regional police boss Rashid Yakub and regional detective Washington Njiru called for immediate investigations and those found culpable be prosecuted.
Mr Elungata, who received the report, promised that the Independent Police oversight Authority (Ipoa) and other government agencies probing the incidents will make sure justice is served.
"On issue of mistreatment of public during curfew and cessation of movement, I think is an issue we have heard and we will look into," he said.
The lobby said reported human rights violations in Tana River County were is low because reporting mechanism are not easy for the people to use.
Khalid who cited the killing of an eight-year-old girl in Bamba, Kilifi, who was defiled and later strangled, criticised security officers for doing little to bring the culprits to book.
"On recommendations, the report has noted that Covid-19 measures put in place has negated enjoyment of human rights.
"While we appreciate government efforts to contain coronavirus for instance, the issue of curfew has seen atrocities being committed at night because certain people believe there is nowhere for victims to run," Khalid said at the launch of the report at Uhuru na Kazi Building.
Ipoa regional official Rashid Ngolo promised to investigate reported cases.
Other top security officials present were Critical Infrastructure Police Unit regional boss Imai Benjamin and regional prison commander boss Onyango Aggrey.