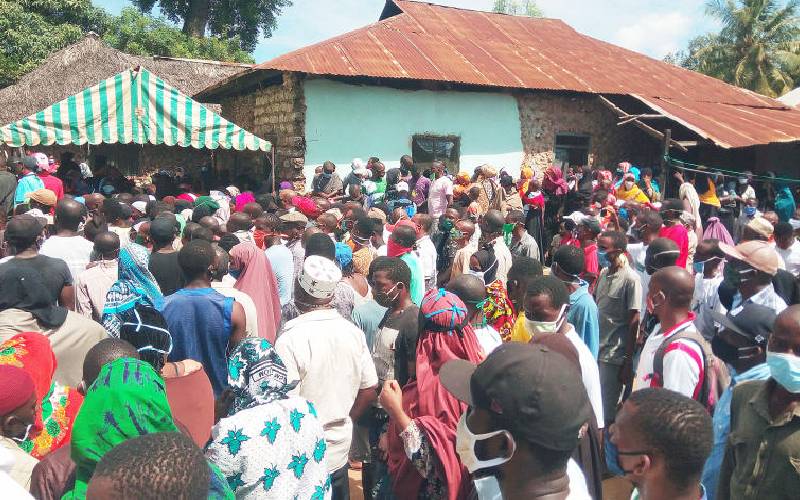 Three family members killed in a foiled anti-terrorism raid on a Kwale home on Saturday were buried yesterday amidst growing calls for accountability.
Mohamed Mapenzi and his two sons Swalia Mapenzi, 6 and Idd Rahma, 3 were killed under a hail of bullets when police raided their Kibundani home near Ukunda around 2am on Saturday.
Mohamed's wife Mwahalima Mwachili who was eight months pregnant was also shot in the abdomen, losing the pregnancy. She is still unconscious at Msambweni Referral Hospital.
Mohamed's other children Mohamed Rahma, Halfan Mapenzi, Al Hajj Mapenzi and Issa Mapenzi were also shot and injured and are hospitalised.
Yesterday Kwale Governor Salim Mvurya, Mvita MP Abdulswamad Nassir and rights group Haki Africa led calls for independent investigations.
Read More
Postmortem examinations on Mohamed and his two sons at the Coast General Hospital in Mombasa showed they died from multiple bullet wounds.
A medic at the Msambweni Hospital told The Standard that Mwanahalima was still in a coma.
Twenty-two year old Mohammed Rahma who had a bullet stuck in the hand was operated and the bullet removed.
The police had claimed the slain man was an Al Shabaab recruiter in Kwale and was being sought by security personnel.
Msambweni police boss Nehemiah Bittok had said the man used his children to shield himself from being shot as he engaged the officers in an exchange.
However, according to Dr Abdurhaman Cidi who conducted an autopsy on the trio, Mohammed Rahma Mapenzi, 42 was shot three times in the head from behind.
Also observed were fatal gunshot wounds on the two children.
The bodies were later ferried to their home in Kibundani village for burial.
An elder brother of the deceased, Rahma Hassan, called on the investigating agencies to probe the matter to establish the truth about what happened.
Hassan said the entire family was in shock as they buried their kin who were killed by police over suspicions of being linked to Al Shabaab terror group.
Mvita legislator Abdulswamad Sharif protested the killing of the family saying he will mobilise leaders to make sure the family gets justice.
Abdulswamad said the police action was no different from terrorists killing people.