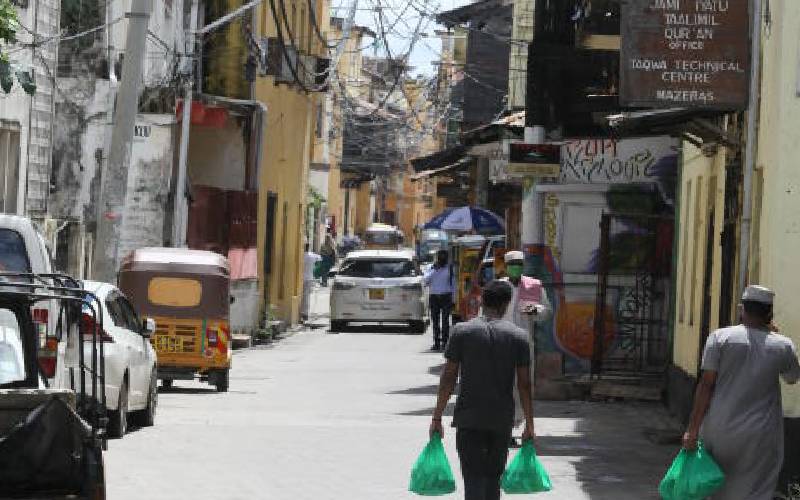 For all its glorious past, Mombasa's Old Town is spitting its old demons once again to devastating effect.
"Stop dreaming shallow dreams of Kibokoni. We have children aged two, 11 and 12 who have tested positive. This virus does not discriminate or know religion," governor Hassan Joho said on Saturday when he angrily rebuked local residents for shunning diagnostic testing for the Covid-19 virus.
The spread of the virus in this area has been met with a measure of shock, anger and disbelief.
A local MCA told The Standard that despite the ban on public gatherings, three mosques have opened their doors for congregational prayers in disregard of government protocols against Covid-19.
Famous sites
Read More
According to Joho, some locals not only thrive in old myths, but also promote needless double standards. He suggested that some imams are eager to see the State enforce a crackdown on the impugned mosques so that they can "cry that muslims are being persecuted."
"If you cannot adhere to the measures put in place, we will propose that you be locked down and no one will go out or come in. You can avoid this only if you follow the laid procedures," Joho warned.
However, some local leaders have rebuked the governor, claiming he is coming down too hard on Old Town residents yet the statistics call for urgent and more innovative containment measures.
Oldest town
One of Kenya's oldest town, Mombasa's Old Town is a treasure trove of historical records and a repository of past battles and triumphs between empires and foreign armies that have visited and conquered the Kenyan coast for close to a millennium.
The kaleidoscope of the people who live here testifies to the mixing that has occurred between natives and other races since before the advent of islam on the Kenyan East Coast. For the most part, the peaceful nature of its inhabitants represents the majesty and pride of a people who have thrived in times of plenty, war and scarcity.
It hosts UNESCO World Heritage site in Fort Jesus, the old harbour, mosques, libraries erected in the Middle Ages and Kenya's first colonial offices in its densely populated landscape. It is here that the standard Kimvita Kiswahili language/dialect was conceived and thrived.
Known legends of Mombasa like the late Professor Ali Mazrui were born and bred here.
In recent years, Old Town has known worse times when radical islamist ideology took root among some youth. Several were slain by police and they also killed a couple of security agents turning, a largely, peaceful and sleepy part of Mombasa into a notorious security concern.
About four years ago, three young women walked from a section of the shanty town into Central Police Station and tried to detonate an improvised explosive. They died in a hail of bullets. Naturally, some local residents claimed they were killed in cold blood.
The sense of denial about these women thickened when everyone disclaimed them - the only woman residents claimed lived with the three turned out to be deaf and dumb and of no use to investigators.
No one claimed the corpses after two years and they were buried in a mass grave.
The refusal to identify with these bodies was understandable. Most residents genuinely reject the radical ideology behind their adventure, but also reasonably feared victimisation by State security agents.
Most residents who are peaceful Muslims find succour from religious leaders, but grinding poverty and ignorance forces them to share amenities and resort to alternative medicine.
Today, the demon from Old Town is Covid-19 which has rapidly spread among the 28,000 residents like bush fire since the first recorded cases. As with the 2016 attack on the police station, myths and plots have been spurned by residents opposed to the anti-Coronavirus measures.
Isolation and quarantine
When medical officers turned up in some parts of the Old Town to test known residents, neighbours gladly disclaimed them or alleged they migrated months ago.
Perhaps fearing the cost and inconvenience of isolation that follows when results turn positive, men conveniently denied their wives and women disavowed their children.
Some politicians have not wasted time to propagate theories on social media that isolation and quarantine is equivalent to expensive prison.
By yesterday, this small part of the island had registered 50 infections. By Sunday, seven local residents had died from the virus, sparking renewed fear and anxiety.
Narrow streets
A casual walk through the narrow streets reveals the overwhelming majority ignoring all or most social distancing protocols.
On April 19, a famous herbalist and Islamic scholar Mohamed bin Hassan alias Mwinyi Karama died after testing positive for the virus. Within days his wife, maid and three daughters tested positive.
Later, a local who had visited a barbershop together with the herbalist's neighbour tested positive and infected his wife and children the spiral went out of control.
"We are yet to establish where the herbalist was infected," Aisha Abubakar, the Mombasa County Chief Officer of Health, said.
Epidemiologists are convinced the herbalist was not the first to be infected here because he was almost 90 years old and rarely moved out of Old Town. The word is that he contracted the virus from a patient of his.
This patient has never been traced and it is not known whether he is alive or dead nor where he came from.