No charges yet for DG in virus spread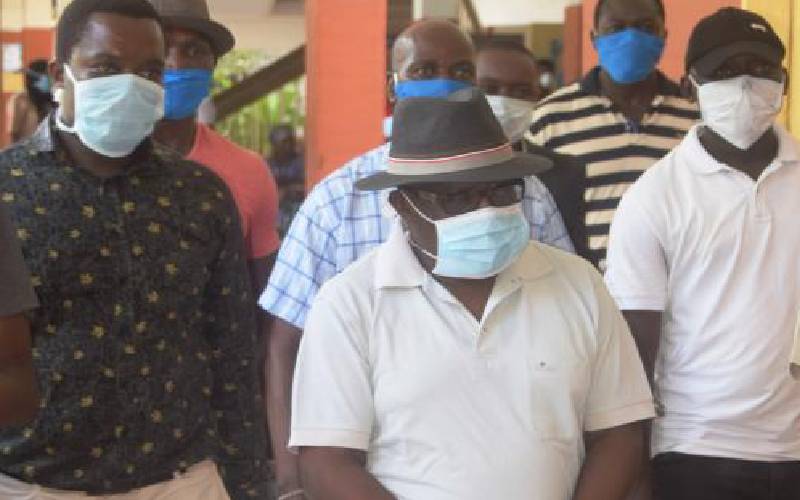 The State could today charge Kilifi Deputy Governor Gideon Saburi for failing to self-quarantine upon arrival from Germany early last month.
Saburi was arrested on Friday after two weeks of forced quarantine at the Coast General Hospital. He was accused of "negligently exposing residents and health officials in Kilifi and Mombasa to covid-19 virus."
According to the State, the deputy governor committed a crime or crimes for refusing to self-isolate for 14 days after returning from a tour of a country afflicted with the contagious disease.
On Thursday, Health Cabinet Secretary Mutahi Kagwe proclaimed that Saburi was free of the coronavirus disease and will now face the law.
"I am also pleased that the DG, whom we placed under forceful quarantine, has fully recovered and has been declared fit after being subjected to three tests all of which have turned negative. Naturally, the issue of the law will follow up with him," said Mr Kagwe.
But lawyers are now warning that short of the deputy governor admitting culpability, securing a conviction may be possible but not easy.
Ng'eno Birir, a former prosecutor now in private practice, warns that the State "must deploy skill to sustain a case against the DG to the required standard."
He told The Standard that under the common law tradition, which Kenya subscribes to, the charges against the DG are 'strict liability' crimes.
Mr Birir said that, traditionally under common law, a crime is made of two parts - the act itself (actus reus) and the criminal mind (mens rea).
There, however, exists a category of crimes (strict liability) where the prosecutor can secure a conviction without proving an alleged perpetrator was actuated by a criminal intention or conspiracy.
"It is not necessary to prove mens rea in this case. It is not easy to prove he intended to spread the disease," said Birir.
He added that when the trial begins, the prosecution will be under pressure to prove that the DG was aware there was a State policy or decree requiring him to enter quarantine after returning from overseas, and he violated it.
Sustain prosecution
A lawyer who requested anonymity said that Kagwe's statement, "betrays the challenge the State is likely to face when crafting charges against Saburi and sustaining a prosecution and conviction."
The lawyer said demonstrating a causal link that the DG allegedly spread the virus among people he met beyond reasonable doubt would not be easy "given that the actual characteristics of the virus are still new and it can be spread in many ways."
"The defence can also argue that the people allegedly infected by the DG also met other infected people who could have passed the virus to them," said the lawyer.
Mombasa Directorate of Criminal Investigation Officer Anthony Mureithi had earlier said that a determination to charge Saburi had not been made.
"We are recording his statement. We must establish whether he signed a covid-19 self-declaration form, or was he spreading the virus intentionally and many other things," said Mr Mureithi.
By yesterday, it was unclear whether charges had been drawn up or if the State had acquired adequate supporting evidence, including supporting affidavits and exhibits to open the prosecution.
Sources indicated the State is drafting charges against Saburi from the Penal Code and Public Health Act.
Under Section 27 of the Public Health Act, the Health CS has powers to quarantine any person infected with a virus until he or she heals and ceases to be a danger to the public.
Section 28 of the same Act says a person who fails to adhere to a directive to self-isolate is guilty of a crime and, upon conviction, can be jailed for three years, be fined Sh30,000, or both.
Section 186 of the Penal Code states that a person who unlawfully or through negligence spreads an infection or disease that is a danger to life is guilty of a misdemeanor.