Coronavirus: Coast residents wake up in the night to drink false cure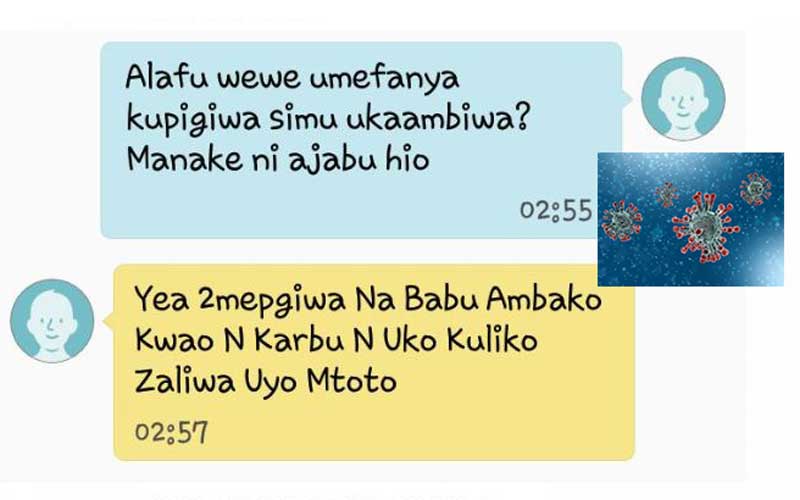 A false coronavirus cure pitch, believed by so many, on Sunday woke up sleepy Coastal Kenya. The rallying call was for people to fill their stomachs with black tea.
It was touted to be a breakthrough cure for the highly infectious virus that causes Covid-19 even as the world's best researchers and scientists raced to find solutions to the pandemic.
I was woken up a few minutes to 3 am by my religious mother to the fast-spreading news.
Unlike other days, she did not make a fuss of how messy my room was, neither was she bothered by my sleeping with the light bulb on, nor was the running laptop on my chest a concern.
"I have received a call from your grandfather (he lives next door to us) that a child has uttered seven words at birth in Pokomo (Tana River)," she sombrely but with a straight face said.
The seven words, she added, were "Dawa ya corona ni chai ya rangi." This loosely translates to "the cure to Coronavirus is black tea."
As a journalist with a knack for fact-checking, my rule of thumb is scepticism. I instinctively dismissed the revelation as false.
This, however, was not enough to stop my mother. She was already making tea to save her children even before I could make my case.
My six-year-older brother, Rajab Omar was shaken off his sleep and asked to sip the new 'cure'.
Too naïve and perhaps one foot in sleep, he innocently asked, "Mama, mahamri wapi? (Mum, where is mandazi?" To him, it was breakfast time.
Feeling helpless, I watched as my family, who have not shown symptoms of the virus, sipped hot black tea – to cure them of a virus they did not have.
I took to social media to share my dawn experience only to find that I was not alone in the encounter.
Netizens living in South Coast Kenya, Lungalunga to the edge of North Coast's Lamu had received the message.
"Who is this child that everyone is talking about at this time of the night? Everyone says they have been told but no one is owning the information," Msambweni resident Mwanamisi Kasirani posted on her WhatsApp status at 4 am.
Adam from Mombasa posted: "I am awake at this time of the night with my family after receiving phone calls from concerned relatives asking me to drink black tea."
"I was asleep when someone called at around 2 am only to tell me a kid has been born and has said the cure to coronavirus is black tea," said Sameer Ali, a Malindi resident.
Many other shared the story, with variations to the narrative. Most said they had received phone calls a few hours after midnight with a chorus alarm asking them to drink sugarless black tea before sunrise to be safe from Covid-19.
A resident from Ng'ombeni, Kwale told Standard Digital that he had break a dusk to dawn curfew to wake up a shopkeeper so as to buy tea leaves.
Child dies
Those who spread the message held that the child died shortly after he uttered the 'cure'.
They could not, however, agree on where he was born or provide verifiable evidence to back the claim.
Some claimed that the child was born in Tana River, others Msambweni, Waa, Kilifi, and Lamu.
Others had it that it was at the Coast General Hospital in Mombasa County.
None of the mentioned maternities confirmed recording such a case.
Not the first
A similar story has been published in Arabic by a Sudan-based blog claiming that the mysterious child was born in Mecca, Saudi Arabia.
The claim later turned to be an expensive joke for everyone who fell for it as memes ridiculing the situation circulated hours later.
It is not the first time such kind of a myth has been spread across the coast regarding the Coronavirus outbreak.
The false cures point to the desperation of people in finding a treatment for the highly-contagious virus.
You can read more on the debunked myths related to the virus here, here and here.