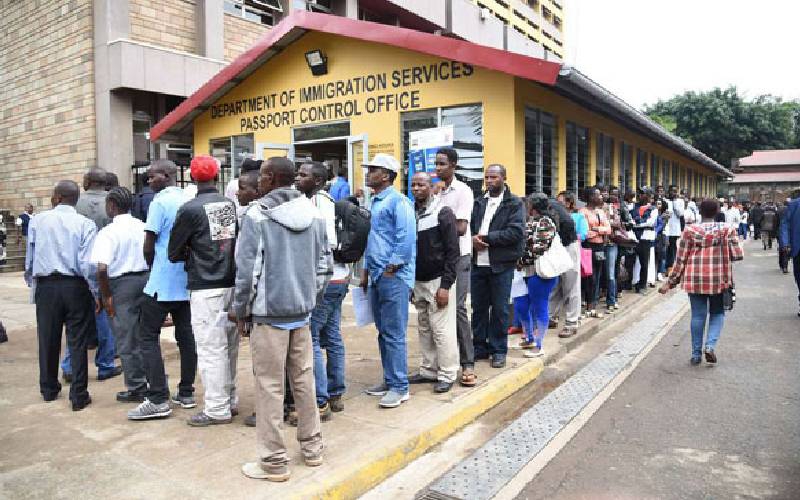 Seven days after his sudden disappearance from his home in Lungalunga, Kwale County on November 26, retired German soldier Paul Topf's whereabouts remain unknown.
Topf has lived in Lungalunga with his Kenyan wife, Neema Nyawira, for seven years at Mwambao Bati village. They have a six-year-old daughter. Topf is described as a businessman.
Nyawira told The Standard four men and a woman, who identified themselves as immigration officers from Mombasa, arrived at the home on November 26 at around 11 o'clock.
"They parked their unmarked vehicle some distance from the home before coming in. They claimed they had an issue with my husband's immigration papers and they were seeking clarifications," she said.
She added that he resisted when they insisted that he accompanies them, but they forcefully took him to the car and drove off.
"I am a bit confused, why would immigration officers behave in such a barbaric manner and refuse to even cooperate with me as his wife," she said.
She said that the 'immigration officials' demanded for Topf's passport, ID card and other identification/nationality documents.
Immediately she suspected these were not government officials, she reported the matter to Shimoni police station that same afternoon.
"He had assured me that he was safe, only for his phone to go off. That is when I reported the incident to police," she said.
Police probing incident
Lungalunga police boss Peter Dzimbi told The Standard that he had received this report and an investigation has been launched.
"It is true the matter was reported to Shimoni police station. We are pursuing the matter and as we are talking now we are on the ground, piecing together the information we have gathered so far," said Dzimbi.
Nyawira said that besides the five claiming that her husband's passport and identification card had a problem they needed to verify, they refused to reveal what exactly the problem was.
"They were rude and threatened to arrest me for being inquisitive and interfering with their work. They also questioned if he is German and in what capacity he was in this country," said Nyawira.
Nyawira said she is yet to get in touch with the German embassy in Nairobi. When asked more about what her husband does, she insisted that all she knows is that he is a retired military man from Germany, who immigrated to Kenya in 2012.
Since arriving in the country, Topf has been staying with his family in Mwambao Bati, Shimoni sub-location, Pongwe Kidimu in Kwale where he runs his business.
The OB report reads: "The 'officials' had introduced themselves as officers from the immigration department in Mombasa offices. They claimed they had issues with Topf's documents and wanted clarification." A contingent of officers from the DCI have been dispatched to the disappeared man's homestead to recorded statements from those who were present when the incident occurred.
Nyawira said there has been no communication for close to a week now. She said she received a call from an unknown person, telling her that her husband had been taken to Nairobi for further interrogation by immigration officials where he is being detained.
Police, on the other hand, insist their immigration colleagues have no such matter they are handling and this could be a case of abduction.