State using robots to locate Likoni Ferry tragedy victims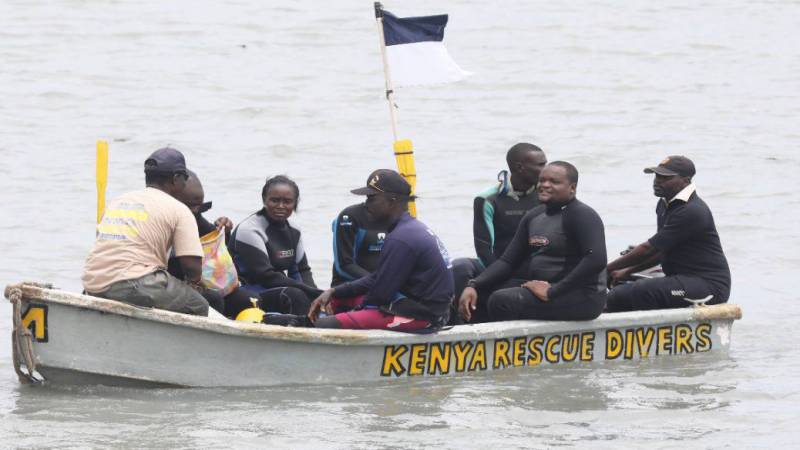 For over 80 hours, the family of Mariam Kigenda, 35, and her four-year-old daughter Amanda Mutheu has waited for the recovery of their two bodies.
Now the family's hope rests on robots.
The Government Spokesperson retired Col. Cyrus Oguna has called for patience announcing that owing to poor visibility, robots are being used to locate the bodies.
He told the press early today that the recovery team had an idea of the car's location but not the exact location.
"The divers are not relying on their vision, they are relying on touch and based on that touch they can be able to interpret if what they are touching is a vehicle. The robots direct them where to touch and go," said Oguna
He said they have searched five locations without success and are yet to comb nine more.
"We have been able to inspect five locations. And we have found other things other than the car."
This is as the operation remains suspended to allow the divers time to refresh and will resume on Wednesday at 3 pm.
Col. Oguna also asked Kenyans and the family of the Likoni Ferry tragedy victims to be patient with the government as the search and recovery continued.
Oguna further said the activities of the Likoni channel have contributed to the delay in the recovery mission since it is the only gateway for ships into the Mombasa Port.
"Many people are crossing here and halting operations for the whole day means the economy of Mombasa will be affected. Moreover, we have to put the safety of the divers first."
Oguna's address to the media contradicted what the Managing Director of Kenya Ferry Services, Bakari Gowa, had told reporters on Tuesday.
Mr Bakari said they had already located the car.
Private divers hired by the family had a different account too. They told KTN News they had neither located the car nor the bodies.
The difference in accounts saw the private divers hired by the family clash with the government team.
The leader of the group, Moses Sila, threatened to pull out his crew after police accused them of sabotaging the government.
Sila told KTN News that Likoni OCPD Benjamin Rotich tried to pull him out of the boat and ordered him out of the water for telling the press that no car or body had been recovered.
However, according to the Managing Director of Haki Africa rights group, Hussein Khalid, the decision was rescinded and Sila's team was allowed to continue with the recovery mission in a joint search with the Kenya Navy.
"The local divers had been stopped from engaging in the operation but we have talked to the authorities and we have told them that we have faith in these divers because every time there is such an incident it is them who retrieve the bodies," said Khalid.