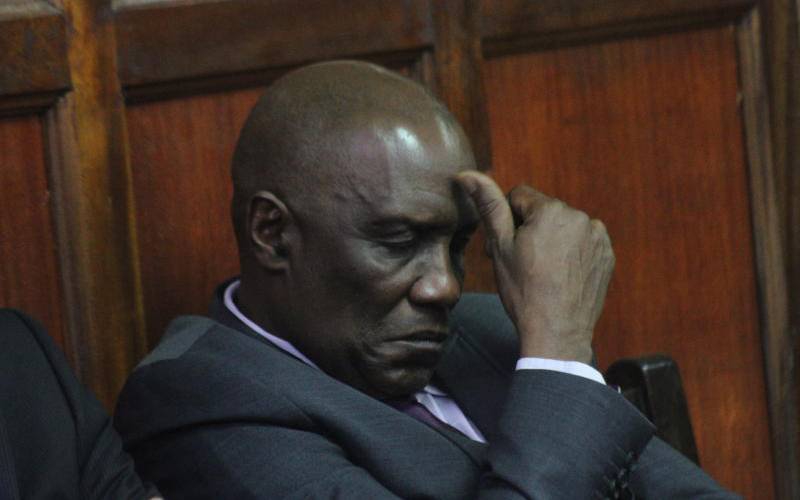 Former National Land Commission (NLC) chairman Muhammad Swazuri made an about-turn and authorised payment of Sh221 million compensation for land he had initially declared public.
Prof Swazuri had initially approved minutes of a committee meeting that had revoked titles of landowners, ruled the land belonged to Kenya Railways and overruled claims for compensation.
He, however, changed tune two months later when he sat in another committee that reversed the decision and awarded Sh221 million as compensation to the landowners for their private land acquired by the State for the Standard Gauge Railway.
Swazuri cited "mistakes" due to "pressure of work" to justify the sudden turnaround to approve compensation for the land he had initially deemed public property.
This emerged during court proceedings in which former NLC officials blamed each other over who was responsible for the controversial Sh221 million payments that are the subject of a graft case before a magistrate court.
Read More
"Whereas there is evidence that even the chairman of the National Land Commission Prof Swazuri confirmed signing the minutes of October 7, 2015, confirming the minutes of July 22, 2015, he denied participation claiming that he by mistake signed the minutes due to pressure of work," High Court judge John Onyiego stated in his judgement.
In the verdict, the judge dismissed the case filed by NLC's director of land valuation and taxation Salome Munubi who had wanted the case against her terminated.
She is charged alongside Swazuri and 14 others with authorising the payments which the prosecution has termed fraudulent.
In the High Court case, Swazuri contradicted his then deputy chair Abigael Mbagaya when he said that LR Nos 9084-9088 were never a part of the railway reserve.
He accused Mbagaya of peddling lies against him.
He, however, confirmed signing minutes which revoked the titles of the contested properties, but denied participating in the meeting which made the decision.
The former NLC chair blamed his deputy whom he claimed was hell-bent on taking over chairmanship while subjecting him to unnecessary prosecution and mental torture.
Dr Munubi claimed that sometime in April 2017, she was shown minutes by NLC committee, which recommended that properties that were along the railway reserve should be revoked.
According to her, the minutes were forged, something she blamed on Mbagaya and secretary of review of grants and disposition committee Brian Ikol.