Herders clash with farmers over water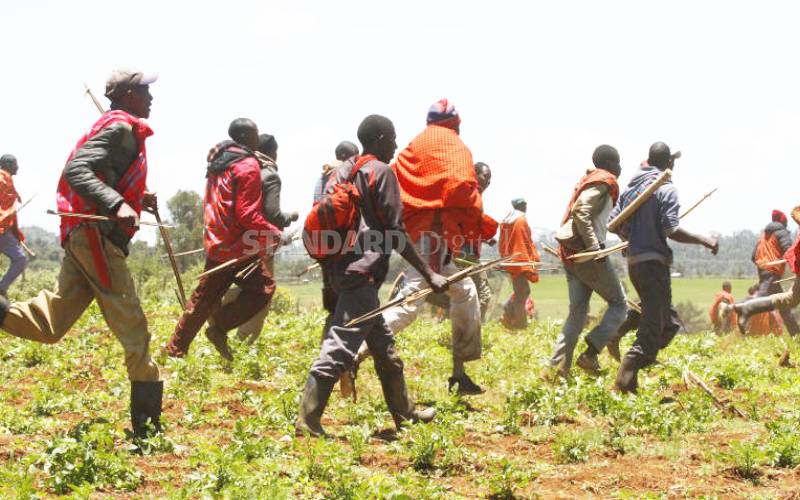 A fight between farmers and herders over access to a water source yesterday left scores nursing serious injuries.
The fight involved herders and the Kimala Farmers Group at Mkocheni village in Taveta sub-county.
Both parties are contesting a small lake that feeds the village with water. Among those injured was Taita-Taveta MCA Chanzu Khamadi.
The injured are being treated at the Taveta Sub-county Hospital, police said. They further explained that Mr Khamadi who was accompanied by his aides, had gone to the disputed lake to settle the row between the farmers and the herders.
When he arrived, the herders descended on his vehicle and smashed its front screen.
Khamadi was saved by his aides and fled as the spear-wielding herders bayed for his blood.
An assistant chief who was at the scene said the farmers had drained water from a wetland that feeds the lake, which angered the herders.
The chief explained that the wetland feeds the lake called Lake Jipe that is the only source of water for the herders.
He said at this time when the county was grappling with water and pasture shortages, the herders were turning violent on anyone interfering with the lake.
Drain water
"The Kimala farmers are using a tractor to drain water from the wetland that feeds Lake Jipe. This has angered the Maasai herders who depend on the lake," said the chief.
Taveta Sub-county Police Commander Lawrence Marwa said investigations into the incident have started.
"We have not arrested any suspect yet," said Mr Marwa. "But anyone who will be apprehended will face the full force of the law."
Some of the residents, who declined to be named, said the conflict is politically motivated.
"The conflict is being fuelled by politics. If police had not intervened fast today, people would have died," said one of the locals.
In a separate incident, a wealthy investor clashed with the herders after he fenced off boreholes, to stop people from drawing water or watering their animals there.
"The investor erected an electric fence around the boreholes. This denied us water both for domestic use and for our livestock. That is how the dispute started," said Shapashina Modukenya, a Maasai elder.
"We have no problem with any investor. All we want is both the county and national governments to protect our water sources."
Strike takes its toll on patients
At JOOTRH, the situation worsened after 20 nurses on contract also downed tools, claiming not to have been paid for the past five months.