Father, son get life sentence over US embassy and Paradise Hotel bombing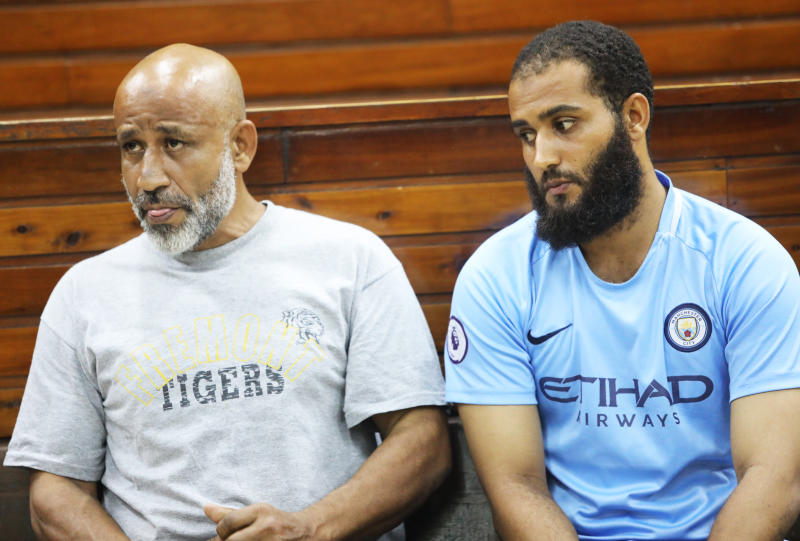 A man and his son were yesterday sentenced to life in prison for helping Fazul Abdullah, the terrorist responsible for the 1998 US embassy bombing in Nairobi, escape.
Mahfudh Ashur Hemed, 59, and his son, Ibrahim Manfudh Ashur, were also found guilty of being accessories to the murder of 219 people in the embassy attack.
More charges were proven against them, especially one where they were found to be accessories in the 2002 Paradise Hotel bombing.
Owned by Israel nationals, the Paradise Hotel was based in Kikambala, Kilifi County.
Hemed's wife, Lutfiya Abubakar Bashir, who died on April 10, 2011, was also to be charged.
Malindi house
Yesterday, Chief Magistrate Eric Makori found Hemed and Ashur guilty of harbouring Abdullah in their house in Silversand Estate, Malindi. Tthey later helped him to escape.
"The accused harboured one of the most wanted terror suspects, Fazul Abdullah. I therefore pass life imprisonment on them," said Mr Makori.
Abdullah was killed in Somalia in 2011. According to Kenya Police and FBI testimony, Fazul Abdullah was the mastermind of the horrendous bombings in Nairobi and Kikambala.
A witness, Tamara Chepkemboi, told the court that she had rented her house at Runda to Abdullah in April 1998 without knowing his true identity.
Another witness said Abdullah had been in constant contact with the suicide bomber at Kikambala Paradise Hotel and other terrorists who attempted to shoot down an Israeli plane.
Yesterday, the Director of Public Prosecutions urged the court to set an example and sentence the two to the maximum life sentence.
State Counsel Daniel Wangila said the sentence should act as an example because of the notoriety of such terror incidents.
Mr Wangila said a number of lives were lost as a result of the two convicts' support of Abdullah and as a result, almost all Kenyans had been affected.
"As we down the sentence, we are not only punishing the accused but communicating on behalf of Kenyans," said Wangila.
Hemed, through his lawyer, Jared Magolo, said he was remorseful.
"The sentence should not be seen as an act of revenge. He had time to reflect for the 11 years he has been on trial," said Mr Magolo.