How ex-husband and friend stabbed and raped, leading to double amputation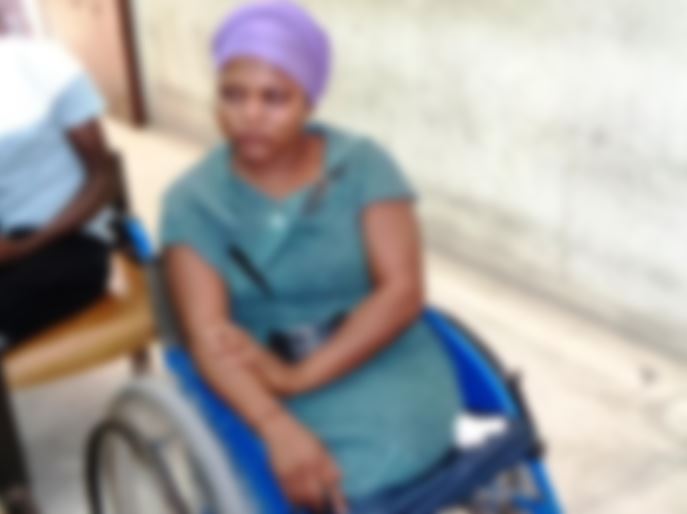 A 27-year-old double amputee has testified before a hushed court in Mombasa how she lost her legs when her estranged husband raped, stabbed and trussed her on a rail truck only to be crushed by a speeding train in Kibarani , Mombasa.
The train severed both legs near the hips and she is now on a wheelchair. During the ordeal on February 3, 2017, she told the court, she was three months pregnant.
Irene Amukuma Aisha testified she had a fling with Stephen Mzee Thomas alias Kerenje who is on trial for rape and attempted murder.
Mzee Thomas is co-accused with Steven Otieno Okalu. She told the court Okalu was childhood friend for over ten years.
Aisha stirred emotions at the Mombasa Law Courts as she narrated the loss of her legs at around 4.00 am at Kibarani Causeway, Mombasa County.
She told Senior Principal Magistrate Henry Nyakweba that she was "married" to Mzee Thomas for only a month before they broke up.
She said Mzee Thomas and Okalu ganged up, rapped and stabbed her before she was tied on the railway truck.
Okalu and Kerenje are still in prison after they failed to raise bail. They have denied the charges.
"Kerenje who had been my boyfriend for a month before I dumped him attacked me on the night of February 3, 2017 while I was walking home alone at around 4am. Okalu alias Otis stabbed me when I demanded to know why they were attacking me and proceeded to rape me and then tied me on the rails and left me there to be run over by the train," said Aisha.
"They told me that I would die there as they walked away. The train was approaching quickly so I struggled to at least move my body off the rail and only managed to release the upper body, The train crushed both my lower limbs," she testified.
You could have heard a pin drop as she narrated the ordeal reminiscent of horror movies.
Aisha said that she tried screaming to save herself by throwing loose chips at the approaching train to alert the driver but it was too late.
The train only managed to stop with her trapped underneath and both legs crushed.
Aisha said the driver came up to her and upon realizing that she was alive and writhing in pain, honked and called for help from the neighbors at the area.
"The train stopped,the captain came over flashing a flash light, saw me in pain, I told him I was not dead. He rushed and honked to call for help," said Aisha.
She said that her neighbor only identified as Kibwana was the first one to arrive at the scene and when he saw her under the train he asked what she was doing under the train.
"I told Kibwana he should ask Okalu (Oti) and Kirenje what they had done to me to be under the train," said Aisha.
Aisha said that she underwent another torturous and painful experience after they reversed the train in-order to remover her from under the train.
"By the time they removed me my limps were mangled to pieces and had to carry me in a shuka and rushed me to Makadara but there was no help since the doctors were on strike. I was transferred to Aga Khan Hospital where I was admitted for a month and had both my legs amputated," said Aisha.
The mother of five-year-old son said that her ex-boyfriend wanted to take away the son from her but she refused and that is when trouble started.
"The trouble began when he claimed that my son was his and wanted to take him away and I refused. So he swore to kill me and take away the child," said Aisha.
Aisha told the courts that her ex-boyfriend and his friend Okalu had assaulted her a week before the horrific night while they were drinking at a den near where she usually operates her food kiosk along Mombasa-Nairobi Highway.
Aisha whose tears could not stop flowing said that on the fateful night Okalu grabbed her from behind and covered her with a scarf while she was walking home from a night vigil of her relative who had passed away.
Aisha said that she had seen the two at the night vigil so she requested the Disk Jockey DJ at the vigil to escort her home.
"The DJ left me at the railway line at Kibarani and returned to the vigil. Immediately he left, someone approached and grabbed me from behind and held my mouth and nose with a scarf.
When I managed to turn, I saw Okalu (Otis) and Kirenje. I asked them why they were attacking me and Oti stabbed me on the left thigh with a knife. Otis proceeded to rape me and then they tied me by the rails," said Aisha.
She said that while she was in hospital a police from Makupa identified as Madam Dorothy visited her and took her statement and proceeded with investigations.
Aisha said after she was discharged from hospital she was summoned to the police station where 10 men had been arrested and arraigned for an identification parade.
"There were 10 men paraded at Makupa Police Station for me to identify. They were all of the same height and weight and I was able to identify Okalu (Otis)," said Aisha.
She told the court she identified Kirenje while he was pushing a cart where she had gone to buy foodstuff at DT-Dobie and upon seeing her, he run away but was arrested by the public after raising an alarm.